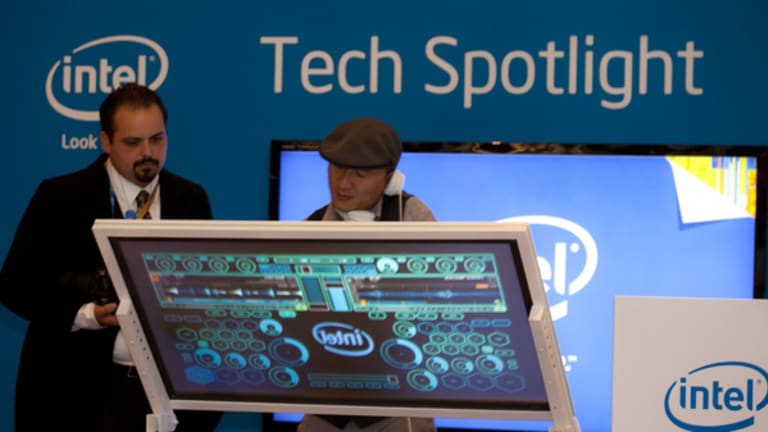 Intel Meets the Jetsons
Intel is holding its annual Research@Intel event, showcasing some of the most important research projects from around the world, and how the future of technology will shape our lives.
NEW YORK (
) --
Intel
(INTC) - Get Intel Corporation Report
Labs has been at the forefront of showing off some of the groundbreaking technologies the world has seen over the years.
The world's largest chipmaker held its Research@Intel Event yesterday, demonstrating some of the technologies the world can expect to see in the years to come. The demonstrations were put into four different stations: Enriching Lives, The Data Society, Intelligent Everything, and Tech Essentials.
A little over two years ago, the company started collaborating with outside academic researchers to create a global network of seven Intel Science and Technology Centers (ISTCs) and six Intel Collaborative Research Institutes (ICRIs). Each center allows its researchers to advance computing in a much faster way than ever before, as they work on advancing fields such as embedded, cloud, social and secure computing, as well as others. The event shows off the fruits of that labor, and what the world can expect to see in the future.
"The majority of our research is conducted by Intel's own researchers but we are delighted by the quality and quantity of research coming out of the ISTCs and ICRIs," said Justin Rattner, Intel's Chief Technology Officer. "Importantly, the deeply collaborative structure of these engagements is based on an open IP model benefiting not just Intel and researchers, but the high technology industry and human society at large."
Here's a look at what the Santa Clara, Calif.-based tech giant had to show off as some of its most innovative new ideas come to life.
The house DJ starts off the event with some music, being done on a device powered by Intel chips!
This is the floor of Research@Intel, where all the products, presentations and demonstrations are taking place. You'll notice the many Intel workers around the showroom floor, ready to explain at a moment's notice.
This is one of the connected vehicles that Intel showed off to help avoid traffic accidents. Through the the Intel Collaborative Research Institute for Connected Context Computing, the company is working on enabling cars to communicate with each other to avoid collisions by using the light from the tail lights to send high-speed data between the vehicles.
These are a couple of Intel employees ready to explain more about connected cars and how they can save time, money, and potentially, even your life.
This is a driving simulator Intel had at the show.
"Big data" is a sexy term lately, but few are able to understand what it means, and how to process all the information people deal with on a daily basis. Intel's Big Data demo shows off what the data is in a hybrid rendering.
Here are a couple more Intel employees showing off the latest wears.
As more and more devices become connected, users may want to know everything about their home life. Intel Labs is developing a graphical user interface with reusable modules that lets people sync their devices with sensors inside their home, allowing the home to truly be a "smart home."
This picture shows off more of the smart home. Here, you can see monitors connected to a crib which could allow you to know when your child is upset or happy.
Personalized shopping. Everyone wants a shopping experience that's tailored for them. Here, Intel shows off what it can do to make your shopping experience more enjoyable.
Another look at personalized shopping.
This is a look at Vibrant Data Communities, and what Intel is doing to work on making connections using all the data that's surrounding us. The 4 major challenges are Openness, Data Literacy, Access and Trust.
Here's some Intel employees explaining to an attendee what the company is working on as it pertains to sharing traffic information.
--
Written by Chris Ciaccia in New York
>Contact by
.