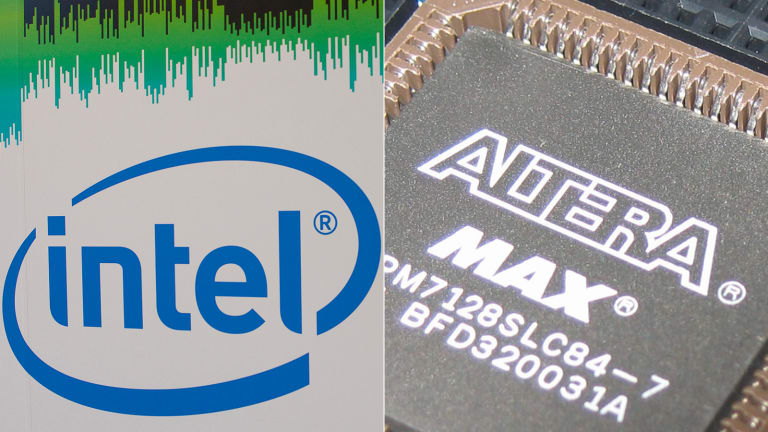 Intel May Acquire Altera Now -- Is Qualcomm Next?
The latest news report is that Intel will buy Altera next week, but a subsequent deal for Qualcomm is unlikely despite some strategic merit to the companies combining.
NEW YORK ( TheStreet) -- New reports suggest that Intel (INTC) - Get Free Report is close to a more than $15 billion deal to buy Altera (ALTR) - Get Free Report. A standstill agreement between the companies ends Monday. 
The deal would bring together two companies with similar strengths, but it would not shore up Intel's weakness in serving the burgeoning mobile telecommunications industry. That may mean the company's ambitious CEO Brian Krzanich will be on the prowl for another acquisition.
It's hard to believe that Intel is still only about half the price that it reached in 2000. Like Microsoft (MSFT) - Get Free Report, Cisco (CSCO) - Get Free Report and other big tech giants from that period, its stock was overbid then, and it has struggled to demonstrate how it's staying relevant.
Krzanich, who became CEO two years ago, is a well-regarded insider who has been looking to leave his mark on the company. Shares are up 47% since his appointment which is excellent. However, Intel lags the 59% gains of the Nasdaq over that period. The company is now worth $160 billion.
Buying Altera would be the biggest acquisition for the company yet. But it's also unlikely to be Krzanich's last deal.
So what's next for Intel, especially if it's going to beef up its mobile business? If its stock continues to hold up, and Intel still has enough cash, it can seek other Altera-sized deals. Or maybe it chases the new Avago Technologies (AVGO) - Get Free Report with Broadcomundefined.
One other name which is being mentioned as a merger candidate is Qualcomm (QCOM) - Get Free Report. Qualcomm is currently being pestered by activists from Jana Partners. It's also strong in mobile where Intel is weak and weak where Intel is strong.
While there is strategic merit and cost rationalization to a merger, there are obstacles to a potential deal.
Most significantly, you've got two new, relatively young CEOs running both companies, with Krzanich and Steve Mollenkopf having taken over for Paul Jacobs, whose father started Qualcomm. Both will sell reluctantly and probably only if they are assured of becoming CEO of a new entity. Neither is looking to retire. 
Even if the mega-deal doesn't happen though, you can expect Intel to continue hunting for game on the semiconductor M&A trail.
This article is commentary by an independent contributor. At the time of publication, the author held no positions in the stocks mentioned.