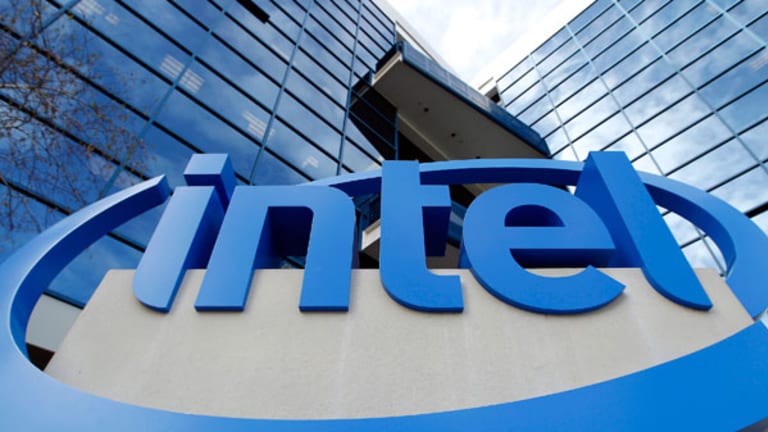 Intel Eyes Sale of $1B Venture Portfolio, GM Buys Driverless Car Software Maker --Tech Roundup
Intel is considering selling some or all of its venture capital portfolio. General Motors acquires driverless car software maker Cruise Automation.
Intel (INTC) - Get Intel Corporation (INTC) Report is considering the sale of some or all of its venture capital portfolio, valued at $1 billion. General Motors (GM) - Get General Motors Company (GM) Report acquired a software maker of driverless cars. Cyberdyne, a popular maker of robot exoskeletons, is planning to list its shares in the U.S., while Tesla Motors (TSLA) - Get Tesla Inc Report is gearing up for a legal battle with Virginia car dealerships.
Intel is eyeing the sale of some or all of its venture capital investments in its Intel Capital portfolio, valued at an estimated $1 billion, according to a Bloomberg report. The chip maker made the decision it divest of its venture holdings following a restructuring of Intel Capital and has hired UBS Group to seek out buyers.
The chip giant formed Intel Capital in 1991, investing in excess of $11.6 billion in 1,440 companies throughout 57 countries, Intel Capital lists on its Web site. Over the past 25 years, 212 companies in the portfolio have gone public, while another 381 were either buyout or involved in a merger. Intel Capital has invested in wearable technology, cloud computing, Internet of Things technology, security and digital media.

Large companies, particularly in the technology sector, will often have a venture capital arm to make strategic investments in startups. The purpose of these investments is to gain insight into new technologies and also potentially influence the development of the technologies. Often, these strategic investments are not made with an eye toward reaping a financial profit.
Intel rose 1.6% to close at $31.76.
General Motors is rolling closer to developing a driveless car. The industry behemoth acquired driverless car software maker Cruise Automation, the Associated Press reported.
Cruise Automation, a three-year-old startup with 40 employees, is one of the few companies that has a permit from the state of California to test its driverless cars on public roads, notes the Associated Press. As a result, that likely made Cruise Automation especially attractive to General Motors, which did not disclose the purchase price.
The software maker is currently testing its cars in San Francisco, reporting one accident to date with the Department of Motor Vehicles after striking the rear of a law enforcement vehicle, according to the Associated Press.
General Motor closed at $31.25, up 1.4%.
Cyberdyne, a robot exoskeleton maker based in Japan, wants to increase the visibility of its products in the U.S. and believes listing on the Nasdaq will help its cause.

The company currently trades on the Tokyo Stock Exchange, but is planning to list its shares on Nasdaq next year, according to a Bloomberg report. Cyberdyne's Hybrid Assistive Limb, which assists the disabled in moving their limbs, is currently undergoing review by the U.S. Food and Drug Administration.
Since Cyberdyne listed its shares on the Tokyo exchange in March 2014, its stock has increased more than four-fold, according to Bloomberg.
Tesla is gearing up for a legal brawl with the Virginia Automobile Dealers Association (VADA), over its desire to open a second company-owned dealership in that state.
Under a 2013 agreement with VADA, the Virginia Division of Motor Vehicles and Tesla, the company was able to open a dealership in Northern Virginia, according to a Reutersreport. In most states, car manufacturers are not allowed to own and operate dealerships that sell the cars that they produce.
The parties are fighting over whether the agreement prohibited Tesla from opening future dealerships in Virginia, with the company taking the stance it is acting within its right while the VADA disagrees.
Tesla rose 1.1% to close at $207.50.
This article is commentary by an independent contributor. At the time of publication, the author held no positions in the stocks mentioned.