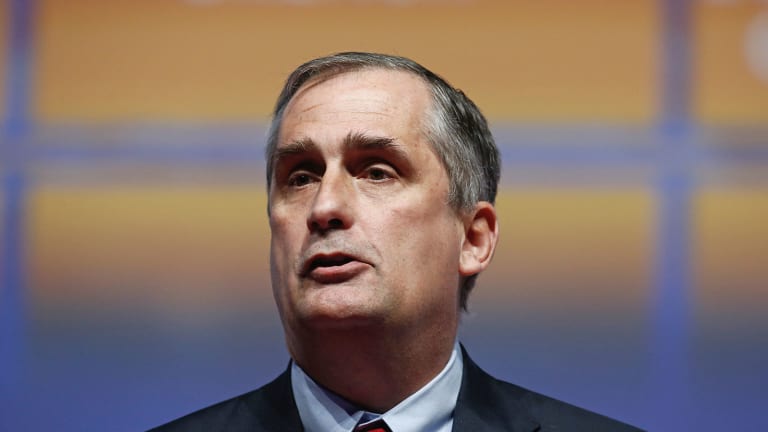 Intel CEO's Surprise Exit Leaves 'Large Void' That Won't Be Easy to Fill
With Brian Krzanich's exit, the giant chipmaker suddenly has a big leadership vacuum at an important time.
With Brian Krzanich's exit, the giant chipmaker suddenly has a big leadership vacuum at an important time.
After several months of turmoil at Intel Corp.  (INTC) - Get Report , Brian Krzanich CEO is out -- and it could be a struggle for the chipmaker to fill his shoes.
Here's the short version: Citing its "non-fraternization policy" that applies to all managers, Intel announced Thursday that Krzanich resigned following an internal review that confirmed he had a past consensual relationship with an Intel employee. In his place, CFO Robert Swan will lead the chipmaker on an interim basis. 
Shares of Intel were down about 2% on Thursday afternoon, after initially rising an equal amount on the news. Intel also pre-announced better-than-expected results for its second  quarter in the press release announcing the Krzanich news. 
It isn't publicly known who the Intel employee was; it was specified only that the relationship was in the past. And considering Krzanich has been with Intel since 1982 , it's anyone's guess as to when the "fraternization" occurred and how exactly it came to light.
But Krzanich's sudden exit also happens to follow closely on the heels of a string of unflattering events for the company and its chief this year.
In January, the chipmaker was rocked by the discovery of two widespread vulnerabilities in its chips, which affected nearly all devices using Intel chips. (The same vulnerabilities affected chips made by AMD (AMD) - Get Report and Softbank-owned ARM, to some degree.) Since then, Intel has run into manufacturing trouble and delays with its forthcoming 10nm FinFET chips. 
And Krzanich himself drew criticism after selling millions' worth of Intel stock after Intel was informed of the flaws in its processors (the company said the move was part of a pre-arranged stock sale). The controversial action provoked the SEC to issue new guidelines for disclosing security flaws, but the agency declined to say whether Krzanich himself was under investigation. 
In a analyst note from Cowen on Thursday, Krzanich's resignation was described as "a shock for the company after significant senior management turnover in the last several years."
That's included the departures of at least four top-tier executives across Intel's data center, PC and finance groups. Krzanich was viewed as instrumental in rebuilding the company's senior ranks, including hiring a new CTO and CFO, the latter of whom is now Intel's interim CEO. 
While Intel expressed confidence in Swan's ability to steady the ship, it's an inconvenient time to look for a new CEO -- and finding someone to fill Kraznich's shoes will be tough. A study from Global HR Research estimated that it takes 76 days to fill a C-level position; and for high-profile CEO positions, that search can easily drag on for months.
"For high-profile roles like that, the search can take six months and that's a conservative estimate," says Max Hansen of Y Scouts, an executive search firm. "it can take 90 days just to identify initial candidates, and it's not uncommon for it to take a full year to fill the role."
Cowen noted that Krzanich's foundry experience -- he started his career at an Intel factory in New Mexico, gradually rising through its manufacturing ranks -- will leave a "particularly large void" as Intel struggles to fix delays in its 10nm chips and amid increasing competition from rivals like Taiwan Semiconductor Mfg. Co. Ltd.  (TSM) - Get Report
"Given so much change driven by Mr. Krzanich, his departure could make succession planning and further transition challenging," Cowen added in the note. "Obviously a seat like Intel CEO will attract many external candidates, but this seems a particularly tough time for additional leadership/culture churn at Intel."