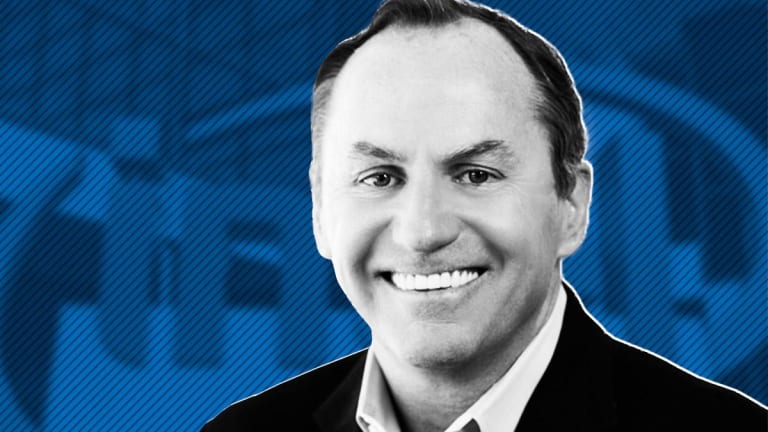 New Intel CEO Says Paranoia (and 5G) Will Pay Off for the Chip Giant
CEO Bob Swan says the fruits of 5G cellular and high-performance computing will eventually be very sweet.
"We are always more paranoid internally than what we read in the press," says Intel (INTC)  Chief Executive Bob Swan, echoing remarks by late former Intel CEO Andy Grove, who famously said that "only the paranoid survive."
Swan recently addressed a small group of journalists (including me) at a gathering in Palo Alto, Calif. -- his first interview since officially taking the top spot at the world's biggest chipmaker in January. Despite his rhetoric of paranoia, Swan's tone was actually one of calm, measured faith in markets and financial discipline. "Our market is as big as it has ever been," he said.
But to some investors, the company's continued development of cellular-modem technologies doesn't make sense. Nor does Intel's investment in its "Optane" high-performance memory technology. Still, Swan said that the new 5G cellular networks that communications firms are building out around the world are a very promising market opportunity for INTC, even if it's hard for some to see the pay-off.
Again and again during our interview, Swan came back to language that sounded very much like that of a seasoned financial manager, which isn't surprising given that Swan was Intel's chief financial officer before taking over the top spot.
He told reporters that Intel's opportunity "is no longer 90% market share of a $60 billion market, but perhaps 20% of a $300 billion dollar market," referring to the build-out of high-performance computing -- from cloud-data centers, 5G cellular infrastructure and more. 
"If you put numbers to that strategy -- if we are deploying toward these higher-growth data-centric parts of the business -- revenue grows faster and not all spending has to grow in line with revenue," he said.
Swan and deputies Sandra Rivera (who runs the company's networks group) and Dan McNamara (head of the business that includes FPGA chips) made a case that a natural extension of the company's dominance in cloud-computing data centers is to dominate 5G technologies as well. "As communications and compute converge, it means the relative importance of the network is much higher," he said.
He also fielded skeptical questions in all of the new areas of business, including:
Cellular Modems
Swan admitted that INTC's development of cellular-modem technology hasn't been an enormously profitable venture, but said it'll takes time to reach the point where modems become essential in computing.
"The first thing is to get a technology that's in the game," he said. "The second step is to get a customer that appreciates the technology and makes us better" -- a reference to Apple (AAPL) , which serves as Intel's main customer. "And third, and most important, is that the relative value of the modem in this 5G world becomes more and more important. That is where investors have been most anxious.
"We were catching up for a while, which in [investors'] minds means not making any money," Swan said. "But now, we have products that are as good as any company's in the industry. 5G will drive lots more demand-usage over time, and we will leverage that into a broad portfolio -- whether cloud or network." 
Apple
Reporters pointed out that it's a poorly kept secret that Apple is developing its own modem technology, which implies Intel will lose its only business of size. But Swan replied that paranoia keeps Intel working hard. "These are questions we always ask: 'Will a customer do it themselves? Will we be paralyzed by it? Will we move faster and smarter?'"
The loss of Apple would leave Intel facing the reality that for phones at least, it doesn't have the ideal parts. Every other phone-chip vendor -- including Qualcomm (QCOM) and MediaTek -- offers an integrated part that combines a modem with a phone's applications processor. Asked why Intel has no such "system-on-a-chip," Rivera insisted the company will "let the market to be the arbiter" of whether it wants one. (In fact, the market has already spoken as far as I'm concerned. Because of the system-on-a-chip issue, most phone makers don't seem to want Intel's product.)
Optane
Regarding the memory business and investments in Optane, Swan said the company's production of plain old NAND flash memory has "scaled extremely well and been profitable the last couple of years, but we have been leveraging that profit into Optane." Hence, he implied, the memory business isn't as profitable as it will ultimately be. Swan added that high-performance memory's role is increasing, as data-hungry cloud-computing facilities need more-sophisticated ways of feeding the processor. 
"Unless we have disruptive memory [such as Optane], being able to capitalize on this compute is not going to be worth it," the CEO said.
Don't Worry, Be Happy
At the end of the meeting, Swan assured the group that "we are going to be extremely disciplined" in how the company prioritizes investments. "We are deciphering the five things that are of critical importance, and we will figure out if the next 10 things are of critical value" in the years to come. 
In other words, investors shouldn't worry. "I didn't show up yesterday or last week," the CEO said. "I've been in the company for a couple years, and I've been working with Sandra and Dan and Brian [Krzanich, the prior CEO] before and the rest of the leadership team to carve out a strategy that is extremely attractive for our investors."
Tiernan Ray neither owns nor trades any shares of any companies mentioned in this article.