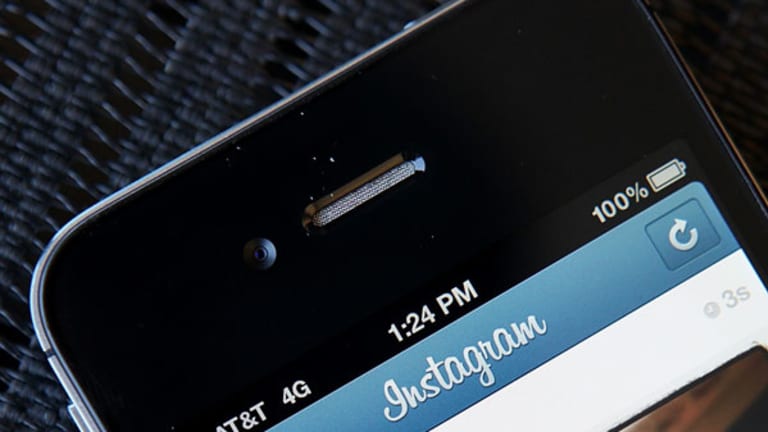 Instagram Is Finally Paying Off For Facebook
Instagram has just landed its first big advertising campaign, worth a reported $100 million. According to sources close to the situation, Instagram deal NOT worth $100M. http://bit.ly/1k0iNVm
Instagram has just landed its first big advertising campaign, worth a reported $100 million. According to sources close to the situation, Instagram deal NOT worth $100M. http://bit.ly/1k0iNVm
Updated from 1:01 p.m. to include comments about pricing in the second paragraph.
NEW YORK (TheStreet) -- When Facebook (FB) - Get Report bought Instagram, it wasn't clear why the world's largest social network would buy another social network. As time has evolved, that vision has become clearer. Now it looks like that bet is starting to pay off.
According to AdAge, Instagram has inked a $100 million, one-year deal with advertising agency Omnicom. However, according to sources close to the situation, the deal is not worth $100 million, with the source labeling it as "inaccurate."
In return, Omnicom will place ads on Instagram from some of its clients. Omnicom confirmed the deal to AdAge.
In a statement to TheStreet, Instagram spokesman Tim Rathschmidt said, "This is an exciting new chapter and we're looking forward to the great creative content that comes out of this partnership. Our teams are going to work hand in hand to develop and execute campaigns that provide people with amazing imagery - and drive meaningful business results for advertisers. Omnicom shares our passion for and understanding of the mobile Instagram community. Along with their clients, they'll help to continue to set a high bar for creative work that inspires people. This doesn't change our advertising strategy moving forward - people will continue to see a limited number of beautiful, high-quality photos and videos from select brands who already have a strong presence on Instagram."
When Facebook bought Instagram for nearly $730 million in 2012 (the reported price was $1 billion, but it included stock which subsequently fell), many questioned why Facebook CEO Mark Zuckerberg was spending such a large amount of money, but the purchase seems to have been the right move. When Facebook bought Instagram, it only had around 15 million users, and now has over 150 million, according to the most recent statistics on its blog.
The company's users produce over 55 million photos per day, with 1.2 billion likes daily, and 60% of this  population is based outside the U.S.
This is not the first time Instagram has hooked up with an advertiser, but it is the most notable deal. In mid-2013, Instagram announced it would finally be bringing ads to its platform, with designer Michael Kors (KORS) being the first advertiser.
At the time, the company said, "Our aim is to make any advertisements you see feel as natural to Instagram as the photos and videos many of you already enjoy from your favorite brands. After all, our team doesn't just build Instagram, we use it each and every day. We want these ads to be enjoyable and creative in much the same way you see engaging, high-quality ads when you flip through your favorite magazine.
We'll also make sure you have control. If you see an ad you don't like, you'll be able to hide it and provide feedback about what didn't feel right. We're relying on your input to help us continually improve the Instagram experience."
Since then, other companies including General Electric (GE) - Get Report, Levi's and others have joined in putting ads on as well.
On Facebook's fourth-quarter earnings call, CEO Mark Zuckerberg said "With ads, the team has taken an especially careful approach, working closely with a small number of brands that are already important members of the Instagram community to create a great early experience."
--Written by Chris Ciaccia in New York