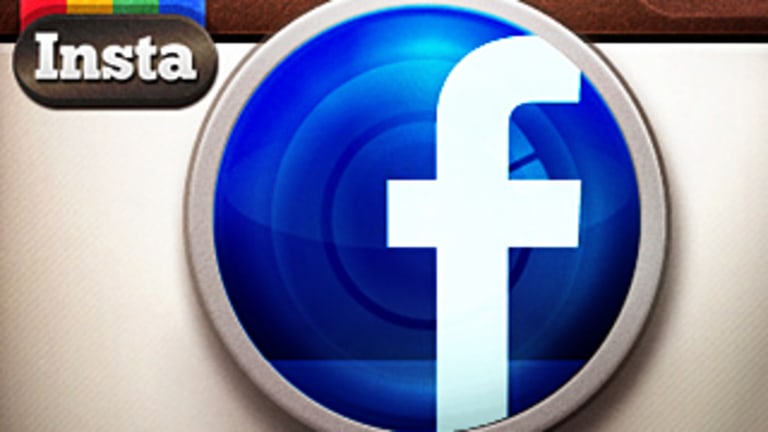 Instagram: Facebook's Next Big Money Maker
Facebook shares have soared in recent weeks, as the company is in the early stages of generating revenue. Some on Wall Street think it goes much higher from here.
NEW YORK (
) --
Facebook
(FB) - Get Meta Platforms Inc. Class A Report
shares have been on something of a roll in recent months, ever since the company's
showcased the mobile strength everyone was hoping for. Now, Wall Street analysts are falling over themselves to raise their price targets, with one analyst believing shares have another run of 20+% in them.
Deutsche Bank analyst Ross Sandler raised his price target to $62 from $43, keeping his "buy" rating on shares, as he believes 2015 estimates are too conservative, even before factoring in the possibility that
Instagram
, which Facebook
for roughly $730 million, generates $1.8 billion in revenue in fiscal 2015.
data by
Sandler noted that Instagram could see a mid- first-quarter 2014 ad launch, which could wind up being worth an additional 15% revenue to Facebook in 2015.
When Instagram
that it was bringing video to its platform, as it competes with
Twitter's
Vine product, the company noted it had more than 130 million monthly active users.
On Facebook's second-quarter earnings call, CEO Mark Zuckerberg talked up the power of Instagram as a business.
"There are so many directions to expand this in that we think that the right focus for now is to continue just focusing on increasing the footprint of Instagram," Zuckerberg said on the call. "And when the right time comes then we'll think about doing advertising as well, but I think that's going to be a really big opportunity."
Outside of Instagram and its incredible potential, Sandler noted that mobile ads are significantly underappreciated by Wall Street.
"Mobile users in US and UK are growing at ~20% Y/Y, while ROW is growing at 60%, which we view as a proxy for inventory creation," Sandler wrote in the report. "Further, FB stated that ad load is 1-ad-per-20-newsfeed-stories globally in 2Q, the ceiling likely closer to 1-per-5, suggesting a growing opportunity. Looking ahead, increasing the selection of ads in the system, improving the ad products, and layering in better targeting should drive higher monetization."
Sandler noted that only 6% of the mobile impressions were responsible for the $656 million in mobile revenue last quarter. That suggests that Facebook has "ample runway ahead," as it continues to improve its ad impressions, delivering a better return on investment (ROI) to advertisers.
Last quarter, Facebook generated 41% of its $1.6 billion in advertising revenue during the second quarter, up 61% from a year earlier. For the entire quarter, Facebook had $1.813 billion in revenue.
For 2015, Sandler believes that Facebook could generate $8.2 billion in revenue, assuming 12% growth in monthly active users (MAU), and a 5% growth in effective cost per thousand impressions (eCPM) for smartphone markets, and 40% growth in MAUs and 25% growth in eCPM in emerging markets. When tacking on the additional $1.8 billion in revenue from Instagram, Facebook could have as much as $10 billion in revenue for 2015, up from $7.36 billion in 2013, according to estimates from
Yahoo! Finance
.
Coupled with the pending inclusion in the
S&P 500
, and the potential of Instagram as Facebook's next
, Facebook shares may have much more room to run.
"In short, while a good portion of alpha has been generated already for FB longs, we see upside to $62 based on upward estimate revisions and S+P 500 inclusion," Sandler said.
--
Written by Chris Ciaccia in New York
>Contact by
.