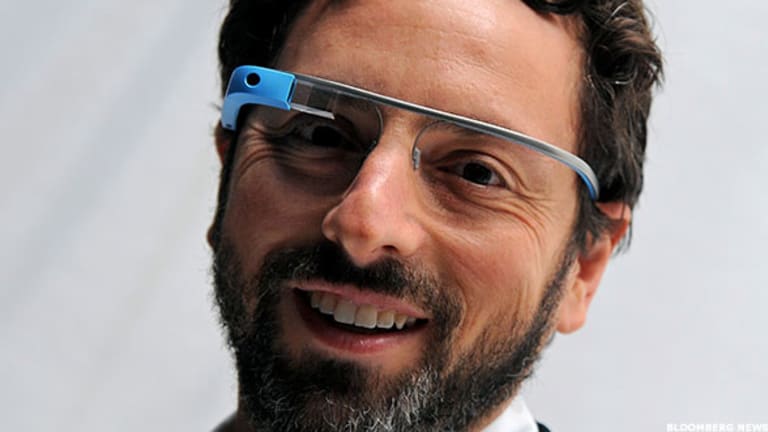 Influx of Russian Talent Offers a Boost to U.S. Tech Sector
Russia's political and economic instability is widening the talent pool for Silicon Valley giants.
NEW YORK (TheStreet) -- For those whose job is to look out for the next Sergey Brin, interesting times could be ahead.
The economic crisis afflicting Russia may bring an unexpected boost to the U.S. tech sector, as developers and tech entrepreneurs from Google (GOOG) - Get Alphabet Inc. Class C Report founder Brin's country of birth migrate to Silicon Valley and other innovation hubs -- and away from economic and political instability in Vladimir Putin's Russia.
The falling rouble, which has lost almost 40% of its value against the dollar since the start of 2014, coupled with political turmoil over Russia's involvement in conflict in neighboring Ukraine, has led many of its brightest minds to consider emigration, with the U.S. a favored destination.
"Much of the conversation I've had with Russians has been 'how can we get over to Silicon Valley,'" said Bill Reichert, Managing Director of Garage Technology Ventures and a long-time investor in Russian tech.
Overall, more Russians left the country in 2014 than in any other year since 1999, with the same trend noted both by seasoned investors in Russian tech and by startup entrepreneurs themselves.
"I know five or eight companies who are going or have already gone," says Anton Gladkoborodov, founder of Moscow-based video-sharing platform Coub, which has opened an office in New York. They include Luka, a restaurant recommendation app which last month became the first Russian company to successfully apply to the powerful U.S. tech start-up incubation firm Y-Combinator, and Hopes and Fears, a lifestyle website founded in Moscow, but which began publishing in English out of an office in New York in January.
Gladkoborodov believes that, with investment money all but dried up at home, Russian companies with ambitions to become global players have been forced to look abroad.
"When you as a Russian company speak to American VCs it's really strange -- they never invest in you, they look at you very skeptically," he says. "There's the issue of whether you can ever make a successful product for the U.S. market while located in Russia. If you go to the U.S., it's a lot easier."
Beyond business needs, political uncertainty is driving Russians to the U.S. 
"I have two American friends with technology companies employing a number of programmers in Russia. In both cases, based on political events, they've moved their developer teams overseas, to the U.S.," said Bill Browder, founder of Hermitage Capital Management and a noted critic of Russian president Vladimir Putin.
Technology workers and entrepreneurs in particular could be most likely to leave among Russians.
"Anybody skilled in technology tends to be highly intelligent and has access to information everywhere. Those types of people are most offended by what's happening in Russia, they're the most likely to leave," Browder added.
While angel investors and venture capital funds may be attracted to new arrivals, it's likely to be the giants of U.S. tech -- the likes of Google, Facebook (FB) - Get Meta Platforms Inc. Class A Report, Apple (AAPL) - Get Apple Inc. Report and Microsoft (MS) - Get Morgan Stanley Report -- who benefit the most from the influx of Russian talent. Last year the IT sector made more applications for H1-B visas, the skilled labor visa likely to be sought by the majority of incoming Russian workers, than all other sectors combined -- more than 150,000 -- with Infosys (INFY) - Get Infosys Ltd. Report, Google, Microsoft and Intel (INTC) - Get Intel Corporation Report all in the top 10 companies by numbers of applications. And according to Scott Purcell, a recruitment manager at Jobspring Partners in Silicon Valley, Russians are a valued commodity.
"In general there's a lot of really talented engineers in Silicon Valley, but definitely so from Eastern Europe and Russia," Purcell said. "For a recruiter to go and bring someone over from Russia and sponsor a new H1-B visa, they would have to be above what would be considered 'good' here."
Still, that might be an easier path than becoming the next Sergey Brin.  
Russian talent is more likely "to be sucked up by other companies than as companies that are investible in their own right. If I were a Russian entrepreneur trying to get out that would be a much easier path in every dimension," said Reichert. "If I were a Russian entrepreneur trying to get out, that would be a much easier path in every dimension."
That's a view echoed by Russian entrepreneur Nina Zavrieva, founder of Channelkit, a digital management tool, who plans to move to the U.S. towards the end of the year.
"The people leaving from the tech world are often developers who are in demand," she said. "They get jobs at Google, they leave on very comfortable financial terms."
The desire to leave means that, for both angel investors and tech companies looking to hire talent, deals are there to be done.
"If you look at tech incubators, they usually don't give you that much money, and they take some equity in return," Zavrieva said. "Lately, given the Russian rouble's drop, the money that these incubators give is no longer insignificant. So those opportunities that used to not be so attractive have suddenly become much more so. It's the currency drop, and the psychological pressure -- there is a lot less to lose and it's become easier to say yes to those opportunities."
This article is commentary by an independent contributor. At the time of publication, the author held GOOG and AAPL.