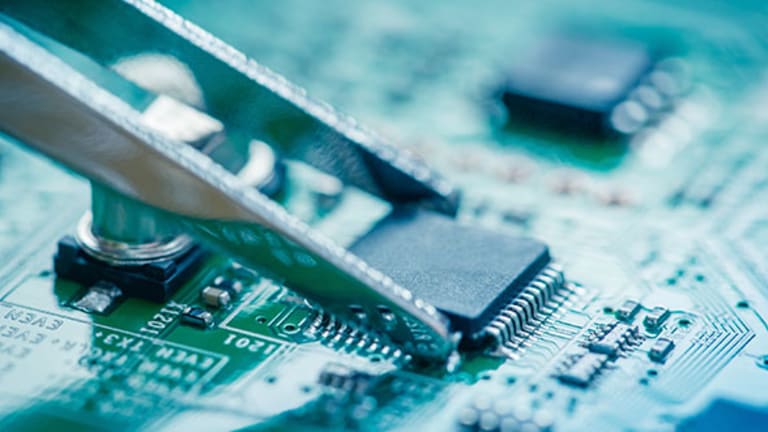 Infineon Says it is in the Driving Seat for Electric Vehicles
The German chipmaker predicts sales growth to the automotive sector will outstrip group expansion.
Infineon Technologies, (IFNNY) a German chipmaker whose customers include Tesla (TSLA) - Get Tesla Inc Report and Apple (AAPL) - Get Apple Inc. (AAPL) Report , said the automotive market will lead group sales growth as car makers expand their electric vehicles ranges.
The Neubiberg-based company on Wednesday said it expects 6% group sales growth in the 2017 fiscal year and an average 8% revenue growth in the "years to come."  Its automotive business will  "grow at a substantially faster rate" than the average 6% for the overall company, it noted.
"Despite the slightly slowing down growth in unit vehicles, particularly in the U.S., we do see continued growth in content as well as our gain in share, as we are strong in the fastest growing applications in automotives,"  Infineon chief marketing officer Helmut Gassel told analysts and investors after the company reported below-forecast fourth-quarter earnings while boosting its gross margin estimate for the 2017 fiscal year.
Two automotive technologies stole the spotlight in the teleconference as Infineon management claimed it is well-prepared for an electric car era which leading car makers including Volkswagen (VLKAF) , Daimler (DDAIY) and Toyota Motor (TM) - Get Toyota Motor Corp. Sponsored ADR Report  are preparing for. For example, Volkswagen has said it aims to launch over 30 fully electric new vehicles across the group by 2025.
One of the technologies Infineon highlighted was  silicon carbide, which is being increasingly used in the electrification of cars.
"We [have been] active in silicon carbide for quite some time and we are very active in the electric drive train market. We have a very good understanding of the drive train and we see currently that the silicon solutions are by far dominating," CEO Reinhard Ploss said.
Ploss added that further developments were necessary for silicon carbide-based devices as they are still costly.
The acquisition of Wolfspeed, which is already in the silicon carbide market, will likely mark a "jump" in the effort for further product development. Ploss said. Infineon announced the acquisition of the N.C.-based company in July.
In addition to Tesla, Infineon also supplies products to car components to Germany's Continental (CTTAY) , France's Valeo (VLEEY) , Japan's Denso (DNZOY) , as well as U.S.'s Lear (LEA) - Get Lear Corporation Report and Delphi (DLPH) - Get Delphi Technologies Plc Report .
Another technology highlighted on Wednesday was IGBT, or insulated-gate bipolar transistor. This switches electric power at a rapid pace in appliances  including electric cars. Infineon management emphasized it is in a dominant position for the technology.
"We believe based on our manufacturing strategy, we will be one of the few or even maybe the only one who can manage to support such a high growth rate,"CEO Ploss said. "We will see significant growth in demand in the near-term in IGBTs." 
"With our overall position here, we will be very much successful in this game," Ploss added. "It is also very important to notify that you have to have the full breath of the technology -- from IGBT to silicon carbide.. to cover all the requirements that are very best for customer solution."
Infineon's optimism about the automotive market came as it admitted that it has been affected by a shift in smartphone market share to newcomers from the established players. 
Sales in the power management and multimarket segment, which includes Infineon's smartphone chips business, stagnated in the fourth quarter, compared with a 13% jump in the automotive segment.
Liberum Capital analyst Janardan Menon shared Ploss' optimism about Infineon's role in the automotive market.
"The company is perhaps the best positioned to benefit from long term growth trends in automotive electronics because of its dominant position in IGBT modules for electric cars and strength in radar," the analyst noted.
Infineon shares were recently up 1.6% at €16.63
(Apple is held in Jim Cramer's charitable trust Action Alerts PLUS. See all of his holdings here.)