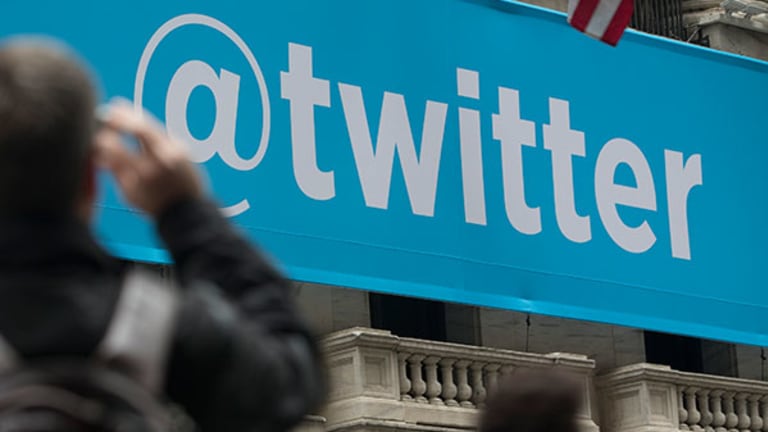 If Twitter Can't Do Better Than This, Activists Could Push for a Sale
Twitter's guidance suggests weak user growth and intense social ad competition have caught up with it. Investors appear to be running out of patience.
While Facebook's (FB) - Get Report revenue growth has remained well above its still-healthy user growth rates, Twitter's (TWTR) - Get Report revenue growth is slowing in step with its anemic user growth. If the situation doesn't correct itself, look for investors to start demanding big changes... and possibly the launch of a sale.
Shares are down 13.7% Wednesday after Twitter reported its annual revenue growth fell to 20% in the second quarter from 36% in the first quarter and 48% in the fourth quarter.  The company also guided for revenue to grow just 4% to 7% in the third quarter, or between $590 million and $610 million, far below a consensus estimate of $678.2 million. There's a good chance ad revenue growth will be close to nothing in the third quarter; it fell to 18% in the second quarter from 37% in the first quarter and 48% in the fourth quarter.
The same might hold for U.S. revenue growth, which fell to just 12% in the second quarter. Ads made up 89% of Twitter's revenue on a product basis; the U.S. made up 60% of its revenue on a geographic basis. Twitter's data licensing and other revenue (up 35%) and international revenue (up 33%) are seeing stronger growth off smaller bases.
Twitter and Facebook are holdings in Jim Cramer's Action Alerts PLUS Charitable Trust Portfolio. Want to be alerted before Cramer buys or sells TWTR or FB? Learn more now.
As for Twitter's closely watched user growth, it's more of the same. Monthly active users (MAUs) rose by just 1% sequentially and 3% annually, to 313 million. U.S. MAUs rose just 1% annually, to 66 million; international MAUs rose 3%, to 247 million.
By contrast, Facebook's MAUs rose 15% annually in the first quarter to 1.65 billion, and that's not counting Instagram and WhatsApp users who aren't using Facebook's core services. Instagram topped 500 million MAUs last month, nine months after topping 400 million. Facebook should provide new user figures for its core service when it reports on Wednesday after the close.
Twitter's active user growth has slowed to a crawl. Source: earnings slides.
Newer features such as Moments and "While you were away" -- the latter uses an algorithm to show interesting tweets that were published since a user last logged in -- clearly aren't doing much to broaden Twitter's appeal. A lot of the issues that have stunted Twitter's user growth are still in place: users feeling overwhelmed by its traditional Timeline view, tons of duplicate and spam-like content, the abuse and harassment encountered by many users and the struggles users often face in getting noticed or followed. The company's live content deals with the likes of the NFL, the MLB, CBS and Bloomberg might help it win new converts, but this is very much a wait-and-see story.
Meanwhile, Twitter's ad growth slowdown is accompanied by its equally troubling explanations. In this quarter's shareholder letter, CEO Jack Dorsey admitted Twitter is seeing "increased competition for social marketing budgets." That's undoubtedly a reference to Facebook, which delivered 57% first-quarter ad sales growth with the help of its superior scale, effective ad-targeting tools and aggressive efforts to monetize Instagram. It also might be a reference to Snapchat, whose daily active user base appears to have surpassed Twitter's and which is reportedly aiming for revenue to surge to $250 million to $350 million this year, after targeting just $50 million last year.
Dorsey also admitted Twitter's ads still carry premium pricing relative to alternative social ad formats, and that it needs to further expand beyond social marketing into "performance and premium mobile video budgets." Since Twitter apparently can't deal with this issue by just cutting ad prices to drive more sales, this feels like a roundabout way of saying the company lacks the traffic to continue driving strong growth in social ad formats, at least without raising ad load in a way that damages the user experience.
This is backed up by the fact Twitter's "ad engagements" rose 226% annually in Q2, and its "cost per engagement" (average ad price) fell 64%, amid a shift towards auto-play video ads. As well as by earnings call remarks from CFO Anthony Noto indicating Twitter doesn't have much more room to increase ad load for U.S. home page Timelines.
Given how many high-profile execs have left Twitter over the last 18 months, both the company's ad sales and user growth naturally raise fresh questions about the impact brain drain is having on the company's ability to execute. They also raise questions about whether Dorsey is biting off more than he can chew by serving as the CEO of both Twitter and Square.
A few of the analysts reacting to Twitter's numbers have once more brought up the possibility the company could go on the block. If that happens, it's easy to see Google and others placing bids, given that Twitter remains a very unique and valuable social media and information platform.
There's haven't been any indications to date that Dorsey is looking to sell. But investor patience appears to be running thin, and Microsoft's $26.2 billion purchase of LinkedIn, along with the bidding war that preceded the deal, provides a clear example of how a unique social platform with less-than-stellar execution can see strong M&A interest.
Unless Twitter's top-line and user growth figures start improving soon, it might just be a matter of time before activist investors start demanding that Twitter weigh "strategic alternatives"... and have a full-time CEO as well.