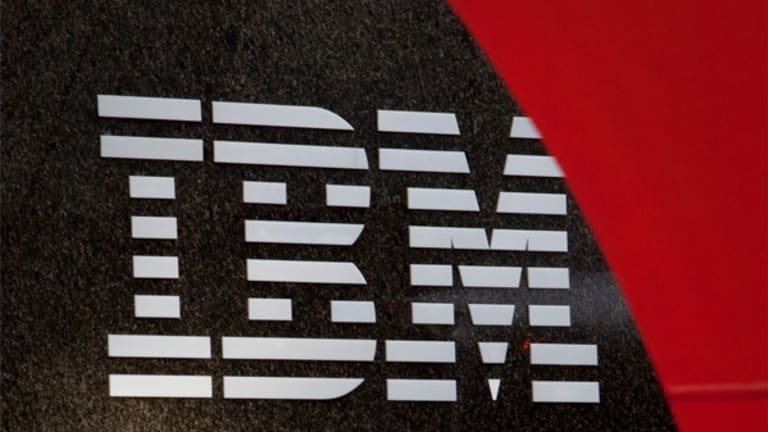 Publish date:
IBM Unveils 'Watson' Technology for Enterprise
IBM has unveiled its 'Elastic Storage' technology, the foundations of which were the exact same ones used for Watson's Jeopardy! TV match.
IBM has unveiled its 'Elastic Storage' technology, the foundations of which were the exact same ones used for Watson's Jeopardy! TV match.
NEW YORK (TheStreet) -- As part of its efforts to return to revenue growth, IBM (IBM) - Get Report Monday unveiled the "Elastic Storage" technology that the company says will allow enterprises to exploit and manage the exploding growth of data generated by devices, sensors, business processes and social networks in a variety of forms.
The foundations of Elastic Storage were used for the Jeopardy! TV match featuring IBM's supercomputer "Watson." By using Elastic Storage capabilities during the match, around five terabytes of Watson's knowledge or 200 million pages of data were loaded in only minutes into the computer's memory. A key reason these capabilities were chosen for the Watson system that competed on Jeopardy! was their scalability, with architectural limits that in theory could stretch into access of yottabytes worth of data.
IBM says it's demonstrated that Elastic Storage can successfully scan huge numbers of files on a single cluster in relatively short amount of time, an ability that will be indispensable to clients analyzing massive data repositories to extract business insights. The Elastic Storage can reduce storage costs by up to 90% by automatically moving data to the most strategic and economic system available. Elastic Storage virtualizes the process, allowing multiple systems and applications to share common pools of memory.
At its core, Elastic Storage builds on global file systems software the company already has in place. In addition, the software features native encryption and secure erase, which ensures that data is protected, to comply with regulations such as HIPAA and Sarbanes-Oxley.
Furthermore, through its support of OpenStack cloud management software, Elastic Storage also enables customers to store, manage and access data across private, public and hybrid clouds for global data sharing and collaboration. While traditional storage systems must move data to separately designated systems for transaction processing on the one hand and analytics on the other, Elastic Storage can automatically balance resources to support both, including Hadoop open source-based analytics, says IBM.
This new technology is part of an entire portfolio of software-defined storage products that IBM launched on Monday. The set of capabilities is ideally suited for the most data-intensive applications, which require high-speed access to massive volumes of information from seismic data processing, risk management and financial analysis, weather modeling and scientific research, to determining the next best action in real-time retail situations, according to IBM.
>>Read More: IBM CEO Rometty Reaches for the Cloud
Elastic Storage software will also be available as an IBM SoftLayer cloud service later this year.
In an interview with The New York Times, IBM CEO Virginia Rometty says IBM is "transforming this company for the next decade."
Her remarks arrive ahead of the company's annual analyst day meeting on Wednesday as IBM tries to emerge from revenue growth and stock price appreciation struggles driven by emerging threats such as cloud computing. It's a theme that's expected to be underscored throughout Wednesday.
While Rometty acknowledged that it's been a "rocky time" for IBM, she also told The Times that the company now has a clear vision for how to pursue future growth, including getting rid of less profitable businesses and investing in new fields such as big data analytics and cloud computing.
>>Read More:
IBM: Why We're Spending $1B on Watson Supercomputing
IBM Is Unveiling Watson As a Personal Shopper
How IBM's Challenging Amazon In the Cloud
-- Written by Andrea Tse in New York
>Contact by Email