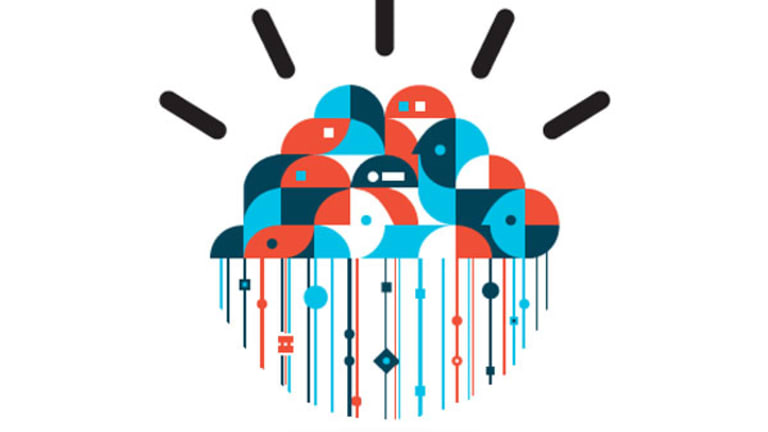 IBM Unveils $1 Billion Platform-as-a-Service Investment
IBM is investing $1 billion in a cloud platform-as-a-service to connect enterprise applications and data to the cloud.
NEW YORK (TheStreet) -- IBM (IBM) - Get International Business Machines (IBM) Report revealed a more than $1 billion cloud platform-as-a-service (PaaS) investment on Monday, opening its middleware to the cloud for the first time and bolstering the connectivity of enterprise applications and data to the cloud.
The investment was disclosed to more than 9,000 clients, partners and developers at IBM's Feb. 23-26 cloud conference in Las Vegas, which kicked off in earnest on Monday.
The investment starts with IBM's launch of "BlueMix," codename for a new PaaS, open beta, that combines IBM's software, third-party and open technologies. BlueMix will be providing DevOps in the cloud to facilitate effective and rapid construction of enterprise applications by developers, independent firms and enterprise teams. BlueMix runs on SoftLayer's global cloud platform.
The investments also bring IBM's middleware portfolio, such as WebSphere, to the instant global cloud distribution system of SoftLayer through pre-defined "Software Patterns" that will bring existing applications to the cloud. IBM says that with more than 200 application and middleware patterns available from IBM and IBM business partners, IBM Software Patterns differentiates itself from the rest because it enables application portability across a hybrid cloud environment, thereby allowing for the flexible deployment of applications and middleware both on- and off-premise.
IBM's middleware services focuses on mobile, web apps, integration and data management, as well as application process interface (API)-based services such as those from Watson. It forms the core of the company's $26 billion software business.
The third portion is composed of IBM's continued investment in and expansion of services running on SoftLayer, including DevOps, which offers users the capability to plan, develop, test, deploy and monitor applications, as well as systems management via Service Engage. IBM says its data and analytics optimization system Power Systems will soon begin running on the SoftLayer cloud infrastructure to support Watson Solutions.
IBM invests more than $6 billion in R&D every year, much of it going toward the cloud. The company unveiled a $1.2 billion global launch of 15 new data-centers integrated with 13 SoftLayer and 12 existing IBM centers in mid-January, and a more than $1 billion Watson Group cloud investment in early January.
Ahead of the official announcement, Erich Clementi, senior vice president of IBM Global Technology Services, highlighted for TheStreet how IBM's $1 billion plus investment addresses the core issues of cloud adoption:
Tse: Tell me about the conception of BlueMix.
Clementi:BlueMix is the most important part of the investment. Because BlueMix is an open environment, there's lots of IBM technology in there, but there's also open source technology in it. It has an integrated development environment which makes it possible to develop in it but also to operate the whole environment in the cloud. And over time, you'll see this being built out with a whole host of services -- services that are middleware services.
When you look at enterprises, enterprises increasingly have two broad categories of systems. On one hand, a system of records; think about your transactional systems, your core banking systems, your accounting systems. Those systems are very stable. They're highly optimized and there's not a lot of change in those systems.
Then, there are these new systems in which you deploy mobile applications, situational applications, social applications, and where you need to react very, very fast, where you need to deploy very, very fast. We call those "systems of engagement." Now the value of the enterprise lies in the fact that you can connect through your mobile application, go straight into your transactional data or into your inventory data, and solve your business problems. But you want to do it without losing security, quality of service, and high availability -- all the characteristics that enterprises need.
BlueMix and the fact that we've opened our middleware to the cloud allows for this type of integration.
Tse: Your middleware move-- it's unprecedented.
Clementi:Yes. We are the biggest middleware provider for the enterprise in the world, so it is a big step.
The middleware application patterns are -- think about it as the virtualized configurations of application services and database servers that you would deploy internally.
Now you can also deploy them into the cloud -- all of that runs on SoftLayer -- which gives you a native hybrid environment from the get-go.
If you follow what Gartner says, Gartner says by 2017, 50% of enterprises will have a hybrid cloud. So what we are doing here is we are enabling enterprises to manage their cloud environment endlessly both from a deployment and management point of view, whether they are in the cloud or on premise.
We think this trend is a big gift. We are very excited about this.
Tse: Can you tell me about the market opportunity that this investment is creating for IBM and its partners?
Clementi: I want to put this in context for you, Andrea. You have seen us invest for a long time in the cloud. We have acquired 110 SaaS properties over the last couple of years. You've seen us acquire SoftLayer. In January we announced investments in the rollout of new datacenters to make SoftLayer the global backbone of our cloud offerings.
This announcement of $1 billion investments into software properties goes into the same investment logic where IBM is rapidly, rapidly shifting all its focus to the cloud.
It's a two-year investment for 2014 and 2015.
We see this as an investment for born-on-the-web developers and enterprise developers to whom we'll make available these capabilities. We are also going to have a lot of business partners -- you know that we have a broad ecosystem -- ISVs and systems integrators that need to bring their services to the cloud.
By doing this, we enable them.
So inside this investment you are going to see the rollout of a new platform-as-a-service, and the way to think about that is it's an environment for developers with enterprise-class strength that live completely in the cloud -- development and operations are consumed in the cloud.
We think the journey of the enterprise towards the cloud is in its early days. This is going to be a $250 billion market by 2017 according to Gartner and that's a significant fact.
Cloud is a major, major investment area. It's a maturing theme of investment that we have been in for some time now. And you will still see ongoing releases coming from us at an accelerated pace.

-- Written by Andrea Tse in New York
>Contact by Email