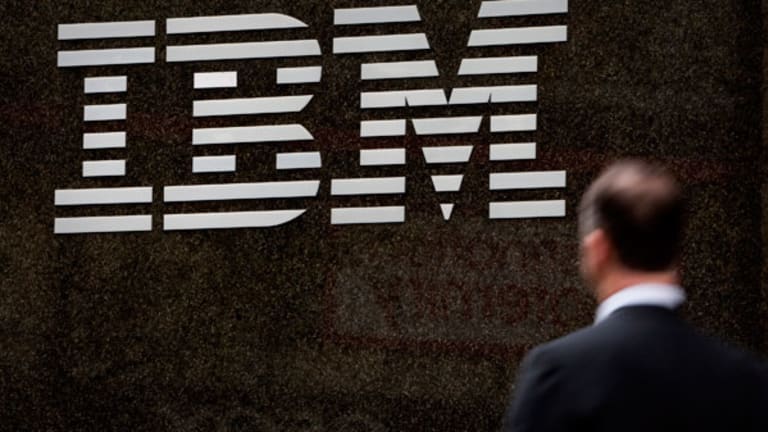 IBM Throws More Weight Behind Watson (Update 1)
IBM's Watson supercomputer, which made a headline-grabbing debut on Jeopardy in 2011, will spearhead the tech giant's latest efforts to tap cloud and big data dollars.
IBM's Watson supercomputer, which made a headline-grabbing debut on Jeopardy in 2011, will spearhead the tech giant's latest efforts to tap cloud and big data dollars.
This story has been updated with launch event comments from IBM CEO Ginni Rometty.
NEW YORK (TheStreet) - IBM's (IBM) - Get Report Watson supercomputer, which made a headline-grabbing debut on Jeopardy in 2011, will spearhead the tech giant's latest efforts to tap cloud and big data dollars.
The Armonk, N.Y., company is setting up a New York City-based business unit devoted to Watson. Based at 51 Astor Place in New York's "Silicon Alley" tech hub, the Watson Group will focus on cloud-based innovation and also will help customers cope with the challenge of big data.
Big data refers to the management of vast quantities of unstructured data, or information that is outside the realm of traditional databases. Examples include email messages, PowerPoint presentations, audio, video and social media information.
Read: Did CES Just Kill the Old Video Game Console?
IBM will invest more than $1 billion in the Watson Group, focused on R&D and bringing cloud-based applications and services to market. The company will make $100 million of its investment available for venture investments in startups and businesses building Watson-powered apps.
Some 2,000 people will work within the Watson Group, led by Michael Rhodin, former senior vice president of IBM's Software Solutions Group.
"We don't create these units very often, but when we do it's because we see something that's a really big shift that we believe in," said IBM CEO Ginni Rometty during a launch event in New York City on Thursday. To illustrate her point, Rometty compared Watson to key offerings in the company's history, such as mainframes, PCs and the creation of IBM Global Services. "Today is an important moment in the company's history and it's an important moment in the history of technology," she addded.
From the "tabulating era" of the late nineteenth century characterized by punch-card machines to the "programmable era" of the 1950s and 60s, Rometty said that Watson heralded a third "cognitive era" of computing when it was first launched in 2011. "It's a new species - it is taught, not programmed," she said. "It learns from experience and interation."
As well as unveiling the Watson Group, IBM also announced three new Watson-based services -- Watson Discovery Advisor for pharmaceutical research; Watson Analytics for visual representations of big data; and Watson Explorer for uncovering and quickly sharing information across an enterprise.
Watson will deploy on top of SoftLayer, IBM's recent cloud computing infrastructure acquisition. Speaking during the launch event, Rometty described how IBM initially targeted Watson at the healthcare sector, working with the likes of the Memorial Sloan Kettering Cancer Care Center and the Cleveland Clinic. The company, however, considers enterprise deployments of the supercomputer to be "more scalable" and "more repeatable". In addition to healthcare, the CEO identified Watson cloud opportunities in retail and travel.
Last February, IBM unveiled the first commercial technologies based on its Watson supercomputer, targeting the lucrative health care sector. A month later, IBM CEO Ginni Rometty gave a peek into the company's efforts to make money off Watson during her first public speech since taking the tech giant's reins in 2012.
Read: Salesforce CEO Benioff Lays Out Cloud, Mobile Strategy
At its investor briefing last year, IBM increased its 2015 revenue target for analytics and big data to $20 billion from $16 billion, underlining the potential for technologies such as Watson. Back in 2010, IBM had set an initial goal of $10 billion by 2015.
Earlier this week, The Wall Street Journal reported that Rometty told IBM executives she hopes Watson will generate $10 billion in annual revenue within 10 years. The Journal cited an October 2013 conference call transcript that it had reviewed. The transcript, however, indicated that Watson had total revenue of less than $100 million in late October, according to the newspaper.
IBM declined to comment when TheStreet contacted the company about the Watson revenue report.
Nonetheless, it's clear that Watson will feature prominently in IBM's long-term roadmap as the tech bellwether seeks out growth opportunities. During its recent fiscal third quarter, IBM's revenue was weighed down by weakness in parts of its hardware business and key emerging growth markets, prompting some unease on Wall Street.
During the third quarter, however, IBM broke down its cloud revenue for the first time, reporting that it increased more than 70% year to date and exceeded $1 billion during the quarter, including the SoftLayer acquisition.
Shares of IBM, which have slipped 3.1% over the last 12 months, are off 0.65% to $186.74 in Thursday trading.
 --Written by James Rogers in New York.
>Contact by Email.