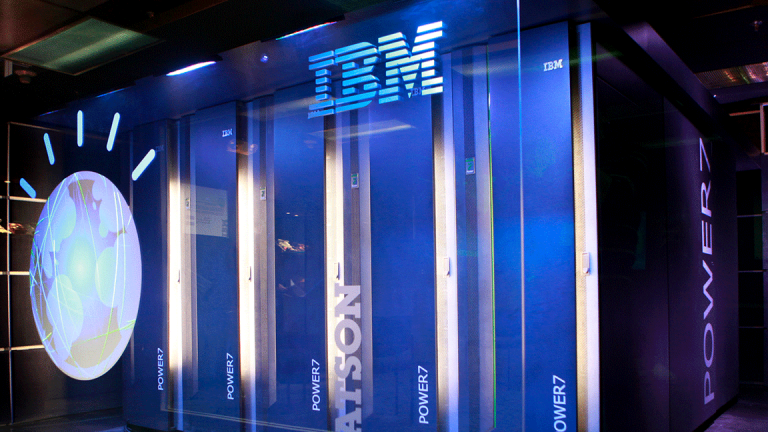 IBM Slides as 'Tax Headwind' Hits 2018 Outlook After Long-Awaited Sales Win
IBM's first quarterly revenue increase in more than five years was overshadowed by cautious 2018 guidance and a corporate tax "headwind" that will hit Big Blue's shares at the opening bell.
International Business Machines (IBM) - Get Report shares slumped in pre-market trading Friday as investors reacted cautiously to the group's cautious outlook and margin pressures even as it posted its first quarterly revenue increase in more than five years.
IBM told investors after the close of trading Thursday that it expects operating profits for the current fiscal year of at least $13.80 per share, a figure that is essentially unchanged compared to 2017 and shy of the Street consensus of $13.92. The Armonk, N.Y.-based group also said it anticipates a full-year tax rate of around 16%, nearly four percentage points higher than what it paid over the course of 2017 as changes in the U.S. corporate code trim its bottom line.
"Tax will be a headwind in 2018 year-to-year," said CFO James Kavanaugh."Given our trajectory exiting 2017 and the confidence we have in our portfolio and how we've repositioned it, we do expect revenue growth at current spot rates for 2018." 
"We see stabilization of our margins on a year-to-year basis, driven by the continued scale-out of our cloud business as we drive efficiency, and we're also going to get yield from our services productivity improvements," Kavanaugh added.
IBM shares fell 3.26% in pre-market trading in New York Friday, indicating an opening bell price of $163.60 each, a move that would trim their three-month gain to around 3%.
TheStreet's founder, Jim Cramer, sat down with IBM's senior vice president of global markets, Martin Schroeter, for his "Executive Decision" segment on CNBC's 'Fast Money' program last night. Schroeter said that IBM is building a global trade network using blockchain that will cater to the enterprise clients that IBM knows best.
The group posted a full-year loss of $1.05 billion over 2017, swinging from a $4.5 billion profit in the previous year, thanks to a $5.5 billion charge linked to the December passage of the Republican corporate tax overhaul.
Gross margins were also softer, falling to 49.5% and missing Street expectations of a 50.8% tally. Revenues, however, increased 2.6% for the fourth quarter of last year to $22.54 billion, topping Street estimates and notching the first annual increase in 23 quarters.
TheStreet's Eric Jhonsa noted Thursday that while "IBM's guidance and margin figures weren't disastrous, they did raise fresh questions about the pace of its turnaround -- particularly with regards to bottom-line improvement.
"And following a recent rally fueled by hopes that the company would build on a market-pleasing Q3 report, investors don't seem keen on giving Big Blue the benefit of the doubt," Jhonsa wrote.
More of What's Trending on TheStreet: