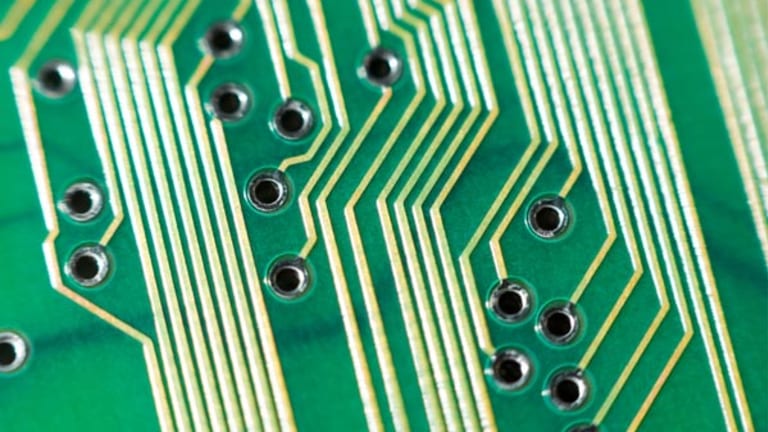 IBM Plays Tough Defense
Even in a down economy, IBM shares may offer upside to beleaguered investors.
Updated from 12:27 p.m. EDT
IBM
(IBM) - Get International Business Machines Corporation Report
set a bullish tone during its annual investor day on Wednesday, suggesting that the company's stock is well-positioned to weather the economic slowdown.
Despite a tough spending climate, IBM
backed
its full-year profit forecast during the New York event. Boosted by cost cuts and strong profit margins in services and software, the tech giant reiterated its projection of $9.20 a share.
In a rare public appearance, IBM CEO Sam Palmisano also explained that the firm is
on consulting services to drive its revenue growth, a shrewd move at a time when users are
their hardware spend.
By searching out recurring revenue streams such as software and services, the firm is making the right moves in a
, according to at least one analyst.
"IBM remains one of the top defensive stocks in tech," wrote Goldman Sachs analyst David Bailey, in a note released Wednesday. "The analyst meeting highlights the company's ability to absorb incremental macro weakness and still drive earnings at or above our $9.25 estimate for 2009."
The Armonk, N.Y.-based firm, which competes with the likes of
Hewlett-Packard
and
Microsoft
(MSFT) - Get Microsoft Corporation Report
, has been on a mission to bolster its services business in recent years, even extending beyond IT into areas such as environmental monitoring.
"Severely constrained IT spending underscores the benefits of IBM's revenue and profit mix versus other more transactional hardware companies," wrote Bailey. Recurring revenue contributes 50% of IBM's total revenue and more than 60% of the firm's pre-tax profit, he added.
The analyst explained that, even outside of its lucrative software and technology services businesses, IBM has revamped its product line to focus on projects with a six- to 18-month return on investment.
With more than $12 billion in cash, IBM also has a bulging war chest if it needs to make acquisitions or bolster its R&D efforts.
The company, which recently
its quarterly dividend from 50 cents to 55 cents a share, is seen as a key indicator for the health of the tech sector.
IBM, which was recently in discussions to
troubled tech giant
Sun Microsystems
(JAVA)
, is nonetheless confronted with a rapidly shifting competitive landscape. Sun was eventually snapped up by IBM's database rival
Oracle
(ORCL) - Get Oracle Corporation Report
and even networking giant
Cisco
(CSCO) - Get Cisco Systems, Inc. Report
is stepping on Big Blue's toes with its recent entry into the server market.
Storage behemoth
EMC
(EMC)
is also getting in on this act, having recently launched its high-end
system, which is a direct competitor to IBM's Enterprise Storage Server.
IBM, however, has been corralling its wagons, notably by
deepening
its distribution deal with
Brocade
(BRCD)
for Internet switches and routers.
The firm is also ramping up its software strategy and recently unveiled its "stream computing" technology, which is data analysis software aimed at areas such as healthcare and finance.
"We expect IBM to remain active in the areas of business analytics and optimization," noted Bailey, but acknowledged that a steep drop-off in services signings is the biggest risk to the company.
Despite its bullish investor day, shares of IBM slipped $1.06, or 1% to $101.20 Thursday, reversing the broader advance in tech stocks that saw the Nasdaq rise 1.5%.