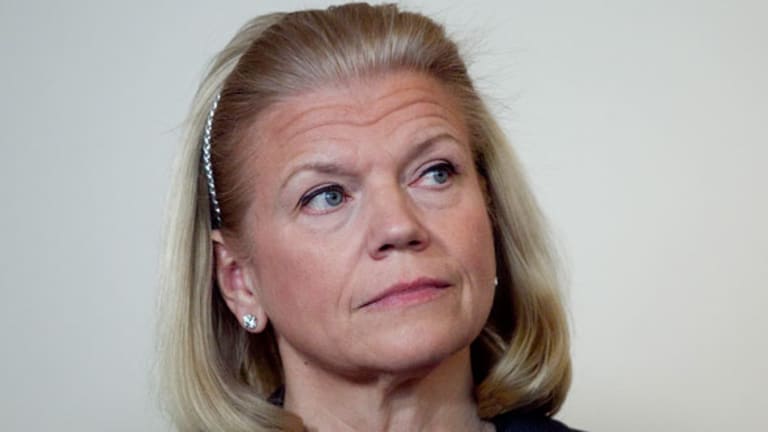 Last Thing IBM Needs Right Now May Be Activist Investors
IBM's stock may be suffering, but analysts believe the company is on the cusp of making a turnaround as its cloud-based services products go online.
CORRECTION: An earlier version of this story incorrectly indicated IBM was not profitable. The error was based on an analyst comment that he has now corrected.

NEW YORK (TheStreet) -- The push by some IBM (IBM) shareholders to get activist investors to stir up Big Blue and quickly return the company to growth is likely just a ploy to boost the company's stock in the short term, when in fact its long-term prospects look quite healthy, analysts say.
As reported Monday, some of the tech company's top investors are looking for help from activist investors, but sources told Reuters that they have been turned down by both Pershing Square and ValueAct. Not taking any chances, IBM has hired advisors to help deal with the possibility of attacks from activist investors after 11 quarters of declining revenue.
Bill Kreher, tech analyst for Edward Jones, said the shareholders' move is similar to those recently made at HP (HP) and EMC (EMC) , where agitators attempted to have those companies broken up. Kreher said such a move on IBM's part would be a mistake and that the shareholders simply need more patience as the company is in the process of righting itself.
"IBM is probably a company that should be kept intact. IBM is not standing still. It is pivoting toward cloud-based solutions and while this will hurt it in the short term, from our perspective the company is doing what it needs to do," Kreher told TheStreet.
The company is investing heavily in its new strategy, and that will generate positive results in the near future, according to Kreher and a recently issued Morgan Stanley analyst note.
IBM has committed $4 billion worth of investments this year to help drive growth in its key five areas -- cloud, analytics, mobile, social and security -- to help overcome the downturn in revenue in other areas. These businesses combined reached $25 billion in revenue in 2014, representing 25% of total revenue, up from just 13% in 2009.
IBM's most recent quarterly earnings statement had the company post $24.1 billion in revenue for its fourth quarter, ended Dec. 31, while net income from continuing operations fell 11% to $6.2 billion.
Kreher said IBM was caught flat-footed and originally underestimated the early opportunity to move away from its old hardware and software-based business model and jump on cloud-based services.
IBM is far from a broken company, the analyst noted. It has a strong management team, led by CEO Virginia M. Rometty.
Edward Jones expects IBM to return to growth by late 2016, despite the investment costs. Edward Jones projects low single-digit increases for IBM at first and then accelerating several points the following year.
Morgan Stanley concurred, saying that the forces holding IBM back will fade, allowing the company to grow revenue by low single digits, increase pretax income by mid single digits, and expand earnings growth by high single digits longer-term.
And Morgan Stanley sees IBM eventually returning 75% to 85% of free cash flow to shareholders in the form of a dividend or buyback. IBM has around $6 billion left on its buyback program as of the January earnings call. Its shares currently yield 2.7%, far higher than the yield on the 10-year U.S. Treasury.
"To the extent these headwinds fade into 2016, we see the potential for investors to shift focus to the more attractive long-term outlook," said Morgan Stanley.
This article is commentary by an independent contributor. At the time of publication, the author held no position in the stocks mentioned.