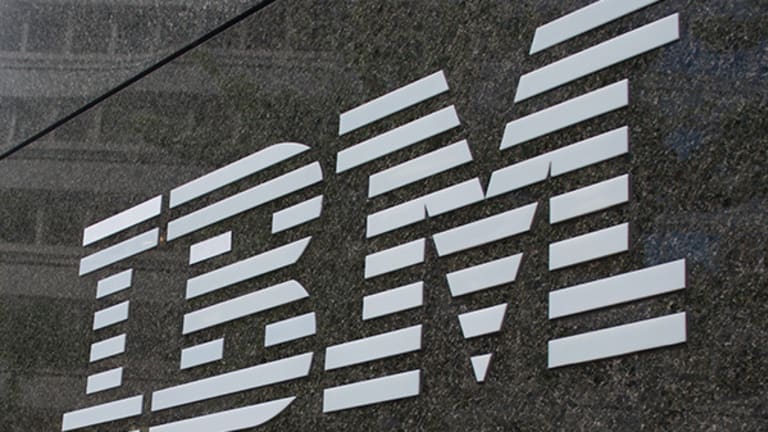 IBM Is Aiming for $40 Billion of Revenue From Five Growth Areas
IBM will tell investors Thursday that it will continue to remain a 'high-value innovation company,' even if Wall Street doesn't currently think so.
Updated from 9:05 a.m. to include analyst comments in the sixth paragraph.
NEW YORK (TheStreet) -- As it continues to transition its business model toward higher growth areas, IBM (IBM) - Get Free Report intends to tell investors Thursday that it will continue to remain a "high-value innovation company," even if Wall Street doesn't currently think so.
At its investor day in New York, CEO Ginni Rometty is focusing on three key themes: what Armonk, N.Y.-based IBM is; how it's transforming itself; and what the end result of the transformation will be.
IBM has worked diligently to get more revenue from its important growth areas -- cloud, mobility, data analytics, security and social -- but it hasn't come without hiccups to the overall business.
Rometty noted in a conference call with journalists on Thursday that these five areas only represented 13% of overall revenue five years ago, but they ended 2014 at 27% of the overall company, or $25 billion. In the next four years, IBM is aiming to get these areas to be $40 billion in revenue, as "IBM is reinvented and the core is innovated," Rometty said.
Overall revenue at IBM has declined since 2011, when full-year revenue was $106.92 billion, to $92.8 billion in 2014.
Cantor Fitzgerald analyst Brian White noted that there's the potential for the strategic areas of growth are likely to help boost IBM's overall business in the next couple of years. "We believe the decline in IBM's core business and the rise of strategic imperative revenue has the potential to reach a crossover point over the next two years," White wrote in a research note.
Shares of IBM have been battered over the past year, falling 11% compared to a 15.1% gain in the S&P 500 (SPY) - Get Free Report . Shares also have drastically underperformed on a longer-term horizon, gaining 28% over the past five years, compared to a 90% rise in the S&P 500, highlighting investors' frustration with the company.
Chief Financial Officer Martin Schroeder said on the call that the company is likely to continue to be acquisitive -- as it has in the past -- in the areas where it sees "long-term value." IBM continues to target single-digit revenue growth and high-single-digit growth in earnings per share.
The software and services giant has shed much of its hardware business over the past several years, including the recent sale of its semiconductor business to GlobalFoundries, and the sale of its server business to Lenovo (LNVGY) , which also bought IBM's PC business nearly a decade ago.
On the conference call, Rometty noted that the hardware business, which represents less than 10% of its overall business, is now profitable.
As the company focuses on its five growth areas, IBM is going to increase spending by $4 billion, excluding acquisitions. Much of the spending will go toward analytics and the cloud, notably the hybrid cloud, about which IBM has made several announcements recently.
IBM has entered several major partnerships, most notably with Apple (AAPL) - Get Free Report to bring iOS devices to the enterprise, as well as with Softbank (SFTBF) to bring its artificial computing system, Watson, to Japan. 
Rometty hinted there may be more to come, but gave no specifics, saying "this is a way to monetize and scale partnerships."
Must Read:
How IBM Continues to Rise in the Cloud as It Seeks to Boost Adoption
-- Written by Chris Ciaccia in New York