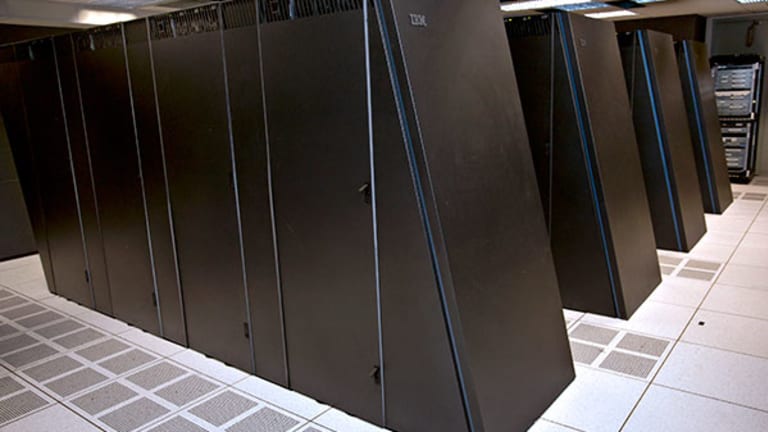 How IBM's Challenging Amazon In the Cloud
IBM announces yet another more than $1 billion cloud expansion plan just a week after its $1 billion plus Watson Group investment. TheStreet speaks to SoftLayer CEO Lance Crosby and IDC chief analyst Frank Gens.
NEW YORK (The Street) -- IBM (IBM) - Get Free Report on Friday unveiled a $1.2 billion global cloud investment that will see to the launch of 15 new datacenters integrated with 13 SoftLayer and 12 existing IBM centers, totaling 40 datacenters.
"Obviously from a dollar perspective, this is a huge commitment," said Lance Crosby, the CEO of SoftLayer, the foundation of IBM's cloud computing expansion that Big Blue acquired last summer. Crosby spoke with TheStreet Thursday.
"This is a $1.2 billion investment in cloud," he said. "We're obviously telling the world that IBM is dedicated to the cloud going forward. And by being one of the only players that's going to have a global footprint and the only player with a global backbone, we believe we're going to have a distinct, competitive advantage across all enterprises and governments worldwide."
Crosby said that every one of the datacenters will have four isolated zones inside, and each zone will have 4,000 physical boxes, tallying to 16,000 to 20,000 physical servers per zone, worldwide. Crosby explained that IBM-SoftLayer had determined that the best way it could help clients cope, head-on, with the increasingly complex regulatory and data privacy laws of various countries was to bring the cloud as close as possible to the end user.
Read: Alan Mulally's Last Act at Ford: Change the World Again
IBM has taken the exact opposite approach to expanding its global datacenter footprint from competitors. The typical approach among peers has been to build four or five sites globally to service the entire world. Crosby says IBM, instead, has gone for massive scalability and distribution, and is achieving this by building smaller, but many more datacenters around the world. The company is working to build out multiple sites in every continent, with an active passive or active failover-type scenario; and within them, in countries that can support $50 million to $100 million in cloud services.
"We're the only cloud provider out there that has this massively scalable and distributed datacenter strategy," says Crosby.
In 2014, all of SoftLayer's services will be pushed into the 15 new IBM datacenters. Part of the capital expansion will also interconnect existing IBM cloud facilities and transition SaaS (Software-as-a-Service) and PaaS (Platform-as-a-Service) properties onto the SoftLayer backbone, making the key facets of all of SoftLayer's services available at all datacenters. Purchasing customers soon will be able to pick and choose among the locations and services they want.
The datacenter launches will begin in the first half of 2014, starting with Sydney, Hong Kong, London, Toronto, and Mexico City. In North America, sites will be added in Ashton, West Virginia, and Dallas, Texas, dedicated specifically to government work. Overall, IBM plans to deliver cloud services to five continents and 13 countries.
Read: Agencies Vie for Claim to US Foods Takeover
Frank Gens, senior vice president and chief analyst at IDC says that the $1.2 billion investment shows that IBM is putting its money where its mouth is. The cloud is growing at about five times the rate of overall IT spending, or about 25% a year, and by ramping up the portion of its business where all the high growth is, IBM has found itself in a very strong position.
"The cloud is the antidote to IBM's slow revenue growth," Gens said.
Gens wasn't always persuaded of IBM's commitment to the cloud. Though IBM had been increasing its focus on the cloud over the last couple of years, Gens and his team of analysts felt that the company still needed to do more, and to do it faster. One of the key parts of what Gens and his team was looking for in IBM was a build-out of economically competitive cloud infrastructure on a global scale; a cloud service platform that could compete with giants such as Amazon (AMZN) - Get Free Report.
But now, with this announcement, combined with the $1 billion plus Watson Group announcement last week, and following the SoftLayer buyout, Gens has become highly optimistic that IBM is ready to compete in the cloud on a global scale. "The announcement really says that IBM really is moving with cloud speed to scale up its ability to compete against Amazon and the other players in this market," Gens said. "When they bought SoftLayer, they got the technology. Now, with this investment plan, they're introducing themselves to be competitive around scale, which of course is very important in the cloud world."
What follows are the highlights of TheStreet's interview with Lance Crosby, the CEO of SoftLayer:
Andrea Tse: "How long has IBM been planning for this deployment?"
Crosby: "IBM has been planning this long before they acquired SoftLayer last summer. And of course with the acquisition of SoftLayer, and the success that we've had since last July, now is the right timing. Together we had about nine months for the planning of this rollout for 2014."
Tse: "Can you tell me about the demand that's driving IBM to ramp up the build-out of its datacenter locations worldwide?"
Crosby: "We kind of have two driving forces here. We have the original SoftLayer customer base, which we consider the Internet-centric crowd. These were companies that were literally born on the Internet and drive their revenues and their success from the Internet. And typically these are companies that are wrapped around social gaming, social networking, the iPhone, the Android -- companies that everybody's heard of, like Dropbox, Tumblr and Yelp (YELP) - Get Free Report."
"And then on the IBM side, after the acquisition, it's bringing cloud to the existing IBM customer base worldwide, which obviously includes the Fortune 2,500 -- all enterprises -- commercial, financial, healthcare, along with the telcos of the world and the governments of the world. So it's a big push into that existing customer base that's seeking cloud, and then of course, new businesses across the globe that's coming to the cloud for the first time, with new uses and new workloads. A good example of this is the big data explosion. Big data's new for all organizations, big or small, and so that's something that they're doing now that they've never done historically, and they're typically doing it in the cloud."
Tse: "How will IBM's new cloud investments help clients, in an unparalleled way, address data compliance and country regulations issues?"
Crosby: "[On] complete control and transparency, our customers, at the time of purchase, can pick exactly what datacenter and what services they want. And so from a client standpoint, from a data privacy standpoint, you have companies now that are operating at a global level, like IBM. But you'll be able to buy services inside the UK and know that your data is going to reside inside the UK so that you can adhere to those local laws."
"And you're going to have those same types of instances all over the globe. It's going to be important from a cloud provider's perspective to be able to give those capabilities to our customers. Because even relatively small companies now operate on a global scale cause of the Internet."
Read: 5 Companies That Really Need a Super Bowl Ad
"From our history, when we started SoftLayer, we knew that complete control and complete transparency was going to be important to our customers. We're the only cloud provider out there who you can actually look inside the cloud and see the underlying physical hardware. You can see the servers, you can see the firewalls, you can see the serial numbers, you can see the firmware -- all the components. And that's important for companies that have compliance or regulatory issues."
"You know, when you talk about banks, when you talk about healthcare companies and HIPAA and SOX, you have to be able to have that sort of insight. And with all the other providers, you can't do that. That makes us distinctly different. And the other difference that we have is everything that SoftLayer and IBM does is either available in a single tenancy or a multi-tenancy environment. And it's really price-point driven -- and what you can accept from a security and compliance standard."
"All of the other cloud providers only offer multi-tenancy solutions. So there are shared resources across their platforms."
"In our world, when you get into governments, healthcare, banking -- all of those types of industries highly prefer -- almost demand -- single entity environments, which are important and only available at IBM."
Tse: "In terms of service and pricing, how will the expansion affect public, private and hybrid cloud deployment for existing and new customers?"
Crosby: "Our cloud services portfolio includes three buckets: you have the infrastructure as a service fees, it's what SoftLayer does. We have our platform as a service offerings, and then our SaaS offerings. We have in excess of 150 SaaS and PaaS properties in our portfolio. So we're going to expand the SoftLayer infrastructure worldwide and then we're going to pore over those 150-plus SaaS and PaaS solutions so that as we look up 12 months from now, from a customer's perspective, a customer's going to see a cloud portfolio that's going to include over 200 cloud services -- everything from the infrastructure fees, platform fees, like big data, up to software fees. And you know we have tons and tons of SaaS properties inside of IBM, which include everything from security services to healthcare billing to trucking, to almost every industry out there."
Tse: "Can you also talk about what the deployment will be looking like 'on the ground' for some of Watson's newest services, such as Watson Discovery Advisor for pharmaceutical research, Watson Analytics for visual representations of big data, and Watson Explorer?"
Crosby: "So Watson runs on our pSeries servers, which is the proprietary server that IBM created -- the only manufacturer in the world. And so the pSeries will become available on the SoftLayer platform worldwide. You'll have the option of the x86 or pSeries. And when we bring Watson onto the pSeries across the SoftLayer platform, we will be able to offer those data analytic services from Watson across the different industries in any of those locations. And so we think that's going to be a real differentiator as well."
Tse: "Do you envision IBM being a key disruptor to cloud businesses such as Amazon Web Services?"
Crosby: "Oh absolutely. I think you know the success of cloud is really going to be in economies of scale. I mean right now there's only three or four large companies that have a global footprint, able to build multiple facilities, and have the capital to push out hundreds of thousands of physical nodes worldwide. Obviously IBM being one of those."
"But we've taken a very different strategic approach in the way that we're going to be widely distributed with our datacenter locations, and then also our enterprise approach with that control and transparency, and we feel we have a product that is much different from all the other players in the industry and is also one that is going to be the leader in the enterprise end and in governments around the world."
-- Written by Andrea Tse in New York.
>Contact by Email.