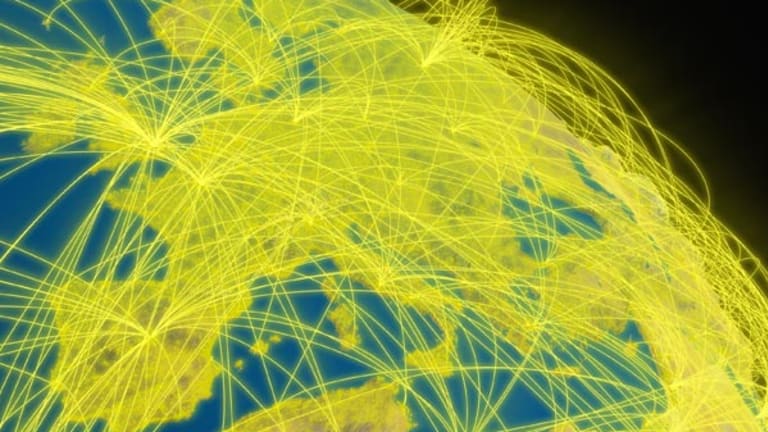 IBM Betting Big on Business Analytics
IBM predicts that business analytics software will be one of the hottest technologies of 2010.
IBM predicts that business analytics software will be one of the hottest technologies of 2010.
ARMONK, N.Y. (
) --
IBM
(IBM) - Get Report
is predicting that business analytics software will be one of 2010's hottest technologies, as companies attempt to squeeze as much value as possible out of their data.
"It's a market space that is growing substantially faster than other market areas," Steve Mills, IBM's senior vice president of software, told
TheStreet
. "Coming out of recession, hopefully, companies want to be more predictive."
Business analytics software is used to find new ways of analyzing data across a wide range of industries. This could be, for example, unearthing opportunities to cross-sell in retail, compiling health care data or performing risk analysis in finance.
IBM will unveil a slew of business analytics offerings at its Information on Demand conference in Las Vegas this week, including new software for analyzing sales, employee performance and procurement. Big Blue will also take the wraps off new content analysis software and technology for processing databases and emails.
Earlier this year, IBM
$1.2 billion on business analytics software maker
and threw down
to acquire
Cognos
in 2007.
IBM, which recently posted
third-quarter results, has been one of tech's big
during the recession, thanks largely to its focus on high-margin areas such as software and services.
During the conference call to discuss the company's third-quarter results, IBM CFO Mark Loughridge vowed to pump profits into business analytics, which he described as a primary investment area. Since 2005, IBM has spent $9 billion on acquisitions to build its business analytics capabilities, and the technology looks set to account for a large chunk of the firm's $6 billion annual R&D budget.
The business analytics market is worth $105 billion, according to research from IBM and analyst firms Gartner and IDC. Although he was unwilling to break out IBM's specific numbers, Mills said that the market is growing at a compound annual growth rate of 7% to 8%.
"In the face of an IT industry, that's not seen as growing this year;
business analytics is a huge opportunity," he said. "It's already a high-growth, fast-moving area."
Other companies playing in the business analytics space include
Oracle
(ORCL) - Get Report
,
Sybase
( SY) and
Teradata
(TDC) - Get Report
, which recently unveiled a business analytics offering for cloud computing. Aimed at both public clouds such as
Amazon's
(AMZN) - Get Report
EC2 service, and private clouds serving firms' internal customers, Teradata is touting its technology as a quick means of crunching complex cloud-based data.
Competition is clearly intensifying. True to form, Oracle CEO Larry Ellison has taken a swipe at both IBM and Teradata, recently wielding the company's latest
device as a cudgel. Not to be outdone, Teradata has been trash-talking its rivals' high-performance credentials in recent news
.
"Tech companies tend to do a lot of chest beating," sniffed Mills, adding that IBM has spent $12 billion on business analytics over the last decade. "We see a lot of opportunity for share gain and growth going into the future."
IBM has the largest private sector math department in the world supporting its business analytics strategy, according to Mills, who said that the tech bellwether has a full roadmap.
"Some of the most interesting things that we're working on relate to complex event-based activities," he explained. "Today's hospitals are filled with all kinds of monitoring equipment, but can you bring all that information together?"
Tied to IBM's
Smart Planet
initiative, the company is also doing business analytics for electrical grids, oil production and traffic congestion, according to Mills.
Underlining the market opportunity presented by business analytics, Sybase blew past Wall Street's
third-quarter
estimates last week, boosted by database license revenue.
-- Reported by James Rogers in New York