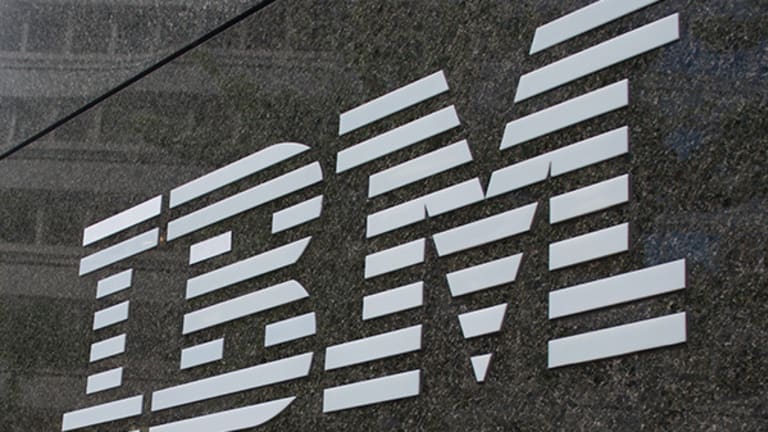 IBM Bets Big on Explosive Growth in Mobile Transactions
The tech giant has bet $1 billion on a new mainframe computing system that can process 2.5 billion transactions a day.
NEW YORK (TheStreet) -- For a consumer, making a mobile purchase ideally only involves a few taps on a device, but what happens on the back end is significantly more complicated.
Huge amounts of data are involved, prompting major companies to rely on mainframe computing systems, such as IBM's (IBM) - Get International Business Machines (IBM) Report z13, to record and analyze all that information.
IBM's new system, which cost the company $1 billion to develop over the course of 5 years, aims to tackle the explosive growth in mobile transactions, which the company says will reach 40 trillion daily transactions by 2025. The z13, which began shipping Monday, can process 2.5 billion transactions, or the equivalent of 100 Cyber Mondays, per day, according to the firm.
Aside from the 300% increase in memory and 40% jump in processing capacity from IBM's previous mainframe product, the z13 can handle both analytics and transactions within a single system.
"In the past you would have to move the data off the mainframe and do your analytics on the side," said Tom Macpherson, vice president of z systems development at IBM.
That's a huge boon for companies, not just in terms of efficiency, but also for fraud detection, which Macpherson says could save a large insurer hundreds of millions of dollars.
The z13 also reveals just how much cloud computing is changing the way mainframes are used.
"We're now connecting our private clouds, which have been in existence for years, to public clouds and we're doing it securely so that a customer can encrypt their transaction through the public cloud and the private cloud," said Ross Mauri, general manager of z Systems at IBM.
Even though IBM's hardware business is shrinking, it remains quite significant, driven by the rise of cloud computing.
In 2014, IBM saw revenues of $9.9 billion in its hardware space, or 10.8% of total revenue, although hardware sales fell 23% last year.
Pete Wahlstrom, director of technology equity research at Morningstar, says IBM is pivoting to focus on more strategic areas, like analytics, cloud and engagement.
"IBM hasn't abandoned its hardware roots," Walhstrom said. "The company would ultimately like to shift to become a more software-oriented firm, but in the meantime, it has developed a high-end mainframe server business that should be optimized for the strategic workloads of analytics and cloud."
IBM's big bet on the z13 could pay off if mobile transactions end up seeing the growth that many are predicting. Wahlstrom says no major branded companies compete with IBM in the mainframe space, though HP (HP) - Get Helmerich & Payne, Inc. (HP) Report, Dell and Oracle (ORCL) - Get Oracle Corporation Report are competitors in the server business.