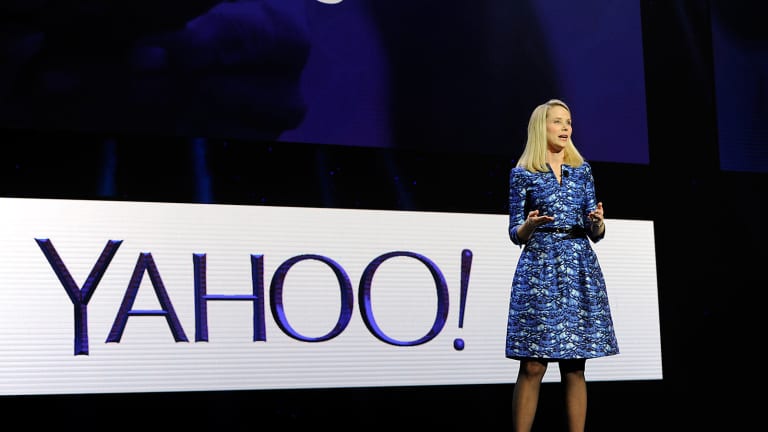 Publish date:
All Eyes on Yahoo!'s Sale Process; IBM Beats Estimates; EMC Gains Thanks to VMware
Yahoo! misses earnings estimates but that's of little concern, while IBM beats and EMC profits from VMware's performance.
Yahoo! misses earnings estimates but that's of little concern, while IBM beats and EMC profits from VMware's performance.
Here's a look at major tech stories in the news for Tuesday.
Yahoo! posts soft second-quarter results, shrugs it off with all eyes on sale process
With the sale process for Yahoo!'s (YHOO) core business reportedly in its final stages -- Monday was reportedly the deadline for final bids -- the one-time web giant's shares haven't moved much following another set of downbeat results. EPS missed by a penny, and while GAAP revenue soundly beat estimates, that was only because traffic acquisition costs (TAC) soared to $466 million from $200 million a year ago. Excluding TAC, revenue fell 19% annually to $842 million.
Ex-TAC search revenue fell 24%, thanks partly to the reworking of Yahoo!'s Microsoft search deal, and display ad revenue fell 3%. Full-year ex-TAC revenue guidance of $3.4 billion to $3.6 billion (compares with 2015 revenue of $4.1 billion) has been reiterated. Meanwhile, a fresh $482 million write-down -- potentially useful to an acquirer for tax purposes -- has been taken on Yahoo!'s 2013 purchase of blogging platform Tumblr, which has been hurt by both product execution and monetization issues. Snapchat and Pinterest's valuations have taken a very different trajectory over the same time.
On the earnings call, CEO Marissa Mayer said Yahoo! had "no announcement" to make regarding its sale process. From the looks of things, that might change soon.
IBM sales and EPS beat expectations
Compared with many of its recent earnings reports, IBM's (IBM) - Get Reportsecond-quarter report isn't too bad. Both sales and EPS beat expectations, and full-year adjusted EPS and free cash flow guidance was affirmed. Moreover, unlike in some prior quarters, the EPS beat wasn't driven by massive stock buybacks or an unexpected tax benefit -- a moderate $800 million was spent on buybacks, and IBM's tax rate, though still fairly low at 17.8%, was up from 16.5% a year ago.
Rather, the beat was fueled by software and services sales improvements. IBM's high-margin Cognitive Solutions unit, which covers a variety of enterprise software, saw revenue rise 3.5% annually to $4.7 billion, a reversal from first quarter's 1.7% decline. Global Business Services revenue fell 2% to $4.3 billion, a smaller drop than first quarter's 4.3%. And Tech Services & Cloud Platform revenue fell 0.5% to $8.9 billion, after having dropped 1.5% in the first quarter.
A 49% increase in the annual run rate for "cloud-as-a-service" revenue to $6.7 billion boosted services sales. Software benefited from a 43% increase in mobile revenue (boosted by IBM's iOS-related partnership with Apple) and an 18% increase in security revenue. IBM's massive analytics business saw a 5% sales increase.
But it's worth noting acquisitions contributed to sales improvements, particularly in software and cloud services. IBM has announced nearly two dozen acquisitions since the start of 2015 -- major deals include the $2.6 billion purchase of healthcare data/analytics services firm Truven Health Analytics, the $1 billion purchase of healthcare imaging software firm Merge Healthcare, the $1.3 billion purchase of storage hardware/software firm Cleversafe and the acquisition of the Weather Co.'s digital assets, reportedly for over $2 billion.
Meanwhile, total revenue was still down 3% annually, thanks to a 23.2% drop in Systems (hardware) division revenue to $2 billion and an 11.3% drop in Global Financing revenue to $424 million. Hardware sales were hurt by the fact that IBM's current mainframe upgrade cycle is at a late stage, but cloud infrastructure adoption and server share losses also appear to be weighing.
Also: In a story that Microsoft, Oracle and others can certainly relate to, it looks as if the shift in IBM's sales mix from on-premise software and services revenue to cloud apps and services is weighing on margins. Adjusted gross margin fell to 49% from 50.9% a year ago. That, along with a higher tax rate and acquisition-related spending increases, contributed to a 25% drop in adjusted net income to $2.8 billion.
As of the time of this article, IBM is up just fractionally in after-hours trading in spite of its second-quarter beat. Big Blue's acquisition spree and internal R&D investments are helping put an end to the major revenue declines it saw during much of 2015. But the sales pressures faced by its traditional enterprise businesses remain severe as cloud adoption continues. And the company clearly has more work to do in improving cloud margins.
EMC gains after second-quarter report thanks to VMware's strong numbers
With payment for EMC's (EMC) pending acquisition by Dell consisting of cash and a tracking stock for shares of EMC subsidiary VMware (VMW) - Get Report, VMware's financial performance matters a lot more to EMC investors right now than that of EMC's core storage hardware/software business, which has been pressured by weak high-end storage sales and cloud storage adoption.
As a result, EMC is rallying in spite of a fairly ho-hum second-quarter report -- EPS beat estimates, but revenue was in-line and down 1% annually, thanks to storage declines -- as the numbers are overshadowed by a second-quarter beat and strong guidance from VMware.
In its earnings slides, VMware guided for 2016 revenue of $6.95 billion-$7.05 billion and EPS of $4.27 to $4.33, above consensus estimates of $6.89 billion and $4.14. Third-quarter guidance was also above consensus, and VMware hiked its full-year free cash flow guidance to $2.13 billion from $1.98 billion.
A look at VMware's second-quarter numbers show that its efforts to become less dependent on its declining vSphere server virtualization software business continue to bear fruit. License bookings for the NSX network virtualization software platform more than doubled annually, with customers rising by about 300 sequentially to over 1,700. The AirWatch enterprise mobility software business once more saw double-digit license bookings growth, and the broader end-user computing business (also covers virtual desktop software) saw low single-digit license bookings growth.
All of that has helped VMware surge in after-hours trading. And take EMC higher with it.