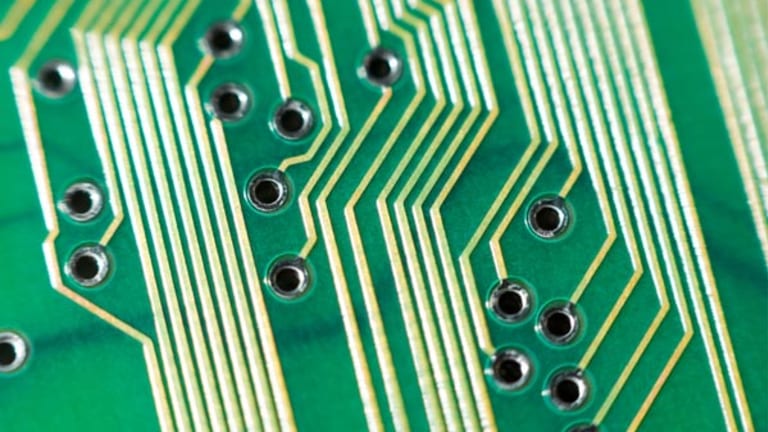 Publish date:
IBM, AT&T Dive Deeper Into Cloud
IBM, AT&T, VMware and Sun are all banging the cloud drum this week.
IBM, AT&T, VMware and Sun are all banging the cloud drum this week.
Updated with information on ATT.net outage
ARMONK, N.Y. (
) - Big tech and telecom names
AT&T
(T) - Get Report
,
VMware
(VMW) - Get Report
,
Sun
(JAVA)
and
IBM
(IBM) - Get Report
are ramping up their
strategies today.
Tech bellwether IBM claims to be breaking new ground in this space with the launch of its Smart Analytics Cloud, a set of technologies for firms that want to compile information across their organization. This could be, for example, a corporate sales team that needs to draw reports from multiple databases in different global divisions.
"We can set up their private cloud for them, or we can offer it as a
hosted service," Linda Sanford, senior vice president of enterprise transformation, told
TheStreet
. "There are certain industries that will jump on it faster than others -- retail tends to be very aggressive on this and I think that the finance industry can benefit."
AT&T, VMware Meet In The Cloud
Cloud services, which typically offer computing power or data storage via the Internet, have been
recently, with companies such as
Amazon
(AMZN) - Get Report
,
Microsoft
(MSFT) - Get Report
and
Verizon
(VZ) - Get Report
all
the technology. AT&T, for example, already offers its Webmail service, although its att.net Web site was temporarily inaccessible early Monday following a 'fiber cut'.
IBM's Smart Analytics Cloud is a set of hardware, software and services that customers use to collate information across their organization, which is then accessed through a secure Web portal. Consisting of a System z mainframe computer, the cloud package also includes IBM's
Cognos
business intelligence and DB2 database software.
The tech giant has already
that business analytics software will be one of 2010's hottest technologies. During the conference call to discuss the company's third-quarter results, IBM CFO Mark Loughridge vowed to pump profits into business analytics, which he described as a primary investment area. Since 2005, IBM has spent $9 billion on acquisitions to build its business analytics capabilities, and the technology looks set to account for a large chunk of the firm's $6 billion annual R&D budget.
IBM, like its
, has also
behind cloud computing, both within its own business, and as an external revenue stream.
Sanford explained that the Smart Analytics Cloud was born out of an internal IBM project dubbed "Blue Insight," which aims to gather information from more than 100 information warehouses and data stores. Some 60,000 IBM employees will have access to Blue Insight by the end of the year, she told
TheStreet
, a figure which will rise to 200,000 in the next 12 to 18 months.
AT&T is another company touting new cloud technology this week, unveiling its Synaptic Compute as a Service offering. Built on hardware from Sun and software from virtualization giant
, the telecom firm is extending its current storage cloud into the computing arena.
Hinting that cloud is fast becoming an arms race, AT&T has made much of VMware's involvement in its new service, and is clearly looking to tap into the ongoing
buzz
surrounding the virtualization trailblazer.
VMware, for its part, is attempting to establish itself up as a major piece in the cloud infrastructure jigsaw. The software maker's AT&T deal comes hot on the heels of its recent
with
Cisco
(CSCO) - Get Report
and
EMC
(EMC)
.
Despite plenty of vendor hyperbole, however, cloud is still in its relative
, and users are still skeptical about aspects of the technology.
A survey by the IT Industry Council (ITIC) earlier this year, for example, found that 85% of companies will not implement a cloud in 2009 because of fears that service providers may not be able to adequately secure sensitive data.
Other hurdles in the path of cloud computing include lack of standards for the technology, which has already prompted some acerbic vendor
and general wariness of new concepts.
Now see Top Rated Wireless Stocks.>>
-- Reported by James Rogers in New York