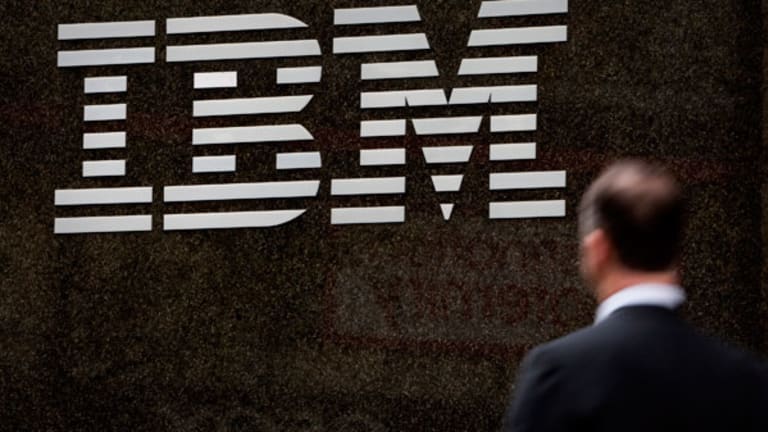 IBM, Apple Just Made an Historic Announcement for its Business Customers
IBM announced it signed an exclusive deal with Apple to bring a new class of business apps-bringing IBM's big data and analytics capabilities to the iPhone and iPad.
Updated from 4:50 P.M. to include comments with IBM executive.
NEW YORK (TheStreet) –– IBM (IBM) - Get Report signed an exclusive deal with Apple (AAPL) - Get Report on Tuesday aimed at bringing a slew of new business apps to the mobile market, an effort at combining IBM's big data capabilities with the analytics and user-friendliness of the iPhone and iPad.
IBM Global Business Services Sr. Vice President Bridget van Kralingen said the deal had been worked on for some time. "We came at this together," van Kralingen said in a phone interview with TheStreet. "We feel really quite strongly about one another's unique positioning. IBM is the gold standard for enterprise, and Apple is the gold standard for the consumer and consumability.
IBM shares were rising in after-hours trading, gaining 1.8% to $191.92, while Apple shares were advancing 1.5% to $96.76.
The deal will see four major capabilities transforming the way developers, the enterprise and consumers use both the iPhone and the iPad, as well as bringing IBM's cloud services to iOS:
• a new class of more than 100 industry-specific enterprise solutions including native apps, developed exclusively from the ground up, for iPhone and iPad;
• unique IBM cloud services optimized for iOS, including device management, security, analytics and mobile integration;
• new AppleCare® service and support offering tailored to the needs of the enterprise; and
• new packaged offerings from IBM for device activation, supply and management.
As part of the new MobileFirst for iOS agreement, IBM will sell iPhones and iPads with industry-specific solutions to business clients.
"iPhone and iPad are the best mobile devices in the world and have transformed the way people work with over 98 percent of the Fortune 500 and over 92 percent of the Global 500 using iOS devices in their business today," said Tim Cook, Apple's CEO in the press release. "For the first time ever we're putting IBM's renowned big data analytics at iOS users' fingertips, which opens up a large market opportunity for Apple. This is a radical step for enterprise and something that only Apple and IBM can deliver."

WATCH: More market update videos on TheStreet TV

"Mobility-combined with the phenomena of data and cloud-is transforming business and our industry in historic ways, allowing people to re-imagine work, industries and professions," said IBM Chairman and CEO Ginni Rometty in the release. "This alliance with Apple will build on our momentum in bringing these innovations to our clients globally, and leverages IBM's leadership in analytics, cloud, software and services. We are delighted to be teaming with Apple, whose innovations have transformed our lives in ways we take for granted, but can't imagine living without. Our alliance will bring the same kind of transformation to the way people work, industries operate and companies perform."
Both companies will build the IBM MobileFirst for iOS Solutions-a new class of "made-for-business apps," which will target industries such as retail, healthcare, banking, travel and transportation, telecommunications and insurance, among others. They will become available starting this fall and into 2015.
In the interview, van Kralingen noted that in the next year to 18 months, all 100 business software programs would be rolled out, but noted it may not stop at 100. "We're provisioning for data, and removing barriers for mobile for business."
--
Written by Chris Ciaccia in New York
>Contact by Email.