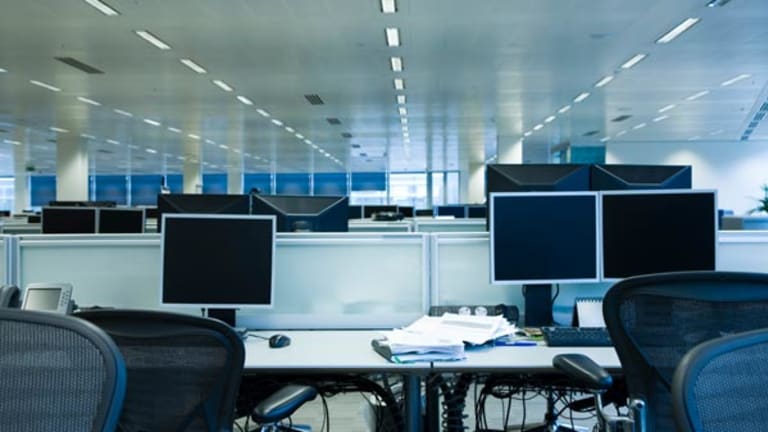 Hurricane Sandy Tests Consolidating Telecom Sector
Hurricane Sandy will test re-aligning telecom carriers.
Hurricane Sandy will test re-aligning telecom carriers.
NEW YORK (
) -- As New York City
begins to recover
from widespread flooding and power outages caused by Hurricane Sandy, the storm may prove to be a pivotal test of the fast consolidating U.S. telecom sector.
As of Wednesday morning, Hurricane Sandy is
reported
to have hit the infrastructure of the nation's largest carriers. According to
Reuters
, the nation's leading carrier and New York-area powerhouse
Verizon
(VZ) - Get Report
, may have come out of the storm with the worst damage after flooding and power outages hit the company's offices in Lower Manhattan, Queens and Long Island.
Competitor
AT&T
(T) - Get Report
is also reported to have been impacted by the storm, in addition to
Sprint
(S) - Get Report
and industry fourth player
T-Mobile
, which announced a merger with
MetroPCS
(PCS)
earlier in October.
Groupon Targets Hungry, Powerless New Yorkers
According to industry analysts, Sandy may have an immediate economic impact for the nation's largest carriers. Meanwhile, the industry was already braced for a pivotal six-to-12 months earnings test as the ramifications of consolidation on
becomes clearer and investors get more data on the interplay between profit margins and
Apple
(AAPL) - Get Report
iPhone 5 subsidies.
Sandy may also delay plans of some carriers to bolster the capacity of their networks as consumers flock to high-data-use smartphones like the iPhone,
Google
(GOOG) - Get Report
-Android powered devices and
Microsoft's
(MSFT) - Get Report
recently launched Windows 8 ecosystem.
Late on Tuesday, Evercore Partners telecom analysts led by Jonathan Schildkraut put out initial calculations on the impact of Sandy on telecoms, highlighting key earnings and service scenarios. Evercore Partners echoed media reports of flooding, power outages and service disruptions, while putting out an early estimate of the financial impact of Sandy for some carriers.
"While it's still too early to determine how much the storm could impact the carriers financially, we do look at last year's storm, Irene, as a guide. Irene (in addition to Tropical Storm Leo) -- which notably impacted Verizon's total footprint - led to roughly a 5-cent impact to 2011 EPS and slower FiOS customer growth in
the third quarter of 2011. For 4Q12, we believe Sandy could have ramifications for VZ's FiOS net add guidance of 150-170 per quarter and 4Q EPS," wrote Schildkraut.
The analyst also said he sees a potential impact on Sprint, as it tries to use $8 billion in new capital from its acquisition by Japan's
Softbank
to bolster its network and draw closer to industry leaders in smartphone service. Notably, the company may see a slowing in its multi-year, multi-billion dollar Network Vision service upgrade.
"
For Sprint, we believe the storm could insert further delays into the company's already pushed-out network vision plans (12,000 cell sites by the end of 1Q13)," wrote Schildkraut.
While cellular and data service has been slowed by Hurricane Sandy, the storm is also likely to prove some gains made by carriers. As of Wednesday morning, few areas reported complete outages as happened during the terrorist attacks on Sept. 11, 2001. Amid power widespread outages, relatively steady smartphone service has also been a crucial aid to many.
Still, the impact of Sandy will test test overall communications infrastructure in the mid-Atlantic and Northeast.
TheStreet
that FCC Chairman Julius Genachowski says Sandy has affected 25% of all cellular phone service, from major cell providers, in more than 150 East Coast counties. Broadband internet and cable providers like
Time Warner Cable
(TWC)
and
Cablevision
(CVC)
have also reported outages.
Wednesday afternoon reports from
NBC
indicate cell service in Lower Manhattan is deteriorating as backup generators on cell towers run out of power.
Outside of Sandy, recent earnings give telecom investors a mixed picture heading into the final quarter of 2012.
AT&T's
(T) - Get Report
generally
released earlier in October gave new life to bearish predictions for the telecom sector amid an industry profit surge.
AT&T earnings confirmed some fears that surging demand for Apple devices -- namely the iPhone 5 -- may
in spite of far
third-quarter earnings posted by Verizon, also in October.
After Verizon's report, some skeptics on the iPhone 5's impact on wireless profits
retreated from that bearish analysis
. On the heels of AT&T's earnings, however, negativity on the direction of industry profitability is
.
Notably, industry bear Craig Moffett of Bernstein Research saw AT&T's earnings as reason to believe a looming surge in smartphone upgrades may hit overall sector carrier profits, which have been steadily rising in the past year.
"Handset life remains perhaps the fundamental question facing telecom investors. If handset life is not sustainably extending... then recent declines in subsidies will reverse, and margins will come back down. We continue to believe this is a question of when, not if," wrote Moffett, in an October note to clients.
How Zombies Crawl, Walk and Dance Their Way Into Saving Your Downtown
At issue is whether the carriers can use new smartphone launches to profitably steer users onto their networks. On one hand, carriers pay in the range of $500 a phone in subsidies to handset makers like Apple to lure in customers -- or to meet the terms of upgrade schedules -- in a relationship that can cost big money. Over the long term, carriers expect to make their money back on subsidized handsets by way of the monthly cost of wireless contracts, and in particular, the tiered pricing of smartphone data usage.
Moffett also highlighted a fast consolidating U.S. market that may
on wireless leaders like AT&T and Verizon, who offer tiered-pricing smartphone data plans.
"With SoftBank's cash infusion into Sprint and T-Mobile's merger with MetroPCS and both companies apparently intent on using price as a key weapon in their fight for market share; it is hard to imagine that the market will not deteriorate for Verizon in the longer term," the analyst wrote.
For now, telecom investors await the impact from Hurricane Sandy on overall sector earnings. As telecoms deal with repairs and a big recovery effort, key themes for the industry such as handset subsidies and the impact of consolidation will loom large.
Follow @agara2004
-- Written by Antoine Gara in New York