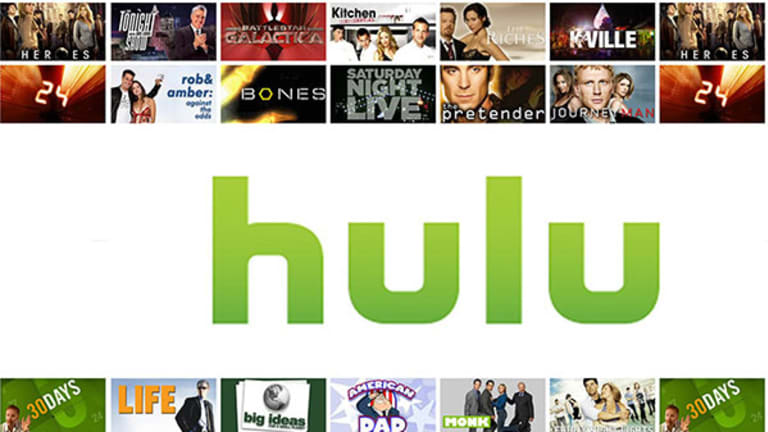 Hulu's Distribution Deal With AT&T Highlights Questions About Its Direction
Online video-streaming company Hulu could be in play -- again, following a new agreement to be carried by AT&T's mobile apps. Where does the company fit in the streaming sector?
Corrects in fourth graf that AT&T customers will be able to search and browse Hulu content on mobile apps and websites.
NEW YORK (TheStreet) -- When it comes to the players in the online video-streaming industry, Hulu has always been in a sort of netherworld.
It's not Netflix (NFLX) - Get Report, which continues to push international expansion and a slate of original shows with big-name actors as key to its future growth. And it's not Amazon's (AMZN) - Get Report instant video product, which thrives as a bonus that accompanies an Amazon Prime delivery subscription.
But Hulu, which is only available in the U.S., is owned by three of the largest media companies in the world: 
Comcast's
(CMCSA) - Get Report
NBCUniversal,
Disney's
(DIS) - Get Report
ABC and
21st Century Fox's
(FOXA) - Get Report
broadcast unit. Hulu mixes recent episodes of current TV shows such as Fox's
Empire
and ABC's
Scandal
 with original programming of its own.
But a flurry of recent activity by Hulu, including a deal that will allow AT&T's (T) - Get Report customers to search and browse Hulu content on mobile apps and websites, and the payment of $160 million to exclusively stream Seinfeld reruns, has signaled that the company's owners may be trying to more aggressively grow the business. 
"I'm really not sure what Hulu is up to," said Michael Pachter, a media industry analyst for Wedbush Securities. "They're owned by the TV networks, so they have a different strategy from Netflix. I think that they want to be an over-the-top alternative as a hedge, but they don't have the depth of content to compete with Netflix."
The new partnering with AT&T, which is set to go into effect later this year, has raised speculation about Hulu's strategy and whether the deal is setting the stage for a possible acquisition by the Dallas-base telecom which is beefing up its own over-the-top video-streaming offerings.
"In terms of the traditional [content] models, having access to a premium-positioning content is important," said AT&T's chief executive, Randall Stephenson, at a May 18 JPMorgan media and technology conference. "There is such a wide array and opportunity for a different content. The customer's going to kind of dictate that. That's why we think it's important to have a really tight, close relationship with a Hulu."
Apart from serving as repository for popular TV shows, Hulu has also been spending money on original programming in search of a breakout hit. Such offerings include 11/22/63, based on the Stephen King novel and starring James Franco, Difficult People, produced by Amy Poehler and Casual, produced by Jason Reitman. Hulu also just picked up the comedy series The Mindy Project after Fox elected not to renew it.
With its slate of programming as a hook, Hulu reached nearly 9 million subscribers who pay $7.99 a month to access the service via mobile devices and TV set-top boxes, the company said in April. (Viewers can watch many Hulu programs for free on their desktop and laptop computers.) Hulu's paid subscribers increased by 3 million from the same period a year ago, but Hulu still trails by a wide margin Netflix's 62 million worldwide and 41 million streaming subscribers.
But even with its subscriber gains, Hulu hasn't always had a clear mandate from its media-giant owners.
"Hulu is intended to be a platform for promoting networks and their content," said James McQuivey of Forrester Research. "It is still the case that its owners don't want it to succeed, at least to the degree that it would actually compete with live viewing."
Hulu's owners have tried to sell it before, only to pull deals allegedly over program rights matters that would make profiting from a sale prohibitive. Because Hulu has recently been on the market, speculation that a possible AT&T buy, or Hulu going public through an IPO has picked up some traction.
Pachter said AT&T is a potential acquirer of Hulu and that its current owners are looking to unload the business. He said, however, that any possible buyer will face the issue of securing and maintaining viable content for Hulu.
"It's hard for anyone to buy without a commitment from content providers, and none has been forthcoming so far," Pachter said. "The problem with buying them is that the content could dry up overnight."
At the JPMorgan conference, AT&T's Stephenson didn't address the matter of possibly buying Hulu. He did say, however, that other recent deals involving AT&T, such as its recent acquisition of new wireless spectrum for broadband use, play into the "TV everywhere" philosophy of content providers offering their wares over Internet-based services.
"We have what I would consider a very ubiquitous overlap of our wireless footprint, TV footprint and distribution," Stephenson said. "We can leverage that not only into the home but across all of the mobile devices and have a true TV everywhere experience. That's the vision. That's what we're executing on."
This article is commentary by an independent contributor. At the time of publication, the author held no positions in the stocks mentioned.