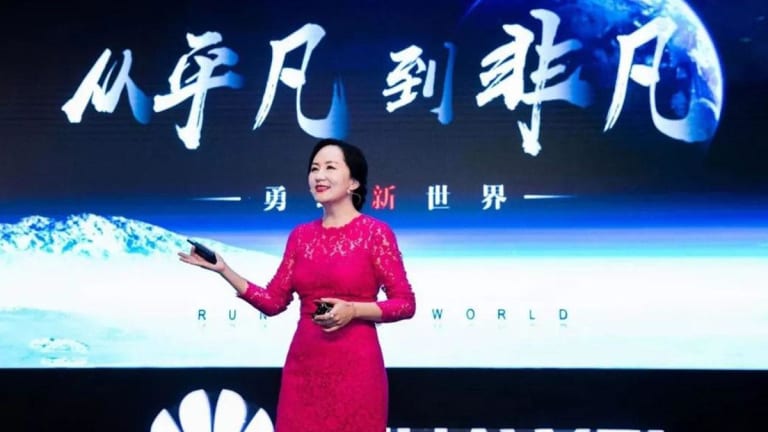 Huawei's Meng Wanzhou Sues Canadian Government
The same time Canadian authorities had begun proceedings to extradite Meng from Canada to the U.S., her lawyers sued Canada's government.
Attorneys for Huawei Technologies' executive Meng Wanzhou filed a lawsuit alleging that the Canadian government, including border officials and national police, improperly searched, detained and questioned Meng in December, according to a statement provided to TheStreet on Sunday.
Meng is accusing the government of "serious breaches of her constitutional rights and seeking damages for misfeasance in public office and false imprisonment" during her detention at Vancouver International Airport on Dec. 1, according to a statement provided to TheStreet by Howard A. Mickelson and Allan L. Doolittle of Gudmundseth Mickelson LLP, litigation counsel for Meng.
Canada Border Services Agency, the Royal Canadian Mounted Police and the Government of Canada are all targets of the suit filed Friday in B.C. Supreme Court.
On the same day, Canadian authorities had begun official proceedings to extradite Meng, Huawei's chief financial officer, from Canada to the U.S.
U.S. prosecutors accuse Meng of deceiving banks over Huawei dealings that potentially violated Iran trade sanctions. 
"As charged in the indictment, Huawei and its Chief Financial Officer broke U.S. law and have engaged in a fraudulent financial scheme that is detrimental to the security of the United States," stated U.S. Department of Homeland Security Secretary Nielsen in a press statement in January. "They willfully conducted millions of dollars in transactions that were in direct violation of the Iranian Transactions and Sanctions Regulations, and such behavior will not be tolerated.
But lawyers for Meng argue that Canadian authorities improperly snagged the executive while at the airport, at the request of the U.S., and failed to follow proper protocol. 
The day prior to the Dec. 1 detention of Meng, say her lawyers, a Canadian official at "request from the United States and in anticipation of the Plaintiff's arrival at 11:30 a.m. the next morning at Vancouver International Airport" got a warrant ordering Meng's immediate arrest. But the official, in cooperation with the Canadian Border Services Agency officers, "intentionally delayed the immediate execution of the warrant, contrary to the order of the Court," reads the lawsuit.
Instead, the officials held Meng "under the guise of a routine border check," and unlawfully detained, searched and interrogated her to pull evidence from her before she was arrested and read her rights.
"This was both significant and deliberate," states the complaint, arguing that while routine questioning is permitted of international travelers, Meng was due her Charter rights according to her arrest warrant. 
The suit also alleges, among other complaints, that while being held, Meng was prohibited from talking to her lawyer and was not told of the reason why she was detained, nor was she allowed to get immediate legal advice or told of her right to do so.
Meng is the daughter of Huawei chief executive Ren Zhengfei, who in January told reporters in China that he had no plans to let her succeed him at the company.
The next date for that process is March 6, when a hearing is slated at the British Columbia Supreme Court to make arguments for Meng's removal. The hearing would not decide on Meng's "verdict of guilt or innocence," according to Canada's Department of Justice, and Meng will remain on bail until that date.
This story has been updated.