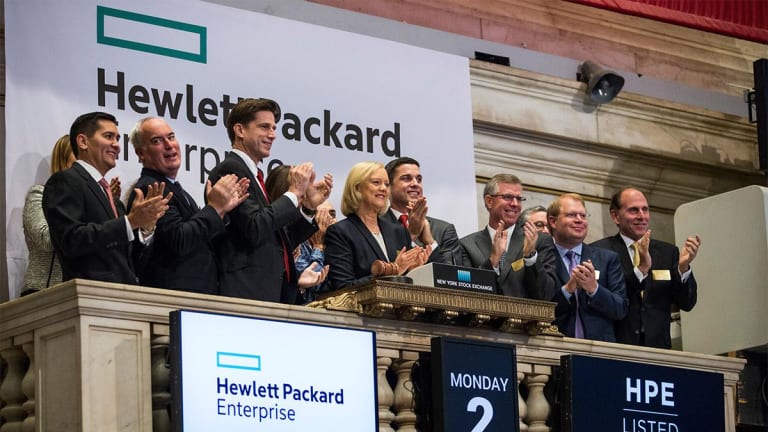 HPE CFO Outlines Secular Shift in Technology That Signals Strength into 2019
The party for companies like HPE that have pinned their futures to the future of IoT, hybrid cloud, and next-gen networks may not be over.
Hewlett Packard Enterprises (HPE) - Get Report management is confident the stock will continue to perform in 2019.
The offspring of the original Hewlett Packard has made a long rebound in the last two years, coming up significantly from the lows felt shortly after the company split off from HP Inc. (HPQ) - Get Report .
Less positively, the nearer term has seen shares of the Palo Alto, Calif.-based company taper off, along with the overall tech market since its early-year highs.
To get a feel for how the company will keep an anxious market on its side heading into 2019, Real Money spoke with the newest member of the company's newly formed executive suite, CFO Tarek Robbiati.
Macro Movements
The tech sector has been hit hard as of late as concerns over the macro situation of memory pricing, foreign exchange rates, and ever-rising trade tensions have weighed on the market.
The trend has certainly hit HPE, as shares have declined by double digits since summer. However, the demand for HPE's products is not declining by any stretch, according to Robbiati.
"The macro environment right now is not bad," he said. "From the customer demand side, there is no reason to assume momentum would slow heading into 2019."
Many analysts are on board with the CFO prognosis, as a "Buy" rating remains the consensus on TheStreet.
Morgan Stanley analyst Katy Huberty picked up on the "stronger for longer" enterprise IT demand overall in her take on the company's earnings release on Tuesday evening.
"We see modest upside to consensus EPS and multiple expansion on the back of sustained strong enterprise IT demand, improving execution, and execution of HPE Next cost savings," she said.
Huberty prescribed an "Overweight" rating and a $21 price target for the stock, based on its ability to continue to deliver into 2019, despite headwinds confronting the company.
Tech Trajectory
The trajectory of the overall technology sector that HPE falls within has been, as of late, dragged down by the aforementioned factors in trade and market slowdowns.
However, the party for companies like HPE that have pinned their futures to the future of IoT, hybrid cloud, and next-gen networks may not be over.
"Companies are spending on technology to gain market share and increase efficiencies, helping to improve profitability," Wilmington Trust Senior Investment Strategist Meghan Shue said. "We see technology spending driving the capex cycle, and we expect companies across economic sectors to continue spending on technology investment. In our view, this capex cycle will accelerate productivity, keep inflation down, and allow the Fed to raise rates gradually. We expect this to result in an extension of the economic cycle beyond 2019."
The extension of the cycle and strong demand for these specific technologies could act as a buoy for shares of a company like HPE that have been sinking into the latter half of 2018.
To read more about how HPE is moving towards the IoT era, its acquisition aspirations, and its specific segments of focus, check out the full interview on TheStreet's sister publication Real Money.
Employees of TheStreet are restricted from trading individual securities.