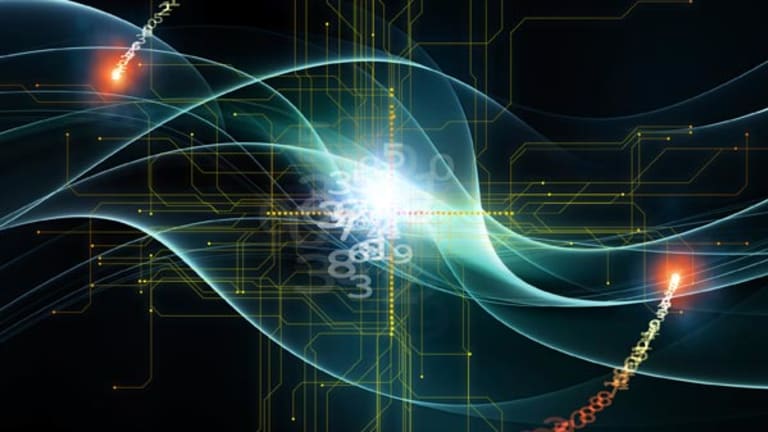 HP Tightens Its Security Via ArcSight Deal
HP's $1.5 billion ArcSight acquisition may seem like a lot of money, but the software maker could play a key role in HP's future.
PALO ALTO, Calif. (
) --
Hewlett-Packard's
decision to throw down $1.5 billion for ArcSight (ARST)
may seem like a lot of money for a
little-known firm
, but the security software maker could play a key role in the tech giant's future.
One of
TheStreet.com's
, ArcSight makes security management and compliance software and is
widely acknowledged as one of the hottest companies in this space.
"The acquisition is a natural step for HP," explained Forrester analyst Jonathan Penn, in an email to
TheStreet
. "It's a significant expansion of HP's security portfolio tangential to, and also expanding beyond, network security."
Other analysts echoed Penn's sentiments. "We believe this acquisition makes sense given HP's current networking product portfolio lacks a strong overarching security management solution," wrote Jayson Noland, an analyst at R.W. Baird, in a note released on Wednesday. "We think HP is pursuing ArcSight to deliver a comprehensive network security management console."
HP has stated its desire to challenge networking giant (and one-time partner)
Cisco
(CSCO) - Get Cisco Systems, Inc. Report
with its ProCurve products, so ArcSight looks set to be another weapon in the firm's arsenal of enterprise products.
"We view HP to be a logical suitor for ArcSight and believe ArcSight will be complementary to HP's TippingPoint network security and its systems/network management business," added Stifel Nicolaus Analyst Todd Weller in a note. "While
the deal valuation is rich, we believe the likely drivers were ArcSight's high growth rate, scarcity
of alternatives, and likely a competitive bidding process."
Security expertise is
, particularly at a time when tech firms are providing increasingly complex bundle of systems, security and services. By spending big bucks on ArcSight, HP is looking to boost its profile in a market dominated by the likes of
Symantec
(SYMC) - Get Symantec Corporation Report
and
McAfee
( MFE), which was recently bought by
Intel
(INTC) - Get Intel Corporation Report
for $7.7 billion.
The ArcSight deal, however, is not just about security, and comes hot on the heels of
HP's controversial $2.35 billion acquisition of storage specialist 3Par (PARS)
.
Speaking during a conference call before market open, Bill Veghte, HP's executive vice president of software and solutions, said that ArcSight fits into the company's broader enterprise strategy. "We see a market that needs a proactive, holistic, new approach to security and compliance," he said.
Veghte explained that ArcSight's security and compliance technology could be applied at the earliest stages of firms' application development, as well as supporting HP's storage efforts.
"
HP's strategy is to build, operate, secure, and store applications and infrastructure," added Pat Walravens, an analyst at JMP Securities, in a note released on Monday. "3Par fits in the store portion, and ArcSight fits in secure."
HP is also using ArcSight to tighten its links with the government sector. The software specialist,
which recently blew past analysts' first-quarter estimates,
has strong ties across the U.S. federal government and counts the
Defense Information Systems Agency
amongst its customers. These relationships could prove crucial at a time of increasing cybersecurity threats. ArcSight CEO Tom Reilly recently explained that the firm is experiencing strong growth in both its government and commercial businesses, and is now expanding internationally.
On Monday's conference call, however, HP's Veghte was also asked whether the tech-bellwether is over-paying for growth that could be achieved organically. Recent months have been marked by major HP acquisitions. In addition to 3Par and ArcSight, the company has also spent $1.2 billion on mobile device specialist
Palm.
"HP has a very good and clear M&A strategy and approach -- we will always look at whether we build or we buy," replied Veghte, somewhat defensively.
With $14.8 billion in cash and investments exiting its recent third quarter, HP clearly feels that M&A is the best way to claw share from rivals such as
IBM
(IBM) - Get International Business Machines Corporation Report
, which was also rumored to be sniffing around ArcSight.
"It's almost always the case that big companies buy rather than innovate." explained Forrester's Penn, in his email to
TheStreet
. "And HP doesn't have a rich security pedigree anyway, being more of a systems management company."
ArcSight shares have been
trading at 52-week highs this month as M&A rumors continued to swirl around the company
and surged $8.67, or 24.7%, to $43.77 on Monday. HP shares dipped 4 cents, or 0.1%, to $38.16, as Nasdaq fell 1.67%.
--Written by James Rogers in New York.
>To follow the writer on Twitter, go to
http://twitter.com/jamesjrogers
.
>To submit a news tip, send an email to:
.