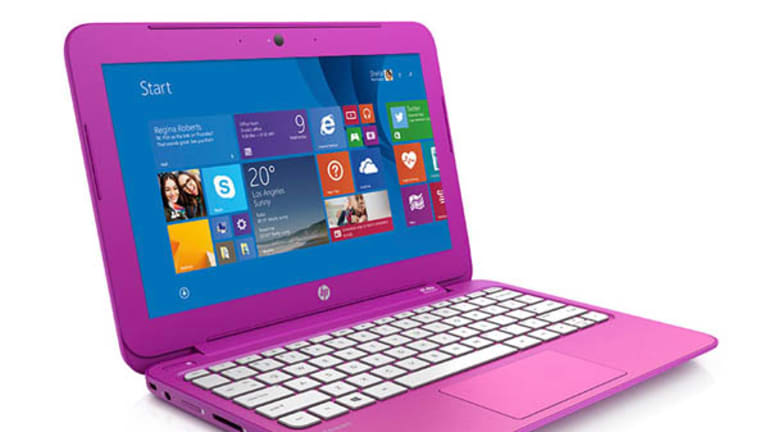 HP Stream 13 Notebook Review: A Super-Affordable Windows Laptop
HP releases two colorful, Stream notebooks that run Microsoft Windows 8.1.
NEW YORK (TheStreet) -- Is the world ready for another round of inexpensive Windows laptops? Remember those cheap, slow, under-powered "netbooks" from a few years ago? Can such devices compete with increasingly popular Chromebook devices? Hewlett Packard (HPQ) - Get HP Inc. Report thinks so.
HP released two colorful, Stream notebooks that run Microsoft (MSFT) - Get Microsoft Corporation Report Windows 8.1. There is one version with an 11.6-inch screen and the larger one we've been testing the Stream 13. Both are priced at less than $230.
We've been living with a Stream 13 for a few weeks now and are impressed with what we've seen. No, this inexpensive portable is not nearly the equivalent of a Microsoft Surface Pro 3 or Lenovo's slick Yoga 3 Pro. But we've found the HP to be a good, reasonably priced device that can give Google (GOOG) - Get Alphabet Inc. Report Chromebooks some stiff competition.
HP shares were rising 0.7% to $40.11 in early Friday afternoon trading.
We selected the Stream 13 as one of our 10 Best and Coolest Laptop Computers for the 2014 Holiday Season. In the past, if you wanted a really inexpensive Windows portable you had to settle for an older model that was slow, physically heavy and woefully outdated. The most reasonably priced offerings were barely able to handle what have become more and more complex tasks.
Buyers turned elsewhere. Simple machines like Chromebooks took up the slack by concentrating on doing one task extremely well -- surfing the Web. Everything was handled in a Chrome Web browser. For many people that was more than enough. But many users realized that more complex chores can't be handled on a Chromebook. They asked for portables which can do more. Microsoft listened and dropped the price of Windows OS software for new, less-expensive, non-touchscreen devices so manufacturers could begin to compete.
The Stream 13 is one of the new devices to benefit from Microsoft's move. Of course, HP did its share as well. Inside is a dual-core, 2.16 GHz Intel (INTC) - Get Intel Corporation Report Celeron N2840 processor mated to 2 GB of RAM and 32 GB of solid-state storage. Memory capacity can be expanded via the unit's microSD card port. The non-touchscreen's resolution measures 1366 by 768 pixels (same as the smaller, 11.6-inch model) and can handle 720p but not 1080p quality video. Sound quality is pretty good coming from such small speakers, thanks, in part, to the DTS (DTSI) Studio Sound feature. There's one USB 3.0, two USB 2.0 ports and an HDMI connection as well as a combination headphone/microphone jack and 802.11b/g/n Wi-fi.
The 64-bit operating system is called "Windows 8.1 with Bing." That means Microsoft's Bing is the default search engine for the Internet Explorer browser. You can easily change it to another if you prefer. HP raises the ante by including a free, one-year subscription for Microsoft Office 365 with online cloud access to Excel, Word, PowerPoint, OneNote, and Access. HP also throws in 1 TB of OneDrive cloud storage.
The Stream 13 provided us with nearly a full business day of battery power on a charge. We were able to squeeze nearly 7.5 hours of Web surfing, email handling, YouTube watching and music streaming without having to find a nearby AC outlet. The Intel processor doesn't need a fan for cooling which also helps preserve battery power.
The good news is this is a worthy Windows laptop. It's a little heavier (3.4 pounds) than some Chromebooks, or much more expensive Windows models. Sometimes, the Celeron processor slows down a bit when faced with very complex tasks. But many Chromebooks use the exact same processing chips and suffer the exact same fate. Considering it's low price, the Stream 13 offers great value.
Part of this notebook's appeal is its ability to run any and all Windows programs. That's especially important when it comes to handling intensive tasks like editing photos in Adobe (ADBE) - Get Adobe Inc. Report Photoshop, high-resolution music playback through JRiver Media Center or playing any number of modern games and programs. Chromebooks just can't do that. Windows computers can.
HP's Stream 13 retails for $229.99. The company's online store is currently sold out (one week before Christmas) but is listed as available from the Microsoft Store, B&H and Office Depot (ODP) - Get The ODP Corporation Report (where it's selling for $219.99).
HP stock
-- Written by Gary Krakow in New York.
To submit a news tip, send an email to tips@thestreet.com.
Gary Krakow is TheStreet.com's Senior Technology Correspondent
This article is commentary by an independent contributor. At the time of publication, the author held no positions in the stocks mentioned.