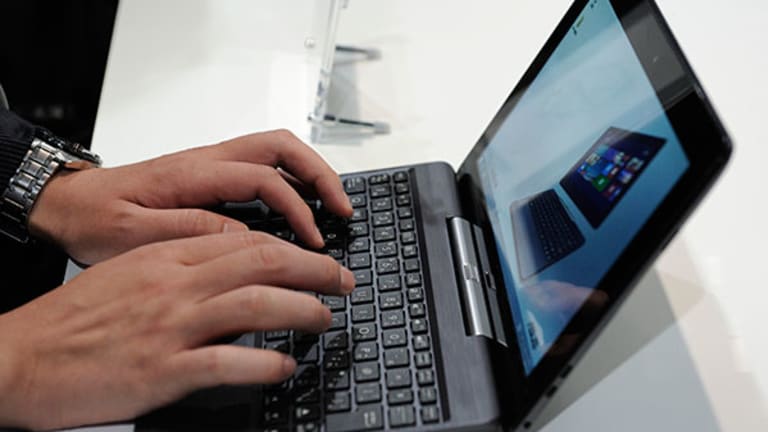 HP Replaces Beats Audio with Bang & Olufsen in New PCs, Tablets
The first HP computing devices with B&O branding will arrive on the market this spring.
NEW YORK (TheStreet) -- Say goodbye to Beats audio branding on HP (HPQ) - Get Report computers and tablets, and say hello to Bang & Olufsen and B&O Play branding instead.
HP has replaced Beats as its audio partner with Danish consumer-electronics company B&O as part of a deal that was jointly announced Tuesday. The end of the Beats pact was due to Apple's (AAPL) - Get Report buying of Beats and the contract not being renewed, Mike Nash, HP's vice president of portfolio strategy and customer experience, said on a conference call with reporters.
Last year Apple bought Beats Electronics and its Beats Music service for $3 billion.
Beats has been HP's computer-audio partner since an agreement was reached in October 2009. Although Tuesday marked the first time that B&O was revealed as HP's new audio partner, the loss of Beats wasn't a surprise.
Shortly after Apple's Beats purchase announcement, Palo Alto, Calif.-based HP said it kept the rights to offer new products with the Beats Audio brand only through the end of last year. After that point, HP's rights to distribute products with the Beats Audio brand could continue just for 12 months, HP had indicated.
"Each of the companies bring different attributes," Nash told reporters when asked if HP had concerns about losing the Beats branding, which may be more familiar to mainstream consumers than the B&O name. He pointed instead to B&O's heritage and expertise as two attributes it brings to the table.
The first HP products with the new audio branding will be available this spring in the U.S., HP said Tuesday. The Bang & Olufsen brand will appear on HP's Spectre, Omen, Envy and select commercial PCs. The newer B&O Play brand, introduced in 2012 for the company's latest portable products, will appear on HP Pavilion PCs, tablets and PC audio accessories.
Pricing will run the gamut, from Pavilion devices in the $400 range to high-end Omen products in the $1,400 to $1,600 range, Nash said.
It is difficult to compare pricing on products with that for similar devices from last year, but the swapping of Beats sound technology for that of B&O won't be a major factor in any potential price differences, according to Nash. "The things that are driving any price changes there have to do with other kinds of innovation we're doing," he said. "I wouldn't say that the audio component of this is the major driver of price up or price down."
HP and B&O will custom tune each notebook, desktop, tablet and accessory for precise sound, the companies said in a news release. In all HP devices with the Bang & Olufsen or B&O Play brand, a dedicated audio island will isolate the sensitive audio circuits from other signals on the motherboard, they said. The headphone jack will limit the amount of metal parts to reduce ground noise to help further perfect the audio experience on the devices, they said.
Pointing to many consumers' desire to customize their audio, the companies said the devices will include an audio-control panel. Users can then choose from optimized preset options or manually tune the sound to their liking, the companies said.