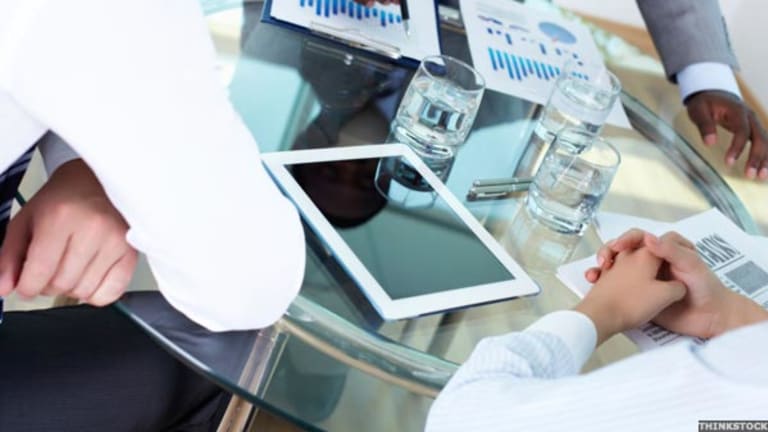 Publish date:
HP Needs to Find Itself
HP's third-quarter revenue was impacted by numerous external headwinds, but it still needs to get its house in order.
HP's third-quarter revenue was impacted by numerous external headwinds, but it still needs to get its house in order.
NEW YORK (
) -- As
,
HP
(HPQ) - Get Report
felt the effects of a tough macro economy when it reported its
on Wednesday. The Dow component, however, still needs to get its own house in order.
Problematic PCs
Weighed down by declining PC and printer sales, HP missed analysts' top-line estimate. While there was no great surprise here following rival
Dell's
(DELL) - Get Report
underwhelming
this week, the results have once again thrust a spotlight on HP's PC business.
Last year HP's controversial former CEO Leo Apotheker mulled a possible
of the company's PC business; although his replacement, Meg Whitman, ultimately
the plan.
Nonetheless, there are still
for her to rethink HP's PC strategy, particularly after the division's listless third-quarter performance.
"In our view, HP should focus on the cloud and part ways with its PC business that we expect will be increasingly dominated by Asian competitors," explained Topeka Capital Markets analyst Brian White, in a note released on Wednesday.
A PC spinoff would certainly be a bold move for HP, but it would not be the first tech heavyweight to take such drastic action. Rival
IBM
(IBM) - Get Report
, for example, sold its PC business to
Lenovo
back in 2004, laying the foundation for a headlong push into more lucrative areas such as data analytics and cloud computing.
Whitman, though, can point to the fact that the company's Personal Systems Group (PSG) accounts for almost a third of total revenue and, within enterprises, serves as a vital 'foot in the door', to sell additional technology.
Nonetheless, more weak quarters from PSG will only increase the pressure on Whitman to carve off the vast PC business.
Software, Cloud, Security
Software was one of the highlights of HP's quarter, with revenue rising 18% to reach $973 million, albeit thanks to a favorable year-over-year comparison. Moving forward, though, the tech giant's software numbers could look very different.
"The majority of growth was inorganically boosted by the acquisition of
Autonomy
in late 2011," explained TBR analyst Jillian Mirandi, in a note."As the acquisition comes full circle next quarter, HP Software will no longer have the luxury of such positive year-to-year growth."
The analyst also warned that HP's fiscal third quarter could be its last quarter of double-digit software growth.
HP, which has been derided in the past for its
software portfolio, has been highly vocal about its desire to
this part of its business.
Speaking during HP's third-quarter conference call, however, the company's CFO Cathie Lesjak acknowledged that macro challenges on both sides of the Atlantic and sales issues negatively impacted software license revenue, which grew just 2%.
"We have a lot of work to do over the next several quarters to improve Autonomy performance, and we will be focused on improving pipeline conversions and execution across the entire software business," she added.
TBR's Mirandi believes that HP could see software upside if it implements the correct strategy. "In coming quarters, HP Software has opportunities to grow in the quickly expanding cloud and security markets," she explained. "Prior to Autonomy, HP Software attributed growth to its security portfolio, namely
ArcSight
and
Fortify
, and TBR believes security remains a major revenue opportunity for the business. Public, private and hybrid cloud is also a key area in which HP Software can capitalize."
On the conference call, Whitman promised new additions to the company's security portfolio during the fall. The CEO also pointed to the recent launch of HP's first public cloud services and the newly-enhanced version of its CloudSystem product, which lets enterprises and service providers create private, managed and public cloud environments.
HP, she explained, has almost 750 CloudSystem customers.
Long-Term Turnaround
Overall, though, HP's clearly a work in progress.
Whitman has previously earned
for her attempts to revitalize the company, but the sheer scale of her task is now becoming fully apparent.
The former
eBay
(EBAY) - Get Report
chief has already made
since taking over from the ousted Apotheker last year. In May, for example, HP announced plans to cut 27,000 jobs, 8% of its total work force as part of the company's broader restructuring plan. Earlier this month, the company also made a series of personnel changes in its underperforming Enterprise Services (ES) division.
"For HP as a company, we are in the early stages of our turnaround and of our restructuring efforts," noted Whitman on Wednesday. "In fact, some of the changes we are making to improve our business long term, such as realigning and restructuring our sales force, are impacting our revenue performance in the short term."
The CEO also said that HP could shift strategic resources. "Behind the curtain, there's lots of smaller initiatives that I think we can take those resources and get more bang for the buck by really investing behind some of our best growth opportunities," she explained.
With HP's turnaround still in its relative infancy, the big question is whether investors have the patience to wait for Whitman to implement her vision for the lumbering Silicon Valley giant.
HP shares were plunging more than 7% to $17.77 on Thursday.
--
Written by James Rogers in New York.
>To submit a news tip, send an email to:
.
Check out our new tech blog,
Tech Trends
. Follow TheStreet Tech