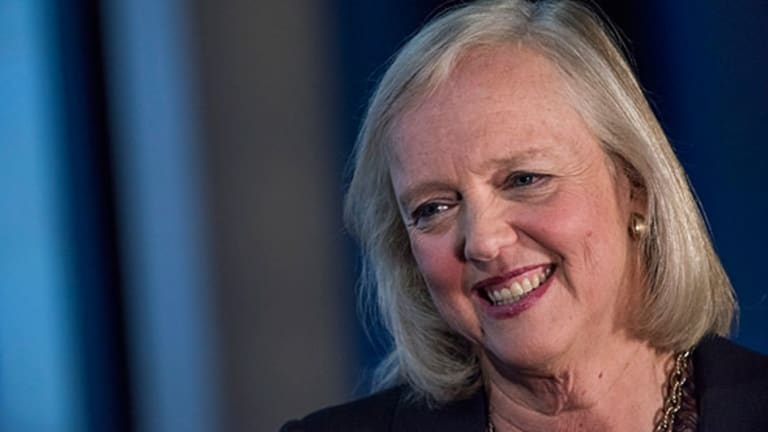 HP Faces Difficult PC Market -- What Wall Street's Saying
Analysts expect shares of HP Inc. to remain under pressure amid tougher printing market, while the outlook is a tad brighter for Hewlett Packard Enterprise.
The printing market has been soft for some time, but investors were clearly unprepared for its impact to HP's bottom line.
The tech giant, which recently split into two publicly traded companies, HP Inc. and Hewlett Packard Enterprise, reported consolidated fourth-quarter earnings of 93 cents per share and revenue of $25.7 billion well off the Street view of 96 cents and revenue of $26.4 billion. The unexpected weakness sent HP shares plunging more than 9% before Wednesday's opening bell.
This is the fifth quarter Hewlett-Packard's revenue fell year-over-year, this quarter by 9%. The Palto Alto, Calif.-based company split into two publicly traded companies earlier this month to cut costs. HP Inc. (HPQ) - Get HP Inc. Report , led by Dion Wiesler, sells personal computers and printers and Hewlett Packard Enterprise (HPE) - Get Hewlett Packard Enterprise Co. Report , led by Meg Whitman, focuses on commercial computer products like systems and software.
The combined company modestly reduced its guidance for fiscal 2016 to a midpoint of $1.64 from $1.72. It expects earnings of 33 cents to 38 cents per share for the first quarter, saying it expects the PC market to remain challenging in the near-term quarters.
Wall Street analysts are remaining on guard with HP's financial future, with many dubbing shares a neutral. Here's what they had to say:
Sterne Agee analyst Rob Cihra (Neutral, $15 PT)
HPE: "While PCs/Printing pressured HP (HPQ, Neutral, $14.64) Oct-qtr results in their last as a combined co., HPE servers/services were as expected. Consolidated revs $25.7B fell -9%Y/Y (-3%Y/Y ex-currency) for EPS $0.93 (-13%Y/Y) but HPE held in better at -4%Y/Y w/ Systems +2%Y/Y. Services erosion moderated to -9%Y/Y w/ margin +220bps Q/Q to 8.2% (highest since FY11) on ongoing head/cost-cuts. HPE FY16E EPS guide unchanged at $1.85-1.95 although our own est remains toward the low end at $1.86. Maintain Neutral seeing secular headwinds to revenue and margins, particularly from white-box/DIY cloud systems (with cloud-builders not looking to pay for HPE's value-add), but $15 target using a P/E of 8x on CY16E and EV/FCF of 12x (8x ex-Financing)."
Sterne Agee analyst Rob Cihra (Neutral, $15 PT)
HPQ: "HPQ reported its last qtr as a combined company, with Hewlett Packard Enterprise (HPE, Neutral, $13.67) largely in line but HPQ/HPI weaker than forecast with PC revs -14%Y/Y on units -12%Y/Y, and big hit from Printing down -14%Y/Y with units -17%Y/Y and high-margin Supplies -10%Y/Y. Mgmt continues to cite transitory hurdles like aggressive Yen-based competitors and channel inventory corrections but we fear Printing demand is simply in structural decline with revs now 19%/16% lower than 5/10yrs ago. Our estimates for FY16E were already at the low-end of initial guide and we trim further to $48B (-6%Y/Y) and $1.55 (-11%Y/Y), below guide of $1.59-$1.69." 
Jefferies analyst James Kisner (Buy, $16 PT)
"Challenges in Printing in Q4 highlight the greatest risks to our positive view; IPG remains secularly and competitively challenged and the outlook for Supplies is opaque to investors. That said, we continue to like the potentially improving competitive dynamics in the PC market and believe it makes little sense to move to the sidelines at the bottom of the PC cycle. We also like adjacent opportunities in Printing. ... IPG revenue of $4.97B was roughly in-line with our $5.00B expectation (Street = $5.3B). Operating margin totaled 17.4% (Street = 17.2%). Hardware units were particularly weak at -17% vs. our -5% estimate; part of the decline was planned as the company built inventory to minimize disruption from the split, but a weaker market and increasing competition from currency advantaged Japanese competitors also contributed. Most disappointingly, HPI again pushed out its goal to stabilize Supplies revenue from FY16-end to FY17-end."
RBC Capital Markets analyst Amit Daryanani (Sector Perform, $13 PT)
"HPQ's markets appear to have materially worsened since the company's analyst day, with channel inventory issues continuing to negatively impact the PC market coupled with currency headwinds and market weakness impacting printing. The company lowered FY16 EPS by $0.08 to reflect a change in pension accounting, but it was essentially unchanged from prior guide excluding the pension adjustment. Our neutral stance on HPQ remains unchanged and is predicated on what we see as an attractive valuation and ~3.7% dividend yield offset by sustained secular challenges in the company's core businesses and a worsening f/x situation. Maintaining SP rating and $13 price target."
"We believe HP should see challenging growth dynamics through FY16 on foreign currency translation headwinds, competitive industry pricing, and PC channel inventory issues. From a shareholder return standpoint, we think the company's relatively high dividend yield could be attractive for investors."
Credit Suisse analyst Kulbinder Garcha (Outperform, $19 PT)
"At the consolidated level, the results were weaker than expected with an EPS of $0.93, vs. CS est. at $0.98. The relative weakness came from PC and Printing, with the company responding by accelerating productivity and efficiency. We accordingly lower our HP Inc. EPS by 6%/8% for FY 16/17 to $1.60/$1.61, but keep FCF est. largely unchanged at $2.65bn/$2.90bn. We believe HP Inc. has a solid franchise and a multi-faceted strategy to offset secular pressures in its end-markets. Specifically, we believe the company will attain modest low single digit operating income growth as the visibility on printing our OP rating and PT of $19. ... IPG revenues were $4.97bn (-13.5% yoy, -2.8% qoq) and OM were 17.4%. The weakness came from supplies as well as hardware, which management attributed to weaker demand, higher inventory levels and pricing. However, we see HP Inc stabilizing supplies by FY17 end."
Barclays analyst Mark Moskowitz (Equal Weight, $14 PT)
"We expect shares of Equal Weight-rated HP Inc. to be under pressure in the near term. Deteriorating conditions in the PC and printing segments likely reset consensus estimates lower. HP Inc. cut its F2016 non-GAAP EPS outlook due to pension assumptions. HP Inc. steered clear of calling for a reset to the revenue or EPS outlook, though, due to the dual segment deterioration. We are puzzled by that. Meanwhile, HP Inc.'s tone on PCs seems more negative than our message of sell-in outpacing sellthrough activity - as part of our November 19 PC forecast cut. ... While we maintain our long-term view that HP Inc. can be a good way to invest in yield, we expect our view to be bruised in the near term. The company's outlook does not reconcile for the host of incremental negatives weighing on the PC and printing businesses. Management not cutting the outlook could raise investor concerns related to execution and consistency from the company."
BMO Capital Markets analyst Keith Bachman (Outperform, $66 PT)
"It appears that, exiting F1Q, supply-demand likely gets in balance on that front. Outside of consumer, the company is guiding for a largely seasonal F1Q, which means ADI is not seeing a deep decline in industrials, and it has been quite a few quarters since the industrial-related companies started showing weakness. Inventory remains in check in channel at seven-and-a-half weeks. We see tailwinds from working capital and from CapEx to FCF heading in FY16, and are modeling for FCF/sales of 29.6% and 30.9% for FY16 and FY17, vs. the five-year median of 25.3%. Our FY16 EPS remains largely unchanged and our FY17 EPS estimates move up slightly on a tax rate that is lower than that which we were previously modeling."
Pacific Crest analyst Brent Bracelin (Sector Weight, PT N/A)
"Hewlett Packard Enterprise might be in a better position to compete on price with a low margin structure, having a gross margin and operating margin model of approximately 28% and 5%. Traditional storage and networking peers have much higher margin models of 50%-plus and 20%-plus, respectively. Our biggest fear is a prolonged price war, which could temper profit growth across the entire group."
Deutsche Bank analyst Sherri Scribner (Buy, $16 PT)
"HP Inc's results point to core markets that continue to be in secular decline. While we do not expect HPQ to be immune to these trends, we believe the company can outgrow its peers and end markets, driven by market share gains and a focus on profitable growth opportunities. A recovery in supplies is a key driver of free cash flow strength longer term, and while we were disappointed by the push out of this recovery to later in FY-17, we believe mgmt has the right tools in place to stabilize this business. We have trimmed our estimates and our price target to $16 from $17. Given strong cash flow generation and low valuation relative to peers, we maintain our Buy."
This article is commentary by an independent contributor. At the time of publication, the author held no positions in the stocks mentioned.