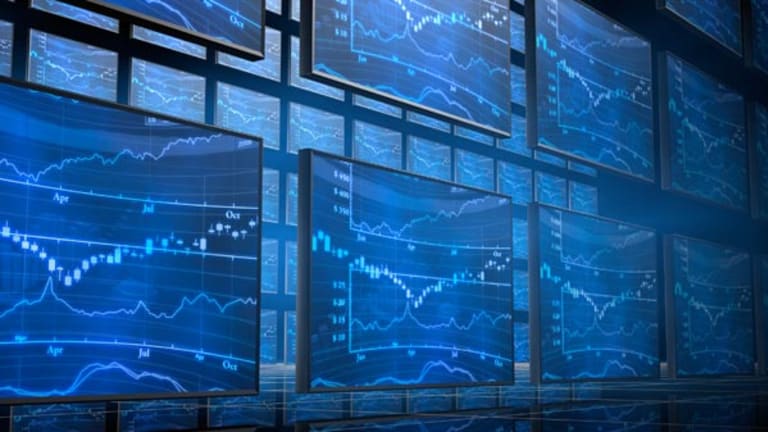 HP, Dell: Should Investors Be Worried?
HP and Dell report results Thursday. Clouds of uncertainty have gathered over both companies.
NEW YORK (TheStreet) -- Tech bellwethers Dell (DELL) - Get Dell Technologies Inc. Class C Report and Hewlett-Packard (HPQ) - Get HP Inc. Report, both on deck to report quarterly earnings Thursday, have seen better quarters.
Shares of the two companies, which have been hit hard by unflattering leadership problems as well as broader economic worries, have fallen drastically in the past three months, with Dell falling 19.46% and HP dropping 12%.
Yet analysts surveyed by Thomson Reuters expect both firms to post numbers that belie their rocky stock fluctuations. HP is expected to post total revenue of $30.46 billion and earnings of $1.08 a share after market close on Thursday, up from $27.5 billion and 91 cents a share in the same period last year.
Analysts expect Dell to post revenue of $15.21 billion and earnings of 30 cents a share, up from $12.8 billion and 24 cents a share in the same period last year.
(Tune in to
TheStreet
tomorrow at 3:45 ET, when we'll start live-blogging HP's and Dell's earnings results.)
Last week's
weak economic forecast from Cisco (CSCO) - Get Cisco Systems Inc. Report
and its report on down IT spending did little to set the stage for Dell and HP.
Brian Marshall, an analyst at Gleacher & Company, feels that the economy overseas could, in particular, weigh on HP's results. "They have a lot of exposure to EMEA, and we have seen a lot of companies feel the impact of that," he said. IBM's second quarter EMEA revenue, for example, was down 6% compared to the prior year's quarter.
And Dell, which spent
$1.15 billion to acquire storage specialist 3Par (PAR) - Get PAR Technology Corporation Report
earlier this week, still faces an unsure PC spending environment, said Jayson Noland, an analyst at R.W. Baird.
"While Dell's recent comments regarding a commercial PC replacement cycle appear to confirm it is underway, there is still uncertainty as to how this refresh will play out," he wrote in a recent note. "Currently our channel work supports Dell's view that a commercial PC refresh will develop in the back half of 2010 and carry into 2011 as companies gradually roll out hardware."
Despite these pressures, Technology Business Research analyst Greg Richardson is urging investors to focus more on Dell's long-term story.
"Increasingly, what we're seeing is a shift in demand from the point solutions like PCs," he said, adding that Dell is touting more servers and services. "I think there's opportunity for Dell in x86 servers -- all the big companies are trying to build out additional things on top of x86 servers."
The services business
Dell acquired when it bought Perot Systems
will be key to this effort, according to Richardson, as will 3Par.
Long touted as attractive acquisition bait, 3Par is well-positioned for the shift towards cloud computing, which will force users to drive more efficiency out of their servers and storage. 3Par is a pioneer in thin provisioning technology, which allocates storage only when it is needed in an attempt to boost utilization rates.
"A quarter or two down the road, 3Par will be a bigger piece of the puzzle," said Richardson, adding that high-margin storage could form part of a bigger services strategy. "The company is aggressively pursuing a new direction, they are shedding their image of being a provider of point products."
Leadership Headwinds
Meanwhile, both companies are suffering from unflattering media maelstorms surrounding executive leadership, but analysts say that they shouldn't impact either company too much for the long term.
Analysts see
to
as more of a medium-term challenge: "I don't think that it will have an impact on near-term numbers," said Gleacher & Company's Marshall. "I think that the new CEO will be in place by the end of the year -- it will be measured in months, not quarters."
And while Dell CEO Michael Dell faces his own pressures, culling
fierce criticism from some shareholders
who cite excessive pay and the
SEC's recent investigation into the Dell's
relationship with
Intel
(INTC) - Get Intel Corporation Report
as major concerns, investors shouldn't expect to see any new faces soon.
With Dell in the midst of a new strategy, any CEO change is "very unlikely,"said Technology Business Research's Richardson.
-- Reported by James Rogers in New York