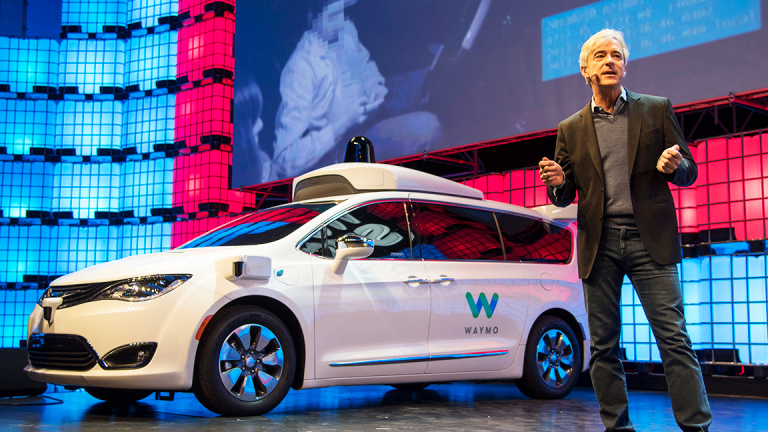 Thought You'd Never See a Robo-Taxi? Waymo's Been Running Them for a Year
Alphabet's Waymo has been quietly running its robo-taxi pilot for a year. Here's how it's going.
Alphabet's Waymo has been quietly running its robo-taxi pilot for a year. Here's how it's going.
Many may have thought this robo-taxi talk was years off into the future. Some surely thought it would never be a reality, given all of the negative autonomous driving news lately.
But that hasn't stopped Alphabet's (GOOGL) - Get Report (GOOG) - Get Report Waymo division from making serious strides in the self-driving car race.
Given that almost every automaker (and even more tech companies) are working on autonomous driving solutions, many investors wondered how Waymo would ever come out on top. Why would Audi, Mercedes or Cadillac ever use Waymo's self-driving technology if they developed their own?
Given that Waymo couldn't produce its own automobiles, that left what felt like an ultimatum on the table. Luckily, not all automakers are working on their own autonomous driving solutions. Some, like Fiat Chrysler (FCAU) - Get Report are depending on companies like Waymo to do it for them. To be honest, it makes sense. Not only from an R&D standpoint, but also from the perspective that Waymo has arguably the most experience out of anyone else working on the technology.
Everything You Need to Know About Tesla Via TheStreet
Nowhere is that more evident than with its robo-taxi pilot program in Phoenix, Arizona.
The pilot program had 6,000 applicants on its first day and 10,000 by the end of the first week. It's now racked up more than 20,000 applicants who want access to the driverless taxis, which in this case, are retrofitted Chrysler Pacifica minivans.
After running for about a year, the service gives about 400 rides a day. The question soon shifts to, when will other cities enter the program?
It could be sooner than we think, with Waymo working with Chrysler and significantly upping their partnership from a few thousand vehicles to more than 60,000. Aside from wondering what cities are next to or how quickly Waymo will expand, there are also questions about what other companies will enter the mix and how much the space will be commoditized.
Autonomous Driving Taxi Programs
General Motors Co (GM) - Get Report has said that by 2019 it could have its autonomous driving taxi fleet launched, although it's likely to be small like Waymo's current operations. Further, Ford Motor Co (F) - Get Report has plans to launch a similar service, which will likely trail GM's launch. Uber has said the key to its business model would be to eliminate the driver, thus depending on autonomous vehicles to do the legwork.
It's not clear whether Uber will use its own self-driving technology or license it from another company. But either way, we have Uber, GM, Ford and Waymo on the cusp of launching significant autonomous driving fleets over the next few years. Undoubtedly, more could come as well.
As investors know, the more supply that's on the market, the lower its pricing power. At first, the launches will be so small it won't matter. But what about five or ten years from now? Will there be so many autonomous taxis on the road that prices will dive and margins will compress?
That's an unknown, just like it's unknown how quickly Waymo plans to scale its current service.
The one thing we do know is that Waymo has put an immense focus on customer safety. If that prevents it from rolling out to new cities faster than its competition, so be it. But as long as it's expanding my guess is that customers will go with the safety rating when it comes to a computing system transporting them from point A to point B.
In that regard, Waymo is winning the race.
Expert Advice for a Risky Market. We asked top experts from Bank of America, Fisher Investments, Invesco and Wells Fargo what smart investors should do right now. Click here and register for free to watch what these market watchers recommend.
This article is commentary by an independent contributor. At the time of publication, the author had no positions in the stocks mentioned.