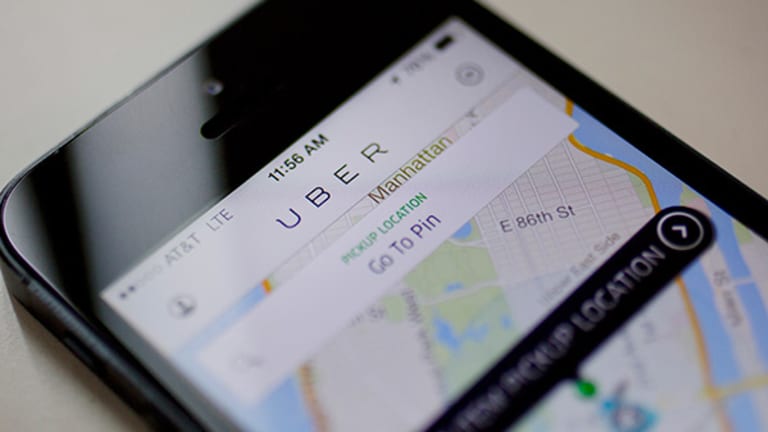 How Uber Is Changing the U.S. Economy Like No One Ever Imagined
The automotive industry is seeing innovation, as Tesla takes mindshare away from traditional automakers, but one company that may change the industry completely isn't really a car company: Uber.
Updated from 10:02 a.m. to provide more context on $17 billion valuation in the third paragraph.
NEW YORK (TheStreet) –– The automotive industry is innovating more than ever as Tesla Motors (TSLA) takes mindshare away from Ford (F) , General Motors (GM) and Fiat Chrysler (FCAU) , simultaneously forcing the "Detroit 3" to think more creatively about how they build cars.
But while Tesla consistently grabs headlines, one company that may forever alter the entire auto industry and perhaps the entire U.S. economy isn't really a car company: it's Uber.
San Francisco-based Uber, which recently raised $1 billion for a $17 billion company valuation (and is reportedly looking to raise an additional $1 billion in a convertible-debt offering), sufficiently impressed Morgan Stanley (MS) auto analysts enough to make it the highlight of a research note detailing a recent trip to Detroit to visit Ford, Fiat Chrysler and GM's headquarters. The $17 billion valuation is the second largest for a private company behind only Facebook (FB) , and continues to highlight the fact that consumer-facing technology companies are reaching the $1 billion valuation mark faster than ever.
"The highlight of our trip, however, was the 3 Uber trips we took between meetings," analyst Adam Jonas and his team wrote in the note. "The phenomenon of shared mobility has profound implications that extend far beyond the auto industry."
In short, "shared mobility" allows users to share resources, such as cars, which in turn makes them more valuable. By getting maximum use out of the product, in this case the car, the users extract additional value by operating the care when it might not otherwise be in use.
So if Uber can do that, why can't ordinary folks do it too?
Uber, led by CEO Travis Kalanick, is disrupting both the taxi industry and the auto industry, and potentially other logistics industries as well, by allowing on-demand delivery of a driver to any location from the customer using an app available on your Apple (AAPL) iOS device, Google (GOOGL) Android device or Microsoft (MSFT) Windows Phone. Ford recently had a presentation noting "that alternative mobility/car sharing/ride sharing is the single most disruptive trend to the automotive business model."
Investors in Uber include Goldman Sachs (GS) and Google (GOOG)  through its venture capital arm, Google Ventures.
Taxi associations around the world have taken to fighting the rise of Uber, petitioning local governments to ban the company and other car-sharing services. Recently, Germany tried to block the use of Uber, and so has the state of Illinois, though it appears these efforts have been unsuccessful. Uber operates in more than 200 cities across more than 40 cities on 5 continents.
The power of the on-demand delivery model is a clear and present danger to existing businesses. It is a disruptor.
Uber is also offering additional employment to a variety of people. In the three rides taken by the Morgan Stanley analysts, one driver was a retired U.S. Army veteran, the other a student at a nearby college and the third was a dean of students at a charter school. Uber appears to be attracting a diverse group of drivers.
Though Uber bills itself as "everyone's private driver," it has the reputation of a luxury service. To change that image, and widen its customer base, the company has  cut prices to be comparable to common taxi services. In many cases, Uber is offering fares lower than comparable taxi services. The three fares taken by the Morgan Stanley analysts were $54 (U.S. Army Veteran), $20 (Student) and $64 (dean), all significantly lower than previous trips, with the analysts exclaiming that the $20 fare was so cheap, "we had to look twice at the receipt on the screen of the iPhone 6 to make sure it was real."
Not only were the analysts impressed with the fare prices, they highlighted the value added by the drivers, including not only area expertise, but the discussion of people's lives as well. "Learning about the lives and personal stories of the Uber driving population offers an unexpected reward and insight into what may be a reinvigoration of the US economy," the analysts wrote in its note to investors.
In addition to UberX, Uber also offers other services as well -- luxury sedans and seating for groups under UberBLACK and UberSUV, uberTAXI, which connects users to a taxi at metered rates and recently launched UberPOOL, which connects a rider with other riders to share a car.
Uber, and its competitor Lyft, are traditionally thought of as on-demand taxis, but Uber has worked to provide various other services, including Christmas tree delivery, medicine delivery, ice cream delivery and kittens, having attracted copycats such as FiveStar Christmas Tree, which aptly delivers on-demand Christmas trees, in the logistics market, valued at $176.2 billion in North America for 2013.
Despite the fact that Uber seemingly has provided lots of good for both drivers and consumers alike, the company is not without its warts. Kalanick recently admitted to Vanity Fair that he tried to handicap a recent capital raise from Lyft, telling the publication that it told Lyft's investors, "'Just so you know, we're going to be fund-raising after this, so before you decide whether you want to invest in them, just make sure you know that we are going to be fund-raising immediately after.'" Well known venture capitalist Fred Wilson (disclaimer: Fred was an original investor in TheStreet.com) recently came out against the tactic in a blog post, calling the tactic "unethical and unsavory," in addition to be "ineffective."
Uber could not be immediately reached for comment prior to press time.
The company has also been accused of trying to steal Lyft drivers from its competitor, giving out iPhones to drivers who then cancel trips on purpose, rendering the cars unusable for a period of time, as well as requesting rides from Lyft and having them try to recruit them to work for Uber. Uber has also reportedly discouraged drivers from working for both companies (in past experiences, this author has asked current Uber drivers whether that was the case and was told he did not have such restrictions placed on him).
Even with some of the allegations against the company, it's clear that Uber is having a rapidly profound effect on both consumer behavior, as well as disrupting multiple industries. "Now that Morgan Stanley allows employees to submit Uber and UberX journeys as reimbursable expenses, we may never use a traditional car service or rent-a-car again unless absolutely necessary," the analysts wrote in the report, caveating that with the fact that daily rentals sometimes will provide "the best value-for money for mobility." However, as more cities and towns allow the use of Uber, the analysts believe the company may offer "a reinvigoration of the US economy," and perhaps the global economy as well.
--Written by Chris Ciaccia with additional reporting by Laurie Kulikowski in New York
>Contact by Email.