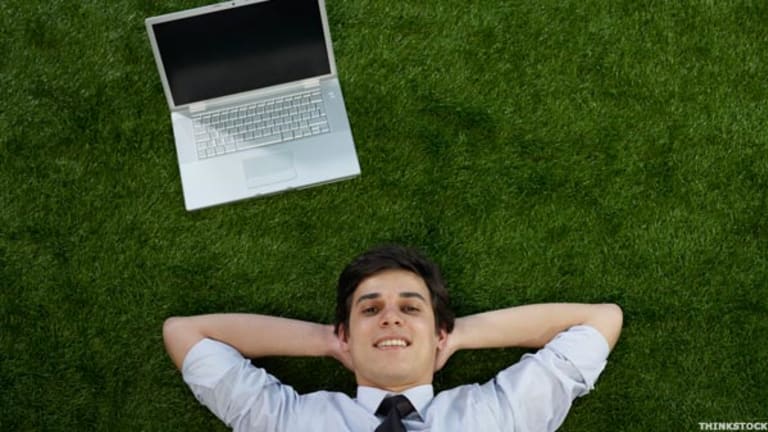 How to Make the Kindle Fire Kid Friendly
There's an app for that!
DENVER (MainStreet) -- Turning a Kindle Fire into a child-friendly device isn't so hard, thanks to the Kids Place - With Child Lock, a free app from Phoenix, Ariz.-based kiddoware.
It creates a walled garden where only parent-approved apps live. No more accidental video streaming, in-app purchasing or inadvertent banner-ad clicks.
As with any good app, settings are easy to configure and offer useful features. Just check off "disable all wireless" (i.e. puts it in airplane mode) when the app is in use. Or enable auto-restart of the app if the kid accidentally exits the app. Kids Place is built for Android so if you're on a non-Kindle device, you can also enable phone calls or block access to Android Market.
The app gives a child enough rope to swing on, but not enough to strangle himself: Control to draw, read book apps and play games with or without a parent nearby.
I do wish it offered a way to allow certain videos already on the device. And, oddly, the apps are ordered not alphabetically but chronologically. I couldn't figure out how to reorder them, but to a child, does that matter? It would also be interesting to add a timer to set a limit on how long a child has access to the Fire in case the parent isn't, ahem, actively moderating screen time.
The only thing stopping a child from accessing the rest of the Kindle Fire is a 4-digit code (or a reboot). You pick the code at setup and at that time, choose to email it to yourself. If you forget the code, which I did, you can remove the app and reinstall or let kiddoware know and they'll send you the master pin.
My attempt to reinstall the app after forgetting my code got me stuck on the "Install" screen. Nothing worked and I couldn't find evidence of others having a similar issue. I finally turned to kiddoware for help (Yes, I wanted it back that badly). Paresh Joshi, who started kiddoware with buddy Robert Riley, patiently guided me via late-night emails through clearing the data for a few Kindle processes before I reinstalled successfully.
My toddler is happy again. I still need to play every app to make sure the in-app purchasing is disabled, and delete apps with ads (although if the child touches the ad, he'll get a screen that says "Action not allowed").
As for my wish list, kiddoware is already working to add specific videos, books and music to the app. Joshi later told me that he also wants to add parental controls for web browsing, profiles for multiple kids and even a timer. "We have a long to-do list," he said.
And all this for free. Right now, they're trying to attract more users before they figure out a way to make some money off Kids Place.
"We believe that if we a have quality product and good install base, we will be able to monetize it eventually," said Joshi, who was inspired to build the app because of his own toddler. "We plan to add some advance functionality and add-ons that probably will be offered in a licensed version. However, we would offer core Kids Place functionality for free so users to try out our app without incurring any cost to see if they find it useful or not."
It's my new fave app not only because I have a toddler, but I'm still trying to figure out how to organize everything on my Kindle Fire (a qualm I mentioned in "
"). Grouping all the kid-friendly apps in one "folder" is exactly what I want - and how I approach any sort of organization challenge.
And with the current
on the Kindle Fire, this should at least alleviate parental concerns about a child finding the Fire and going wild with multi-touch ferocity. As for a snooping spouse? Maybe kiddoware needs to build a new app: Spouse's Place.
Get it here:
(free)
Tamara Chuang is an outside contributor to TheStreet. Her opinions are her own.