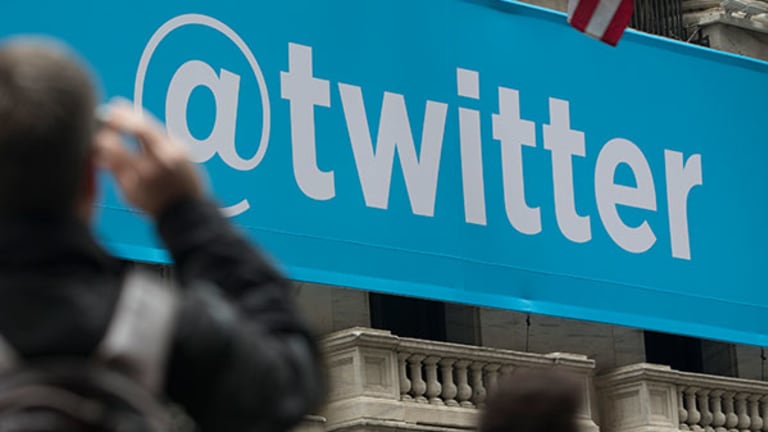 How the World Cup Has Helped Twitter
The 2014 FIFA World Cup in Brazil may help Twitter show improved user growth, retention and monetization.
NEW YORK (TheStreet) - The 2014 FIFA World Cup in Brazil may help Twitter (TWTR) - Get Twitter, Inc. Report show improved user growth, retention and monetization, as throngs of footballing fans around the world take to the micro-blogging site for instant updates, reactions and videos of cracking goals, controversial calls and big moments.
Sterne Agee analyst Arvind Bhatia said in note to clients the World Cup has been helpful in improving engagement on Twitter. Twitter's fiscal second quarter results are due on July 21, and all of the World Cup action that's taken place to date - including the United States emergence from Group G, Chile's shootout loss to Brazil and Mexico's stoppage time collapse to Holland - happened during the quarter.
"We see potential for 2Q results to show improved user growth, retention, and monetization and are hopeful the trend is sustainable," Bhatia said in his report, while raising estimates of Twitter's 2015 fiscal year revenue and EBITDA to $2.1 billion and $485 million respectively. Still, the analyst holds a neutral rating on Twitter shares.
Separately, Twitter announced that Anthony Noto, the Goldman Sachs investment banker who helped lead the company's initial public offering, would be joining the firm as its CFO. Current CFO Mike Gupta, will assume the role of Senior Vice President, Strategic Investments within the next 30 days.
Why Twitter Shares Have Soared Over the Past Month
The 10 Richest World Cup Athletes
The World Cup Built a Better ESPN
When the World Cup kicked off on June 12, TheStreetcalled the micro-blogging site its top World Cup stock pick, citing reporting on Twitter's preparation for the tournament and the prospect that advertisers could leave the games with a better understanding of how the site could be used as a real-time marketing platform.
Since June 12, Twitter shares have rallied nearly 15% to $40.97 a share.
Twitter's World Cup Prep
Twitter hosted its marketing partners for training sessions prior to the World Cup so that they would be prepared to capture a real-time branding moment.
Those training sessions were used to demonstrate the ways advertisers can use Twitter as a marketing platform for campaigns that target a real-time event. With footage from previous tournaments, Twitter ran through specific test cases of on-field action where a marketing opportunity emerged.
"[T]he work that we're doing to touch marketers and agencies is less about why Twitter, and more about how Twitter," Adam Bain, Twitter's chief revenue officer, said of the company's World Cup prep at a recent investor conference.
"It turns out you can actually plan for being live or plan for being in the moment," Bain added, while noting that a key aspect of Twitter's partnership with Starcom MediaVest Group includes such training sessions to help advertisers.
As part of its World Cup plans, also Twitter unveiled new ways to organize soccer-related content and easier account sign-up functionality. Many of the new features Twitter rolled out for the World Cup, in addition to the prospect soccer fans decided to join the site, could boost engagement and overall user figures this quarter.
Twitter's World Cup functionality includes country and player guides, in addition to hashtags for individual games and teams that will open easy channels of communication on timelines when the tournament begins. Games such as the opening match of the World Cup, Brazil's group stage match against Croatia on June 12, will have their own page on Twitter, giving users real-time scores, player Twitter handles and reactions.
"We think the company's focus on the conversations on the platform and improved organization of the content are leading to improved user experiences. We have experienced this firsthand with the ongoing FIFA World Cup for which the company has tried to create a destination experience," Bhatia concluded.
Marketing Opportunities?
Twitter's training with marketers showed as soon as the second day of the tournament, when Dutch striker Robin van Persie knocked in a stunning header against reigning champs Spain 17-yards away from goal. Volkswagen used the tweet to promote its newest VW Golf GTI model, and within minutes of van Persie's header - catching a swell of engagement on Twitter.
Other Dutch footballing moments this World Cup have proven less of a branding opportunity. Airline KLM quickly deleted a tweet to Mexican footballers and fans that stated "adios amigos" after the Arjen Robben knocked El Tri out of the tournament on a controversial dive in stoppage time.
Perhaps, the surprise emergence of the United States as a major player in the tournament has also presented opportunities for Twitter and its marketers. By all accounts, this is the most watched World Cup in the U.S., with bars stuffed to the brim and viewing parties in New York, Chicago, Kansas City and Washington that appear on par with similar events in Madrid, London, Paris and Berlin.
Addidas, for instance, has used the early injury and quick recovery of U.S. striker Jozy Altidore to try and promote its brand to U.S. fans.
We'll have to wait and see how the World Cup actually impacts Twitter's fiscal second and third quarter earnings.
As TheStreet argued in its June 12 analysis, it may be more important for Twitter to have a more clear explanation to marketers and investors why its social networking platform is unique and effective when compared against the likes of Facebook (FB) - Get Facebook, Inc. Class A Report and LinkedIn (LNKD) .
Strong engagement figures, recovering user growth and examples of how marketers used the World Cup effectively on ad campaigns could change perceptions of Twitter going into the second half of the year.
If Twitter can deliver strong financials and clear narrative in coming quarters, it could be the publicly traded company that wins the World Cup, no matter who actually takes the trophy.
-- Written by Antoine Gara in New York