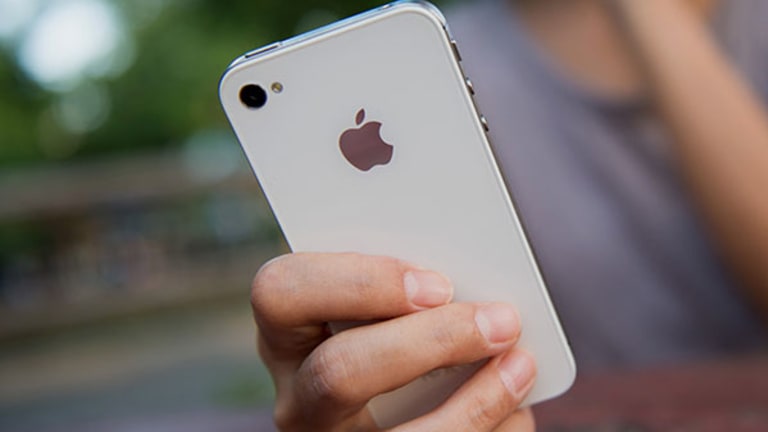 How the iPhone Air Gives Apple a Boost
The next iPhone, dubbed by many to be the iPhone Air, is going to be a huge product push for Apple, both in scope and in size. That's leading one analyst to upgrade the stock as investors await new product categories.
NEW YORK (TheStreet) -- The next iPhone, dubbed by many to be the iPhone Air, is going to be a huge product push for Apple (AAPL) - Get Free Report
Pacific Crest Securities analyst Andy Hargreaves boosted Apple, raising it to "outperform" with a $635 price target, as he believes the next iPhone, which he calls the iPhone 6, could be priced higher than the iPhone 5s, and return growth to Apple in fiscal 2015.
"We believe Apple can sell a 4.7" iPhone at a subsidized price of $299, which should generate incremental gross profit on replacement sales and attract new customers that had previously purchased Android phones specifically for a larger screen," Hargreaves wrote in a note.
Speculation has surrounded the Cupertino, Calif.-based Apple on whether it will increase the size of the iPhone to better compete with smartphones using Google's (GOOG) - Get Free Report
Apple shares were higher following the upgrade, gaining 0.49% to $533.50 in premarket trading on Tuesday.
Read: This Big IBM Bet Doesn't Deserve a Pass
Hargreaves said he believes that more than 100 million Android phones were shipped in 2013 with screen sizes larger than 4 inches. With Apple's overall market share being 15%, according to research firm IDC, Hargreaves thinks it's "reasonable to assume that a 4.7" iPhone could capture 10% of the market for smartphones above 4', which suggests an opportunity for Apple to drive an incremental 10 million units of share from Android following the launch of a larger iPhone."
It's thought that Apple will unveil the next iPhone around September or October, which it has done for the past few years, starting with the release of the iPhone 4S.
See Also: What Will Apple's Next iPhone Look Like?
"We expect iPhone replacement rates to remain stable for the foreseeable future, which should underpin strong cash flow to fuel Apple's cash return activity and a still growing net cash balance," Hargreaves wrote in the report.
The iPhone is Apple's primary revenue driver, accounting for more than half of Apple's revenue in its most recent fiscal quarter. Hargreaves said he believes that the iconic smartphone, introduced by Steve Jobs in 2007, will account for nearly 70% of Apple's gross profit in fiscal 2014, with replacement sales accounting for nearly 70% of all sales in 2014, and then growing to 80% in 2015.
Should Apple sell a 4.7-inch iPhone (and potentially a 5.5-inch iPhone as well), Apple could sell the 4.7-inch iPhone at a subsidized price of $299, $100 more than the subsidized cost of the iPhone 5s. Though the next iPhone would be more costly to consumers, it would be to Apple as well. Hargreaves estimates the next iPhone could cost as much as $60 more per phone to make. Assuming an additional $100 price raise for the iPhone, that would boost Apple's industry leading gross margins a tad, which are currently around the 37% range.
Given the weak sales of the iPhone 5c, Hargreaves believes this actually increases confidence Apple can raise prices on the next iPhone and not hurt itself.
Read: Sirius XM Investors Need to Get a Clue
"We believe the 5c sold poorly because a huge percentage of iPhone sales are subsidized, and a $100 difference in device price is simply not enough to compel Apple customers (who are relatively rich) to buy an inferior device," Hargreaves penned in the note. This suggests Apple customers are relatively insensitive to price, so a higher price is not likely to dissuade potential iPhone 6 consumers who are attracted to the device's features."
On Apple's fiscal first-quarter earnings call, CEO Timothy D. Cook noted the skew for iPhones was towards the 5s. "And so the mix was stronger to the 5s, and it took us some amount of time in order to build the mix that customers were demanding," Cook said on the call. "And as a result, we lost some sort of units for part of the quarter in North America and relative to the world, it took us the bulk of the quarter, almost all the quarter, to get the iPhone 5s into proper supply."
As Apple continues to be reliant on the iPhone for the majority of its revenue and its earnings power, it has to come up with ways to boost its power in smartphones, as the industry matures and the growth simply isn't there like it once was. A higher-priced iPhone, coupled with new ways to use it such as CarPlay, and new features, including mobile payments, gives Apple a leg up on the competition in an increasingly slowing market.
-- Written by Chris Ciaccia in New York
>Contact by Email.