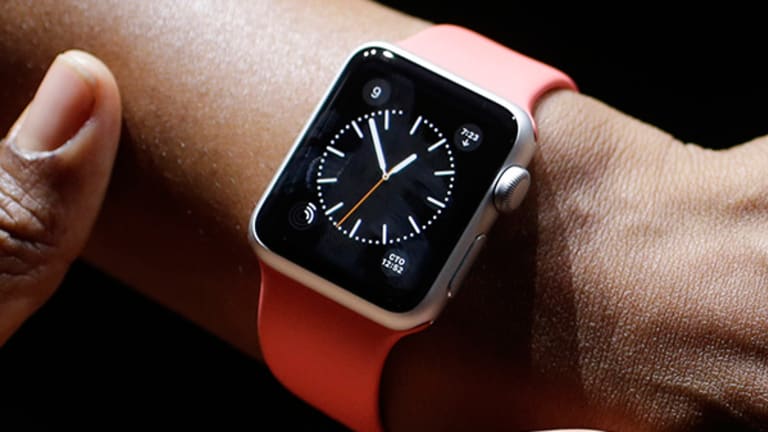 How the Apple Watch Is Placing Pressure On the Smartwatch Industry Already
Pebble lowered the prices for its smartwatches by $50. Apple is stressing luxury for its new designs.
NEW YORK (TheStreet) -- Just a simple mention of the upcoming Apple (AAPL) - Get Apple Inc. (AAPL) Report Watch continues to send shockwaves throughout the timekeeping industry. And that's months before the first device is even offered for sale. The competition is well aware of all the hype, with smartwatch maker Pebble placing a message for Apple's famous design chief on its homepage.
However, Pebble, creator of the Kickstarter-funded Pebble watch announced it's dropping the price of both its models $50 each just in time for the holiday shopping season. Pebble lowered the price of its rubber/silicone-clad model to $99 and its top-tier stainless steel watch with leather band is now $199.
Unlike its competition, Pebble sports a very battery-friendly black-and-white e-paper display. Watches that run on Google's (GOOG) - Get Alphabet Inc. Class C Report Android Wear platform all sport less-efficient color displays, with battery life measured in days, not hours.
Pebble watches operate on a unique, open-source software platform which is compatible with both iOS and Android smartphones and tablets. When linked to a phone, Pebble will receive vibrating alerts for text messages, emails, incoming calls, and social media notifications. It can also act as a remote controller for the phone and other devices.
Earlier this week, Pebble released a software update to extend the devices' health, activity and fitness capabilities. New apps from companies such as Misfit and Jawbone now allow for 24-hour tracking and can take full advantage of the extended battery life. There has also been a software release from Swim.com that highlights Pebble's water-resistant design.
As of February of this year, Pebble said it had more than 1,000 applications available in its app store. John Bright, analyst with Avondale Partners believes that could be the deciding difference for smartwatches. In a phone interview, Smart said, "Apple will bring significant presence" to the mix but "apps will drive demand. Whichever company offers more innovation will succeed."
Zephirin Group's Longdley Zephirin believes Pebble can successfully compete on its own level. "Pebble is establishing an industry benchmark for wearable prices based on low demand, this should be a concern for the industry," Zephirin said via email.
Apple Watch is going for a different approach. It is stressing its smartwatch has been designed as a technologically-advanced, wearable fashion statement.
To prove the point, the usually very private Apple VP Jony Ive has allowed Vogue to publish the feature "A Rare Look At a Design Genius: The Man Behind the Apple Watch." The Apple Watch starts at $349 for the Apple Watch, and could run into the thousands for the Apple Watch Edition, which sports an upscale 18K rose and yellow gold face. Exact prices for that version has not yet been disclosed.
The smartwatch market is becoming a crowded field. Motorola, Samsung, LG and Sony (SNE) - Get SONY GROUP CORPORATION SPONSORED ADR Report currently offer a number of smartwatch designs based on Google operating systems. More models are on the way. Asus and Nike (NKE) - Get NIKE, Inc. (NKE) Report are also rumored to be working on watches based-on Android operating systems. Microsoft (MSFT) - Get Microsoft Corporation (MSFT) Report is thought to be developing wrist computers based on its upcoming, unified Windows 10 platform announced earlier this week.
Basis, which is owned by Intel (INTC) - Get Intel Corporation (INTC) Report , recently announced a new fitness and sleep tracker, the Basis Peak, which also doubles as a smartwatch. 
But when all is said and done, JG Capital's Andrew Abrams believes "Apple should be the dominant player because it has the dominant brand." But he also thinks the overall market segment for such devices may be smaller than some experts believe. "Some are including headphones and other types of wearables into their estimates. But, if you just measure smartwatches the chances of smaller manufacturers succeeding improves."
-- Written by Gary Krakow in New York.
To submit a news tip, send an email to tips@thestreet.com.
Gary Krakow is TheStreet's Senior Technology Correspondent.