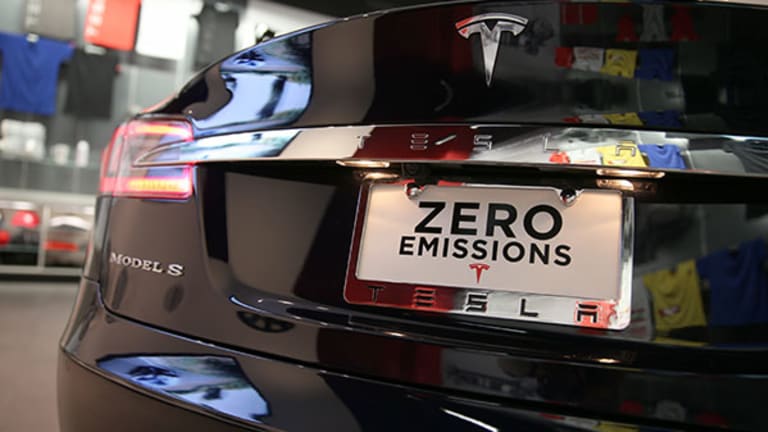 How Tesla Is Changing the Electric Auto Industry Again
Tesla keeps adding to ways people rethink about the automotive industry, modifying the warranty on the Model S drive unit to unlimited mileage and the battery pack for eight years.
Updated from 12:38 p.m. to include thoughts from Edmunds analyst in the eighth paragraph.
NEW YORK (TheStreet) –– Tesla (TSLA) - Get Tesla Inc Report keeps adding to ways people can rethink the electric auto sector, modifying the warranty on the Model S drive unit to unlimited mileage and the battery pack for eight years.
"The Tesla Model S drive unit warranty has been increased to match that of the battery pack," CEO Elon Musk wrote in a blog post on the company's Web site. "That means the 85 kWh Model S, our most popular model by far, now has an 8 year, infinite mile warranty on both the battery pack and drive unit. There is also no limit on the number of owners during the warranty period."
Andrea James, Vice President  at research firm Dougherty & Company, believes this could become Tesla's "Hyundai moment" in the U.S., noting that when Hyundai entered the U.S. market, it wound up having to boost the warranty on its powertrain to 10 years and 100,000 miles, "which led to dramatic market share gains."
The announcement comes after it became publicized that Edmunds ran into several issues with the Model S that it had been testing for over a year, which Musk addressed on Tesla's second quarter earnings call. Edmunds had approximately 30 service appointments over the year, and as a byproduct, could not recommend the car to drivers.
"They're not a traditional auto maker, so there's a lot of good but also bad too to this," said Kelly Blue Book's Karl Brauer in a phone interview. "The upside is that they aren't profitable, and you don't get more profitable by extending the warranty model, but because they aren't profitable, why not throw that on the fire. Their bottom line isn't their primary concern and try to do things to be taken serious as an auto maker."
In the blog post, Musk stated that the warranty extension would apply "to all Model S vehicles ever produced," showcasing the fact that if electric vehicles are more reliable that internal combustion engines, the company's warranty policy should match that thought process.
Earlier this year, the Model S won the honor of being Consumer Reportstop car in 2014, after having been recommended by the publication in 2013 as well.
Edmunds analyst Jeremy Acevedo said it was a "savvy move" from Tesla, noting that electric vehicle makers, including Tesla have to do what they can to spark interest in the industry. "I wouldn't be surprised at all if other manufacturers followed suit," Acevedo wrote in an email. "It may be a helpful tool in reducing the current lease pervasiveness that has become an overwhelming majority of EV sales."
As Musk told investors that the announcement would "have a moderately negative effect on Tesla earnings in the short term," shares were lower in Monday trade, falling 0.42% to $260.92.
"The positive implication for investors here is that Tesla has improved the drivetrain since the Edmunds story came out," James said in an email. "From an engineering standpoint, the cost is behind Tesla."
--Written by Chris Ciaccia in New York
>Contact by Email.