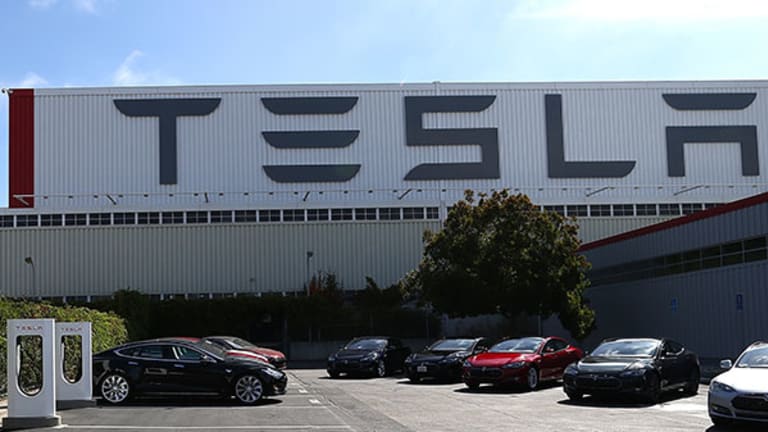 How Tesla Goes to $320
Though the electric vehicle market is just starting to become mainstream, Tesla Motors is the most well known of the group. However, according to Morgan Stanley, Tesla is going to be much more than just a top electric vehicle maker -- it's planning on changing the world.
Updated from 12:53 p.m. to include information about the battery in the fourteenth paragraph.
NEW YORK (TheStreet) -- Though the electric vehicle market is just starting to become mainstream, Tesla Motors (TSLA) - Get Free Report is the most well known of the group. However, according to Morgan Stanley, Tesla is going to be much more than just a top electric vehicle maker -- it's planning on changing the world.
Morgan Stanley analyst Adam Jonas put a $320 price target on the company's shares, saying he believes that Tesla will have 0.9% of the global car market by 2028, certainly an ambitious goal.
"Tesla is an extremely ambitious company for whom flooding the market with fun-to-drive EVs and giving competitors a headache might not be the endgame," Jonas wrote in the report. "Tesla's limited addressable market, a long-time bear thesis on the stock, appears well up for grabs here."
Shares of Tesla were soaring in early Tuesday trading, gaining 15.3% to $250.88.
In 2013, Tesla delivered just over 20,000 Model S units, and expects to deliver 35,000 units in 2014. In comparison, the U.S. new car and truck market for 2013 was approximately 15.6 million units, and analysts expect that to jump over 16 million in 2014, as the global economy continues to recover.
Jonas notes that the global auto industry is much bigger than that, with over 100 million annual unit sales, and $2 trillion in revenue by 2020.
That 35,000 number may come in 2014, as Model X advertisting increases and consumers become more aware of it. On Tesla's fourth-quarter earnings call, CEO Elon Musk noted he believes the X will be bigger than the S. "[I]n relative terms, it appears that the X will see at least as much a demand as the S," he said. "And if I was to guess, and this is just a guess, I think the X demand may exceed the S demand. I mean, this is very speculative, so don't hold me to it, but that's my best guess. I think X demand will exceed S demand."
That's a pretty heady statement, considering all of the accolades and awards the Model S has won. Consumer Reports just named the Model S its top car of 2014, noting it has "blistering acceleration, razor-sharp handling, compliant ride, and versatile cabin, which can fit a small third-row seat."
By having the S and X be exceptionally successful, it leads to the Gigafactory, which Musk said we would hear more about this week. The electric utility sector is a $400 billion market in the U.S. and $2 trillion globally. Tesla could successfully compete in this space, as its estimated 7.2 million fleet of cars (by 2028) will have enough stored energy capacity to exceed the daily electricity consumption of Mexico, coming in at more than 443 gigawatts.
Tesla is competing with other automakers in the electric car market right now, including General Motors (GM) - Get Free Report with the Chevy Volt, Nissan NSANY with the Leaf, BMW with its i3 and several other alternative fuel vehicles, including Toyota (TM) - Get Free Report, which unveiled its hydrogen fuel cell at the Consumer Electronics Show in January. However, it's not just about traditional vehicles, other companies are getting into the game with autonomous, or self-driving cars, including Google (GOOG) - Get Free Report.
Jonas believes that autonomous cars will have 100% penetration by 2022, as consumers use cars more like computers and smartphones. The idea is that the car's interior will primarily be used for entertainment, with the car doing most, if not all, of the work to get from point A to point B. For that, Jonas believes there's no company better positioned than Tesla to make this movie. "Tesla's fleet is 100% electric and connected. As the role of software engulfs the car, the world's only Silicon Valley-based car company has the upper hand. We see autonomous cars contributing $5.6 trillion in economic savings globally."
Aside from being just an automaker, Tesla's future really lies in disrupting the energy grid, which may be part of the Gigafactory and how the company and its partners use it. On the conference call, Musk said Panasonic would likely be a partner (Panasonic already partners with Tesla on its lithium-ion batteries), and that there could be other partners as well.
The Supercharger network also helps Tesla's advantage, as it continues to build it out, and allow it to continue to gain first mover advantage not only in the electric car market, but several reasons. Not only does the Supercharger network increase awareness of the company and clean energy, as Jonas notes, but it also addresses range anxiety (the fear of running of electricity), it's a good marketing expense, and it "[e]ncourages greater numbers of electric miles driven, providing a real-world laboratory for Tesla to track the performance characteristics of its cars for continues improvement to the powertrain."
With the Supercharger network, which was announced last year, is great for building brand awareness, it can help play a role in Tesla's involvement in building out the energy grid, and storing energy. "A successful roll-out of hundreds (one day, perhaps many thousands) of charging stations gives Tesla the unique opportunity to perfect its battery system characteristics in terms of chemistry, reliability, safety, cost, software, charge cycling and recycling." Tesla has said that by 2015, it wants 98% of the U.S. and Canada covered by the Supercharger network.
Jonas notes that Tesla's battery aspirations are the key for Tesla's future as it pertains to disrupting the energy storage industry, as "Current US energy storage capabilities is both antiquated and limited." The 24.6 gigawatts that is in the deployed energy storage system, that accounts for just 2.3% of total U.S. electricity production. The far majority of that (95%), comes from pumped hydro (water), and is pretty infrequent and inflexible in terms of geography and environment. This is where Tesla comes in, with its proposed Gen III battery, which it plans to get under $200 per kilowatt hour (kWh) by 2016 and 2017.
This last big point from Jonas is perhaps the most important:
"Tesla's plans for a 'Giga' battery factory starting to get more attention as a call option on the economics of mass produced batteries and the business model. We found the final sentence of Tesla's prepared remarks at the Detroit auto show on its plans to build the worlds 's largest lithium ion battery factory intriguing: 'It is a massive, massive opportunity to push the cost curve down to levels people haven't even dreamed of yet'."
--Written by Chris Ciaccia in New York
>Contact by Email.