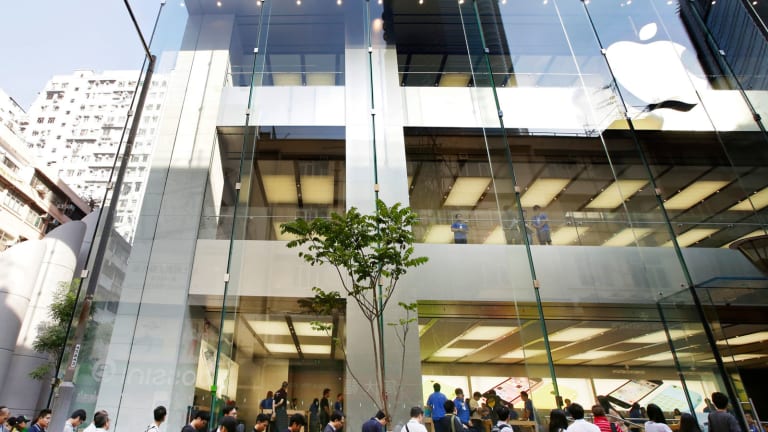 How T-Mobile Plans to Launch Apple's New iPhone — Tech Roundup
T-Mobile is offering a buy one, get one half-off special on iPhones, Apple and Major League Baseball agree to bring iPads to the dugout and Google introduces 'Fiber Phone.'
Apple's (AAPL) - Get Apple Inc. Report iPhone SE goes on sale Thursday, and consumers looking to buy more than one iPhone are in luck, assuming they plan to purchase it through T-Mobile (TMUS) - Get T-Mobile US Inc. Report . 
The carrier is offering a buy one, get one half-off for iPhones. Not just the new iPhone SE, but all iPhones. 
Even customers who pre-ordered the device are still eligible to add on another one at half-price. Considering how expensive unlocked iPhones go for, that's a pretty good deal for most consumers who rarely see much of a discount for Apple products. 
Apple unveiled the new device a few weeks ago, which features a 4-inch display (smaller than the iPhone 6 and 6s), as well as a 12-megapixel camera capable of snapping 4K videos. 
The phone, largely aimed at the smaller-screen crowd, is hoped to boost sales without pinching margins. 
Shares of T-Mobile closed at $38.44, up a fraction of a percentage point. 
Sticking with the king of tech, Apple and Major League Baseball reached a deal to keep iPads in the dugout and bullpen.
The deal will put iPad Pros in the hands of every team -- complete with scouting and analytical apps -- and are already custom-tuned to each team's reports and statistical needs. 
This isn't the first time MLB has permitted the use of iPads at the ballpark, however. Last year, for the last two weeks of the regular season and throughout the postseason, teams were able to use the device (actually, the iPad Air 2) in the dugout and bullpen as part of a pilot program. 
Looks like things went smooth enough to work out a longer term deal. 
Apple shares closed at $109.56 Wednesday, up 1.8%.
Ever heard of one of Google's Fiber cities? Roughly six years ago, the company -- now called Alphabet (GOOGL) - Get Alphabet Inc. Report -- launched Google Fiber, "with the goal of making the web better and faster for everyone."
The company started in Kansas City, and has added Atlanta, Austin, Texas, and Provo, Utah. Upcoming cities include Salt Lake City, Charlotte, Nashville, San Antonio and San Francisco, among others. 
Well, now the company is using its Fiber product to make an old product new again: Landlines. That's right, for $10 a month Google Fiber users can add a "Fiber Phone." 
According to the company, "While mobile phones have pushed us toward the future, home phone service is still important to many families. Landlines can be familiar, reliable and provide high-quality service, but the technology hasn't always kept up."
Users will be able to keep their phone number (or pick a new one), use call waiting and caller ID, and of course, keep access to 911 emergency services. The service will allow for unlimited calling in the U.S., and provides calling to international locations for a range of prices. Users can also have their voice messages transcribed and sent via text. 
The service requires customers to have the $70 per month Google Fiber service, but once becoming a member users can Fiber Phone both at home or when away using a mobile device or computer. 
Shares of Alphabet closed at $768.34 Wednesday, up 0.3%.
This article is commentary by an independent contributor. At the time of publication, the author held no positions in the stocks mentioned.