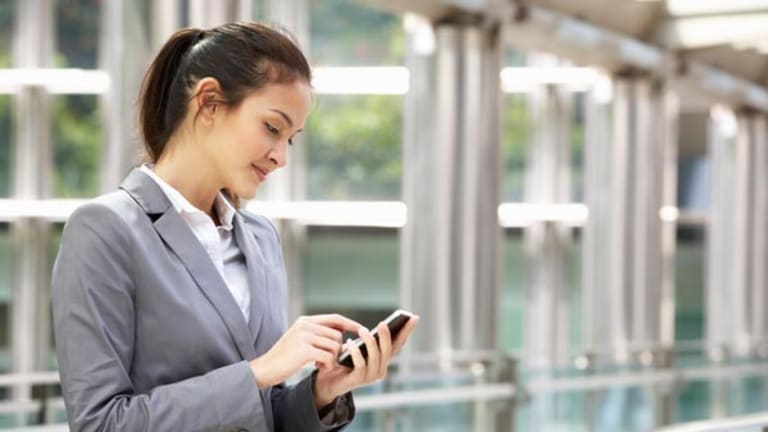 How Safe Is Cell-Phone Banking?
Some of the largest banks offer full access to your accounts through a cell phone, so be vigilant about protecting your identity.
Forget having to make the trek to your bank branch when it's blistering hot, or freezing cold, or raining, snowing or even just a beautiful day. And you don't even have to be tied to your computer anymore to do online banking. Consider using your cell phone for many of these tasks, but also make sure that your money is safe.
As cell phones become smarter, people as well as businesses are finding more uses for them. Two of the nation's largest banks are in the forefront of offering cellular access to your bank accounts:
Bank of America
(BAC) - Get Report
and
Citibank
(C) - Get Report
.
More than a year ago, both banks began a nationwide service that allows depositors to do many online tasks on their cell phones, like determining account balances, transferring funds from one account to another, paying bills or finding a nearby ATM.
To get a Citibank cell-phone account, you need to visit a branch or sign up on the Internet. Citibank then sends your phone special software, which should work on hundreds of different handset models.
Bank of America's online service works on nearly every cell phone with a Web browser. That's because its system is based on the universally accepted WAP protocol, which pretty much ensures that all cell phones can understand and handle the information. BofA has even created a special banking applet for
Apple
iPhones and iPod Touch devices.
(
)
AT&T
(T) - Get Report
provides a similar mobile banking program in partnership with a number of banks:
1st Bank
,
American First Credit Union
,
Arvest
,
BancorpSouth
(BXS) - Get Report
,
Carolina First
and
Mercantile Bank
,
SunTrust
(STI) - Get Report
,
Synovus
(SNV) - Get Report
and
Wachovia
(WB) - Get Report
.
AT&T's service supports a number of phones made by
Research In Motion
( RIMM),
LG
,
Motorola
( MOT),
Nokia
(NOK) - Get Report
,
Pantech
,
Samsung
and
Sony Ericsson
.
Mind the Fees
One major economic point you need to keep in mind: While the banks aren't charging for these new cell-phone services, your cell-phone provider does. Unlike accessing your accounts on a laptop, every time you use a wireless data service, you pay. If you have a monthly data service, then you'll just be using some of what you pay for already. If you don't have a data plan, you will pay for each up/down data you use. Like any other cellular service, things can get expensive quickly.
Theft Fret
The other factor to consider is security. At the outset, your bank accounts may only be safe as long as the cell phone is in your possession. Lose it, and you might be in trouble. And what about the electronic data thieves who might be able to steal the information you are sending and receiving? The banks worry, too.
Companies like
VeriSign
(VRSN) - Get Report
,
Symantec
(SYMC) - Get Report
,
Credant
and others are constantly working to make sure that the cellular banking information you send and receive is safe.
In recent surveys, young adults (those 18 to 24 years old) believe cell-phone banking is a good idea. They're not worried about whether it is safe. They're also young enough not to remember what happened the last time mobile banking made a big push. Nearly 20 years ago, hackers and viruses took a large toll on a burgeoning industry. Technology has improved, but you should still be aware of the possibility of a problem.
If you currently use your handset to do banking tasks, you should, at a minimum, make sure you are asked for a secure password every time you try to log in to your account. There are some online banks that actually scramble the position of on-screen letters and numbers so that no one can accurately copy your keystrokes from a distance.
As more and more people use their cell phones for communication, entertainment and now business, we will have to be vigilant about the security of our cellular identities.
Nobody ever made a dime by panicking, says Jim Cramer. Moneymaking opportunities exist despite the market turmoil. So where's a market master like Cramer putting his money these days? Check out his personal portfolio at Action Alerts PLUS. Take a free trial now
.
Gary Krakow is TheStreet.com's senior technology correspondent.