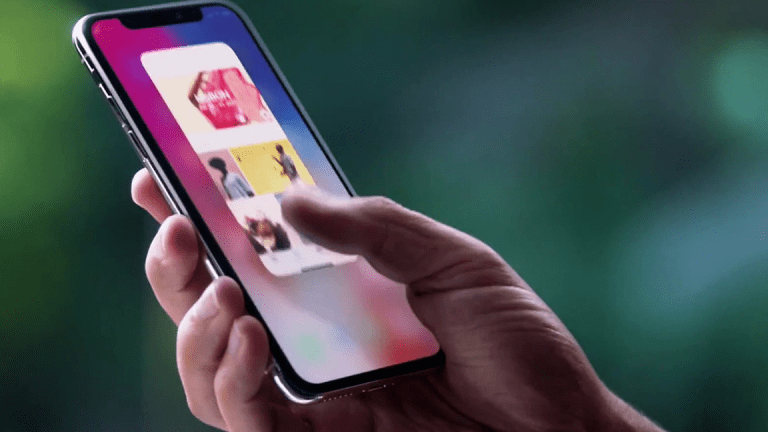 How Much Will People Pay for Premium Smartphones?
Many buyers don't think twice about $1000 smartphones -- but that's not necessarily a good thing for premium phone makers like Apple and Samsung.
Many buyers don't think twice about $1000 smartphones -- but that's not necessarily a good thing for premium phone makers like Apple and Samsung.
If you thought $1000 for a phone was expensive, you ain't seen nothing yet.
Recent trends suggest that smartphone owners are willing to pay much higher prices than they used to -- although it's not necessarily a good thing for high-end phone makers like Apple Inc (AAPL) - Get Report and Samsung Electronics Co.
On a July 31 earnings call, Samsung executives reported "slow" sales of its Samsung Galaxy S9 and S9 models, which retail at $720 and $840 and up respectively, leading to a 4% drop in revenue for the quarter. Apple, meanwhile, reported slightly weaker iPhone unit sales than expected but a much higher average selling price -- $724 versus the consensus estimates of $693.
For Apple, that translated into higher revenue from iPhone sales, despite selling fewer units. And with users holding onto their phones for longer periods of time, pricey smartphones are becoming the norm rather than the exception.
"Right now, we estimate that a user holds on to their phone for 32 months," said Brad Akyuz, an analyst with the market research firm NPD Group. "That's a problem for players in the market because it impacts their volumes."
Apple's iPhone X retails at $1000 and up, a price tag that raised some eyebrows when it was first announced in September 2017. After it was released, some analysts worried that the high cost would cut too sharply into demand.
Apple's most recent earnings suggest that "with a $1000 price point, they can sell fewer units and still make a lot of money," said DA Davidson's Tom Forte. Other device makers sell premium phones near the $1000 range, such as Samsung's Galaxy Note 8 ($930), Alphabet's (GOOGL) - Get Report Google Pixel 2 XL ($849), or LG's V30 ($800). 
With consumers buying new phones less frequently, more device makers could follow Apple's lead in rolling out higher-priced options by way of necessity: "The only way they can recuperate from [loss of sales volume] is simply to do what Apple did: Bring higher-ASP devices to the market," Akyuz added.
Many buyers don't think twice about prices in the range of $800-1000, or perhaps even higher, for a device they use almost constantly. Smartphones have become a top spending priority in recent years, according to Ram Ahluwalia, CEO of PeerIQ, an analytics firm that tracks trends in credit and payments.
"Historically, mortgages were a top priority, then it shifted to auto," Ahluwalia said. "Now, what we're starting to see in emerging data is that the cell phone payment is moving to the top, or near the top of the list of priorities." That trend is reflected in a wealth of new financing options for phones, such as a co-branded credit card by Apple and Barclay's that charges no interest for 18 months on Apple purchases.
As smartphones have become more central to daily life, customers have gotten used to spending more on what they see as a big investment that they make once every 2-3 years.
"If you're a consumer, even if you're in a stretched or dislocated position, the payment you'll prefer to continue is your cellphone because you're still going to have access to transportation and the ability to be productive or search for work. It's evolved into a lifestyle device that's central to how we operate and interact," Ahluwalia added.
Apple and Alphabet are holdings in Jim Cramer's Action Alerts PLUS member club. Want to be alerted before Jim Cramer buys or sells these stocks? Learn more now.