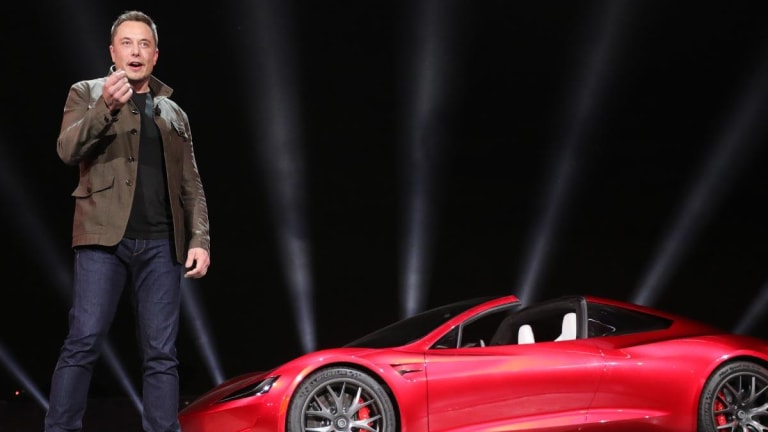 Here's How Much Taking Tesla Private Could Cost -- and Who Might Foot the Bill
Trying to pull off what would be the largest corporate buyout in history won't be easy, given Tesla's shaky financial outlook.
Trying to pull off what would be the largest corporate buyout in history won't be easy, given Tesla's shaky financial outlook.
One day after Tesla (TSLA) - Get Report CEO Elon Musk's bombshell announcement about possibly taking the carmaker private, investors are struggling to envision how such a massive transaction could actually happen.
At $420 per share -- which was the price named by Musk in the tweet that launched a thousand weed jokes -- a private buyout of Tesla would amount to $70 billion, the largest corporate buyout in history.
In an employee memo posted on Tesla's website on Tuesday, Musk wrote that he "would like to structure this so that all shareholders have a choice. Either they can stay investors in a private Tesla or they can be bought out at $420 per share, which is a 20% premium over the stock price following our Q2 earnings call (which had already increased by 16%). My hope is for all shareholders to remain."
The $420 price would represent a healthy premium over and above Tesla's current share price of $370 per share -- but it also adds another layer of complexity to the already unprecedented proposal.
According to an analyst note on Wednesday from RBC Capital's Joseph Spak, the success of a move to privatize Tesla would be "contingent on who goes along for the ride. The structure would apparently be to create a special purpose fund enabling current shareholders to remain shareholders or cash out at $420."
And at that premium, it wouldn't be unreasonable for many shareholders to take their earnings and bail -- forcing Tesla to scare up billions upon billions in capital to shore up the outstanding shares.
Full Coverage:
Spak didn't speculate on the likelihood of such a deal occurring, but Bernstein's Toni Sacconaghi estimated the likelihood of Musk pulling it off at "less than 50%" in a CNBC interview on Wednesday. In an email, Loup Ventures' Gene Munster estimated the likelihood at one in three.
Investors with substantial skin in the game could credibly opt to stay in the mix, wrote Needham's Rajvindra Gill on Wednesday: "It is possible to envision a scenario whereby the top holders decide to stay on as private investors, as many believe the inherent value is substantially higher compared to today."
Noting that the top ten mutual fund holders and company insiders collectively own about 66% of the company, Gill estimated that in a hypothetical scenario where all of those investors retain their stakes, Tesla would need to sell a mere $24 billion in shares, equivalent to the remaining 34% stake.
Other than Musk, who owns approximately 20% of Tesla, the company's largest investors include T. Rowe Price Associates (9.16%) Fidelity (8.16%) Bailie Gifford & Co (7.72%) and Tencent Holdings (TCEHY) (4.89%), according to FactSet.
Spak added that a preliminary review of the institutional stakeholders suggested that some of them have limits on how much in the way of illiquid securities they can hold, meaning that those investors might need to transfer shares to other funds or find some other mechanism for remaining Tesla shareholders.
"Given Tesla's financials, we don't believe lenders would sign up to support the deal," Spak wrote. Tesla has never turned a profit, and owes billions in convertible debt.
Spak suggested that some deep-pocketed outside investors who find Tesla's vision appealing might sign on to support the company in going private, such as wealthy Chinese investors, large venture capital funds, cash-rich tech companies or "sovereign funds" such as Saudi Arabia's Public Investment Fund, which is buying a 3% to 5% stake in Tesla according to a Financial Times report.
If a report from Bloomberg is accurate, Tesla explored the idea of going private with Japanese mega-investor Softbank (SFTBY) in April 2017, but that the deal fell apart over ownership disagreements.
A contingent of Tesla board members -- Brad Buss, Robyn Denholm, Ira Ehrenpreis, Antonio Gracias, Linda Johnson Rice, and James Murdoch -- confirmed on Wednesday that Musk talked with the board last week about taking the company private, but didn't go into detail about how much funding would be needed, or where it would come from.
"Last week, Elon opened a discussion with the board about taking the company private. This included discussion as to how being private could better serve Tesla's long-term interests, and also addressed the funding for this to occur. The board has met several times over the last week and is taking the appropriate next steps to evaluate this," the board members wrote in a joint statement.
Tesla didn't immediately respond to a request for comment for this story.