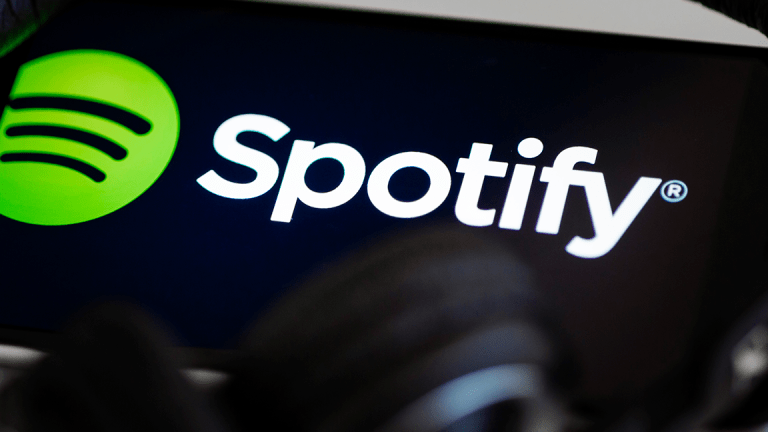 How Much Is Spotify Premium and What Are the Subscription Options?
Spotify Premium currently costs $9.99 per month and $4.99 for students. What do you get with a Spotify Premium membership, and how is the price changing?
Long gone are the days when music lovers had to buy records or CDs to listen to their tunes - or, even stream their songs through old copyright-challenged sites like Napster. In 2019, there are plenty of platforms to get your music fix - from Apple (AAPL) music to Pandora to Amazon (AMZN) music and more. 
But according to recent statistics, Spotify (SPOT) holds a hefty chunk of the global music streaming market - some 36%. 
Founded in 2006, Spotify is one of the rising stars in the streaming industry - reporting some €1.5 billion in revenue for the final quarter of 2018 (about $1.7 billion). And the service's popularity seems to be growing. 
In fact, the streaming company amassed some 96 million Spotify Premium subscribers as of the last quarter of 2018, according to Statista. But considering the service is gaining so many users, how much does Spotify Premium actually cost? And what are the benefits of Spotify Premium? 
How Much Does Spotify Premium Cost? 
A Spotify Premium membership costs $9.99 per month in 2019; student memberships cost $4.99. The standard Spotify Premium membership includes an ad-supported subscription to video streaming service Hulu, while the student subscription includes subscriptions to both Hulu and fellow streaming service Showtime. 
Spotify's paid subscription is on par with competitors like Apple Music who also charge $9.99 for a monthly subscription. 
The standard Spotify Premium subscription includes unlimited streaming, downloading music, unlimited skips, an ad-supported Hulu subscription and the ability to cancel at any time. Spotify is currently offering a 30-day free trial, and you can sign up for the bundle deal any time through June 10.
Previously, Spotify Premium with Hulu cost $12.99 per month, but the service recently shifted to offering the package for around $10 per month for new subscribers (old subscribers paying $12.99 would be grandfathered in). 
Additionally, the streaming service also offers Spotify Premium for Family - which allows up to five members of the same household to have personal Premium accounts at a discounted price of $29.99 a month for all five members. The plan costs $14.99 for two users a month, $19.99 for three and $24.99 for four a month. 
How Much Is Spotify Premium for Students?
Spotify also offers a Premium package for students that includes the ad-supported Hulu subscription as well as an unlimited Showtime streaming subscription - all for $4.99 a month.
The service uses a third party API called SheerID to verify student's enrollment status, and is currently available for all accredited Title IV institutions in the U.S. The student subscription is good for one year but is renewable, and is only available to students 18 years old and older. 
Spotify Premium Benefits
While Spotify's free version certainly has some good perks, Spotify Premium is designed with several key benefits in mind.
For one, Spotify Premium comes in no-shuffle mode (which, for Spotify free users, is a godsend). Additionally, the subscription also has unlimited skips, free downloads for up to 10,000 songs, the ability to listen offline and even the ability to change the rate (or speed) of the song or podcast. Spotify Premium also allows users to access Spotify Connect, which lets you connect your music across different devices like a mobile phone and computer. 
Additionally, for fans of artists signed with Universal Music Group like Taylor Swift or Lady Gaga, Spotify Premium members get a two-week head start on new album releases compared to free subscription users. 
But one of the bigger benefits members seem to enjoy is a bundled subscription with Hulu - the streaming service that some argue may rival Netflix (NFLX) . And for those users who switched from Spotify free to Spotify Premium, the absence of ads make a world of difference. 
Spotify Premium and Hulu
Spotify's partnership with video streaming service Hulu comes as an added benefit for fans of a wide collection of TV shows and movies - all at a new reduced cost. Given that the ad-supported subscription for Hulu already costs some $5.99 a month, the Spotify-Hulu deal appears to be a real bargain.
Spotify amended the cost for new subscribers of their Spotify Premium + Hulu bundle from $12.99 to its new price of $9.99 a month. 
If users already have a Hulu subscription, they are still eligible for the packaged offer if they don't have any other add-ons or base plans with Hulu (like HBO or No Ads), or if they currently pay for Hulu not through another service like Amazon or Roku. 
Spotify Premium and Showtime
Students can get not only Spotify Premium and Hulu - but now Showtime as well.
For $4.99 per month, verified students can get a Spotify Premium subscription that includes all the above benefits plus Showtime - which boasts shows like "Shameless" and "Billions." 
But, despite the new promotional Premium price, has Spotify increased prices recently? 
Spotify Premium Price Increases
While other streaming services like Netflix have recently raised prices, Spotify has kept prices relatively stable. 
In fact, Spotify recently slashed the price of their Spotify Premium for new users by about $3. 
But in the past, Spotify has experimented with price increases - most recently last year, increasing prices for new customers by 10% in Norway, according to Bloomberg. 
However, Spotify's CFO Barry McCarthy has been vocal about not wanting to raise prices, according to reports last year. And it seems for now, at least, the streaming service's prices are stable. 
But despite the low prices, recent reports suggest Spotify users may be willing to pay more for the new bundle deal. According to a recent poll by The Hollywood Reporter and Morning Consult, the majority of people surveyed (of over 2,200) would pay more than $10 for the Spotify Premium/Hulu bundle. 
"An analysis using the Van Westendorp model, which determines an optimum price point for a good or service by considering what prices consumers believe are 'too expensive' and 'too good to be true,' found that for the TV/movies/music bundle, $16 was the optimum price," Morning Consult wrote in the report.
For now, users can get the $10 deal. 
How Spotify Works
Spotify is a streaming service and app that allows users to stream music from wherever they are. And with multiple different plan options, users can get music free or for a monthly cost with various perks. 
To get started with Spotify, the process is simple.
Click to begin a 30-day free trial of Spotify Premium and create an account, either through the website or on the Spotify app.
Choose the plan you like and start your free trial for 30 days.
You are able to cancel your Spotify Premium subscription at any time by going to your account and clicking the "subscription" button on the left. You can then go to "change or cancel" and select "cancel Premium" - which will then return your account to a free plan. 
Spotify News
According to several reports, Spotify has begun testing a new plan - called Spotify Duo. 
The plan, which accommodates two people in the same household for about $14 per month, is reportedly being tested in five countries. With the addition of the bundle, Spotify is currently the only service offering a couples option for a streaming service. According to media reports, the tested plan is currently available in Ireland, Colombia, Chile, Denmark and Poland. 
In addition to testing out new plans, Spotify reportedly recently hired former manager of Ludacris and cofounder of the Disturbing Tha Peace label Chaka Zulu as their head of artist and talent relations, according to Variety this week. 
But apart from new hires, recent reports suggest Spotify is working on new features (specifically found in Android versions) like a sleep timer and a new friend feature that allows connections on the app to share music more easily.