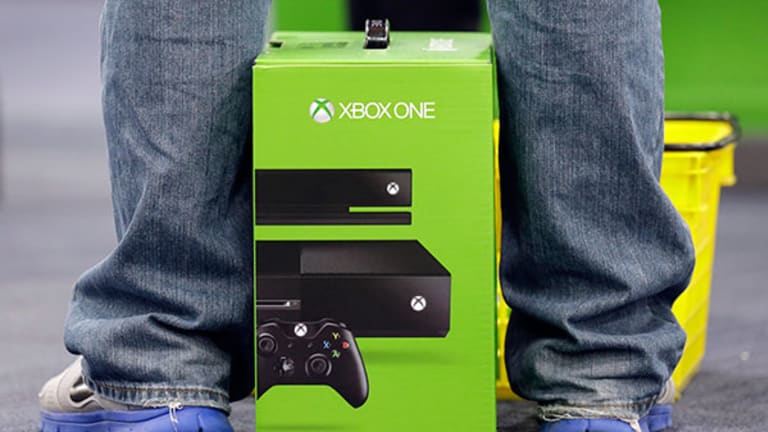 How Minecraft Can Help Microsoft Beat Sony and Win the Console Wars
Microsoft is spending $2.5 billion for Mojang, the company behind the popular video game Minecraft.
Microsoft is spending $2.5 billion for Mojang, the company behind the popular video game Minecraft.
Updated from 11:58 a.m. to include thoughts from Nomura in the sixth paragraph.
NEW YORK (TheStreet) -- Microsoft's (MSFT) - Get Report $2.5 billion acquisition for the Swedish company Mojang makers of the wildly popular video game Minecraft is a slight departure from a refocused Microsoft, but the big question remains - will the purchase ultimately help Microsoft win its supremacy battle with Sony (SNE) - Get Report in the current Xbox One vs. PlayStation 4 war.
Last month, Sony announced it had sold more than 10 million PlayStation 4 game consoles to date. On the other hand, Microsoft which had boasted it had sold a million units in the first day and 3 million by the end of 2013 hasn't released recent sales figures since. It's estimated that Xbox One sales have been in the 5 million units range to date.
Microsoft shares were off 0.91% to $46.27 in late morning trading in New York.
The deal is expected to be completed by the end of the year.
Though Nomura Securities analyst Rick Sherlund believes Microsoft's incentive to buy Mojang was as a boost for Windows phones, he did add that there was the potential for unique content offered only on Xbox, as well as Windows and Windows Phone.
The acquisition, which had been rumored for a week, is the first major acquisition for Microsoft since Nadella took over in February of this year. Nadella explained today's move by calling Minecraft "more than a great game," calling it "an open world platform."
Minecraft has been described as "a kind of digital Lego without an instruction book - a building game where players construct their own world out of blocks, making anything from a forest to the Eiffel Tower." Microsoft says it plans to continue making Minecraft available across all the platforms on all current platforms: PC, iOS, Android, Xbox and Sony's PlayStation.
According to the official press release, "Microsoft expects the acquisition to break-even in FY15 on a GAAP basis. Subject to customary closing conditions and any regulatory review, the acquisition is expected to close in late 2014. The Mojang team will join Microsoft Studios, which includes the studios behind global blockbuster franchises "Halo," "Forza," "Fable" and more."
Evercore Partners analyst Kirk Materne thinks Microsoft made a "sensible acquisition." He said in a phone conversation that if the company is "going to expand" further into consumer products buying Mojang was a "low-risk" move especially using "off-shore cash."
Mojang says it doesn't expect to change much under the new regime. "Minecraft will continue to evolve, just like it has since the start of development. We don't know specific plans for Minecraft's future yet, but we do know that everyone involved wants the community to grow and become even more amazing than it's ever been. Stopping players making cool stuff is not in anyone's interests."

-- Written by Gary Krakow in New York.
To submit a news tip, send an email to tips@thestreet.com.
Gary Krakow is TheStreet's Senior Technology Correspondent.