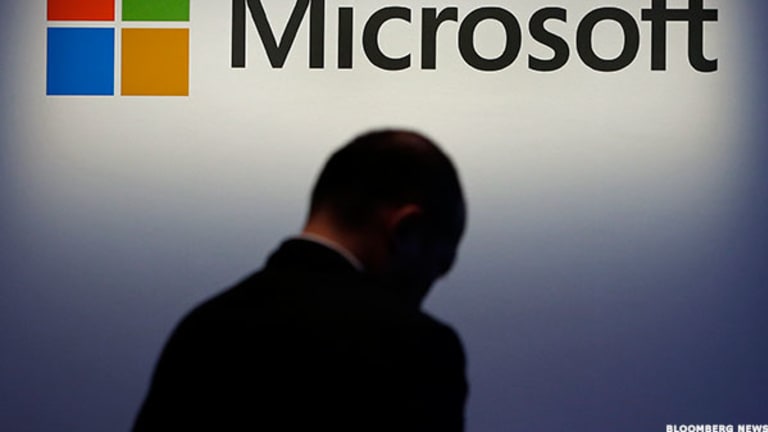 How Microsoft Is Inching Closer Towards Amazon
Microsoft's fiscal 2014 third-quarter cloud results demonstrate that the company is catching up to Amazon Web Services little by little in the enterprise space, but is unlikely to surpass Amazon any time soon.
NEW YORK (TheStreet) -- Microsoft's (MSFT) - Get Free Report fiscal 2014 third-quarter cloud results demonstrated that the company is catching up to AmazonWeb Services' (AMZN) - Get Free Report market share in the enterprise space. But it's unlikely to surpass Amazon any time soon.
During the quarter, Microsoft saw Azure sales grow over 150% and Office 365 revenue increase over 100%, the company noted when reporting earnings results. Considering the company has not revealed the size of its customer base for either product, it's difficult to gauge exactly how impressive the amplitude of the growth really was.
Still, the 100% plus surges are nothing to sneer at and show that like competitor Google (GOOG) - Get Free Report, Microsoft is clearly offering credible, alternative opportunities to AWS in enterprise cloud. Microsoft continues to demonstrate that it has bit by bit been lessening the dominance of AWS over the last two years, and that's not only good for Microsoft, but also healthier and more balanced for the enterprise cloud market in the long-run.
"A 100% rise in this market is obviously very good but it's not something that we need to translate as Microsoft being ahead of the rest," said Laurent Lachal, senior analyst and group lead at Ovum Software Group's cloud computing research group. "That's not the case. It's not what's happening. It's well placed but I don't think that on the basis of these figures Microsoft positions itself as ahead of all the main competition in the market." Lachal says Azure, Microsoft's direct competitor to AWS, needs to keep up with the 150%-type increase highlighted in its latest financial results in order to continue catching up with AWS.
"Still, it does stay in the top three, and that's good."
Lachal says given that enterprise cloud growth is still in its early stages, Microsoft and Google are taking the right approach by not focusing on a very specific set of strategies, but rather concentrating on execution. In other words, placing heavy emphasis on pricing and performance, support, and the expansion of their portfolio of services.
"It's a long, distant race, and therefore what's important is an ongoing improvement of all these levels rather than a big announcement along the way," said Lachal.
Something to keep an eye on though is that the gross margin of Microsoft's business-oriented cloud services has been less than the gross margins of Microsoft's other businesses. Lachal says that margins in the cloud are typically not going to be as large as the margins Microsoft is used to having. This is further challenged by the ongoing price-war from Google and AWS.
While Amazon is particularly eager to expand pricing pressure from its core services of compute and storage towards other services, Microsoft is obviously much less comfortable with price wars beyond compute and storage. Microsoft will likely cope with this long-term challenge by offering an increasingly sophisticated cloud services portfolio that it can charge more premiums on.
The shift to the cloud "will challenge Microsoft to reinvent itself as a company which may not in the long run have the same ability to have the same level of profitability that it used to have," said Lachal. "That's a challenge for the company and its shareholders."
-- Written by Andrea Tse in New York
Follow @atwtse
>Contact by Email