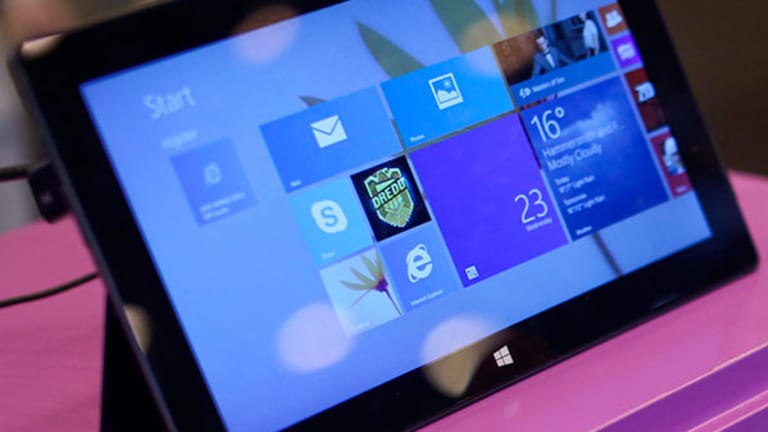 How Microsoft Gets a Boost, Thanks to Apple
As new CEO Microsoft Satya Nadella starts to make his mark on the Redmond, WA.-based company, he's getting a boost from an old friend and enemy: Apple.
Updated from 9:16 a.m. to include additional analysis about Apple's software revenue in the fifth paragraph.
NEW YORK (TheStreet) -- As new Microsoft (MSFT) - Get Microsoft Corporation Report CEO Satya Nadella starts to make his mark on the Redmond, WA.-based company, he's getting a boost from an old friend and enemy: Apple (AAPL) - Get Apple Inc. Report.
Since details leaked that Nadella, who took over from Steve Ballmer earlier this year, would announce Microsoft Office will come to Apple's iPad next week, investors have been rewarding Microsoft, crossing $40 for the first time in a long time. That marks a stark contrast from Ballmer, who had been resistant to putting Microsoft's enterprise software and one of its primary revenue drivers, on Apple's tablet.
It's expected that Microsoft will make the announcement, allowing iPad users to use Office with an Office 365 subscription.
Read: Intel Shifts Focus, Feels the Love
Jefferies analyst Ross MacMillan boosted his price target and earnings estimates for Microsoft, following the rumors that Microsoft will unveil Office for iPad next week, noting that moving Office to the world's best selling tablet could be bigger than originally estimates. "Our updated analysis suggests that O365 could be a bigger driver than we previously assumed," MacMillan wrote in the note. "We now think native Office for iPad (available through an O365 subscription) could drive $2-4 incremental value per share predominantly from the consumer market."
MacMillan raised his price target to $47 from $42, but kept his "buy" rating on shares.
Not only does this boost Microsoft by opening up Office to Apple's iOS platform, it boosts Apple as well. Apple has worked hard to make software and services a more important part of its business, due to the notion software and services companies trade at higher earnings multiples than traditional original equipment manufacturers. By taking it's standard 30% cut of all software purchase, Apple could boost its iTunes/Software/Services revenue drastically with Office being made available on the iPad. Last quarter, Apple's iTunes/Software/Services segment generated $4.397 billion in sales, up 19% year over year.
Shares of Microsoft were fractionally higher in Friday trading, gaining 0.02% to $40.34, while Apple shares tacked on 0.17% to $529.61.
Read: Adobe Cashes in on Cloud
In Nadella's first email to Microsoft employees, he strongly hinted that Microsoft needs to remain relevant, as the world goes mobile, and software moves to the cloud. "As we look forward, we must zero in on what Microsoft can uniquely contribute to the world," Nadella wrote in the email. "The opportunity ahead will require us to reimagine a lot of what we have done in the past for a mobile and cloud-first world, and do new things."
Nadella is expected to make the announcement on March 27, in San Francisco. News of the announcement was first reported by Recode.net, a tech-focused website.
Earlier this week, Microsoft also made OneNote, an Evernote competitor, free, and available on all Macs.
Read: Is President Obama Finally Ditching His BlackBerry?
Cloud computing is exceptionally important to Microsoft's future. ValueAct Capital, which owns a 0.8% stake in Microsoft and recently added Mason Morfit to Microsoft's board, believes in Microsoft's future as a cloud computing company. Results are showing just that. In Microsoft's fiscal second-quarter, commercial revenue grew 10% to $12.67 billion, as Office 365 commercial seats and Azure customers both grew triple-digits. Overall, revenue from commercial cloud services more than doubled.
--Written by Chris Ciaccia in New York
>Contact by Email.