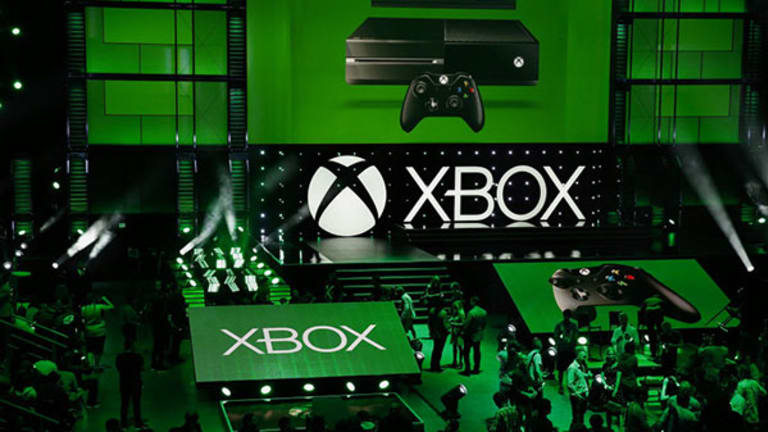 Microsoft Beats Sony to Win the Holiday Video Game Console War
Latest figures show Xbox One sales began outpacing PlayStation 4 at the end of 2014.
Latest figures show Xbox One sales began outpacing PlayStation 4 at the end of 2014.
NEW YORK (TheStreet) -- The last quarter of 2104 turned out to be good for video games. According to numbers just released by the NPD Group holiday seasons sales of Microsoft's (MSFT) - Get Report Xbox One and Sony's (SNE) - Get Report PlayStation 4 rose 17% in November and December. At the same time, sales of related software titles jumped more than 90%. But, combined revenue for all hardware, software and accessories declined 1% to $3.25 billion.
NPD reports consumers bought a significant number of eighth-generation game consoles in 2014 with sales totaling $5.07 billion for 20 percent increase over 2013 numbers. Totals for both hardware and software reached $13.1 billion in the U.S. It was a one percent increase, year-over-year, but the first industry-wise increase since 2008's record $21.4 billion in sales.
"Sales have been down for several months and for several years, with only fleeting positive blips", according to Wedbush Capital Partners analyst Michael Pachter. "We're at the point where the decline in current generation software sales is being overcome by growth in next generation software sales, and the pace of hardware sales suggests that growth will reaccelerate as soon as January, but certainly in 2015."
NPD doesn't release exact console sales figures for each platform but Microsoft was quick to respond with a news release of its own. According to its gaming blog Microsoft's Xbox One was "the best-selling console in the U.S. in November and December." with weekly average sales outpaced Xbox 360 by 50% percent at the same point in its lifecycle."
At the same time, Microsoft announced that the $50 holiday discount it offered on the Xbox One console is coming back full time. The promotion lowers the price of the console to $349. Xbox sales really picked-up in earnest when Microsoft unbundled the Kinect control unit from the console.
David Cole, gaming expert with DFC Intellgence told ThsStreet, "The Xbox One with the Assassin's Creed Unity bundle and no Kinect was a big seller over the holidays and helped make the Xbox One more competitive with the PS4. This was, of course, driven by a big price drop from Microsoft." In an email statement, Cole predicted, "In 2015 we are looking at a big battle between Xbox One and PS4 centered around price cuts, software bundles and exclusive titles."
Earlier in this month Sony boasted it has sold more than four million PlayStation 4 units during the November-to-January time frame. Sony added that they've shipped more than 18 million consoles since its debut.
Microsoft shares were gaining 0.40% to $45.66 while Sony shares were down 2.53% to $20.40 in early morning trading in New York.
Nintendo (NTDOY) says December was the Wii U console's best sales month since it launched more than two years ago. The company reported December hardware sales rose by 29% compared to December, 2013 and software sales jumped 75%. Earlier this week Nintendo announced that it plans to release it's newly redesigned/upgraded 3DS handheld gaming system in North America and Europe next month.
On the software side, sales at brick-and-mortar retailers were off 13 percent (to $5.3 billion) year-over-year. But, there were still some very hot titles that did very well. Activision's (ATVI) - Get ReportCall of Duty: Advanced Warfare was number one for the year. Electronic Arts' EA Madden NFL 15, Destiny from Activision, Take Two Interactive's (TTWO) - Get ReportGrand Theft Auto V and Mojang's (Microsoft) Minecraft accounted for the rest of the top five. In sixth place overall, Super Smash Bros was also Nintendo's best seller for the year.
Pachter told TheStreet, via email, "The game publishers have been holding back on new intellectual property for the next generation consoles, and we have what looks to be the strongest game lineup in years for 2015, followed by an even stronger lineup for 2016. Add to that the fact that the NPD captures only packaged goods sales, and full game digital downloads are clearly growing as a percentage of overall purchases. That suggests a great year in 2015 for the publishers and for the console manufacturers."
- Written by Gary Krakow in New York.
To submit a news tip, send an email to tips@thestreet.com.
Gary Krakow is TheStreet's Senior Technology Correspondent
This article is commentary by an independent contributor. At the time of publication, the author held no positions in the stocks mentioned.